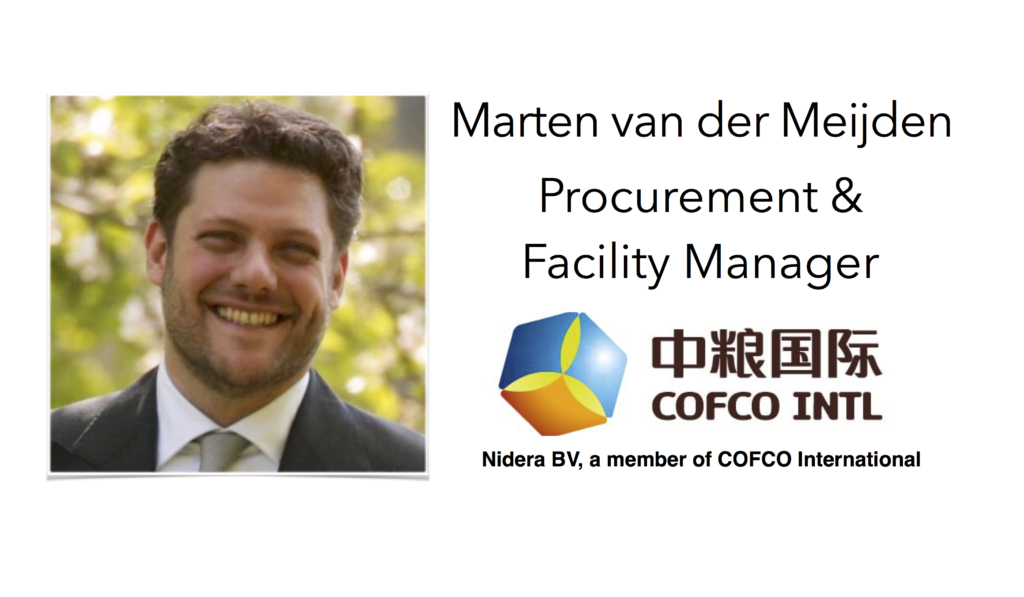 EBG | Network are happy to welcome Marten van der Meijden, Procurement & Facility Manager at Nidera BV, a member of COFCO International to Sourcing Outlook 2017 in Stockholm.
On April 24th the below pressrelease was shared
Day 1 of COFCO International
Today, April 24th 2017, our CEO Johnny Chi will launch COFCO International, a result of Nidera and COFCO Agri joining forces.
Johnny Chi: "Today, we embark on a journey to build on the past and embrace the future, to establish a brand new company based on solid foundation of COFCO Agri and Nidera, maximizing its strengths. We are fully committed to this new company".
Meeting Tomorrow's Demand
At COFCO International it's all about 'Meeting Tomorrow's Demand'. We believe that agricultural products, which we need to support our daily life, should be available for every person on this planet, now and in the future.
We are a global agri-business with a six-continent supply chain. We can rely on the strong history of Nidera and COFCO Agri. With a long-standing market presence, we have a deep understanding of the world's largest agricultural importing markets, including China. We aim to create a vertically-integrated global agricultural supply chain, supported by COFCO's unique position in China, strengthen worldwide origination, logistics and trading capabilities, and grow our business globally.
…
It is a treat having Marten with us in October. Imagine the experiences he will have given the current merger with COFCO Agri. You will be able to join Marten during a round table discussion focusing on those experiences – we call it Theme Discussion. Register now to ensure You get to choose first who to discuss with.
About Sourcing Outlook
Sourcing Outlook is the response to the increased amount of revenue invested externally in most companies. As usual you cannot expect easy answers but we can promise you state of the art experience exchange. Take a look at the recently finished Source 2 Pay Summit to get an idea of how EBG "do summits" >>S2P Post Summit Report
Are any of the below questions relevant to you?
How are sourcing structures and processes developing?
How do you best align with business needs and strategy objectives?
In what ways can you ensure sourcing strategy outcome?
How do you mitigate risk and increase supply chain transparency?
What will future sourcing competences look like?
How are you managing and delivering control and value over different spend categories?
Sourcing Challenges Survey
Take our survey focusing on sourcing challenges, the survey can be >>found here – the results will be shared but not at all who says what.
Asking what is of greatest interest STRATEGY | OPERATIONS or GOVERNANCE, the respondents so far answered: