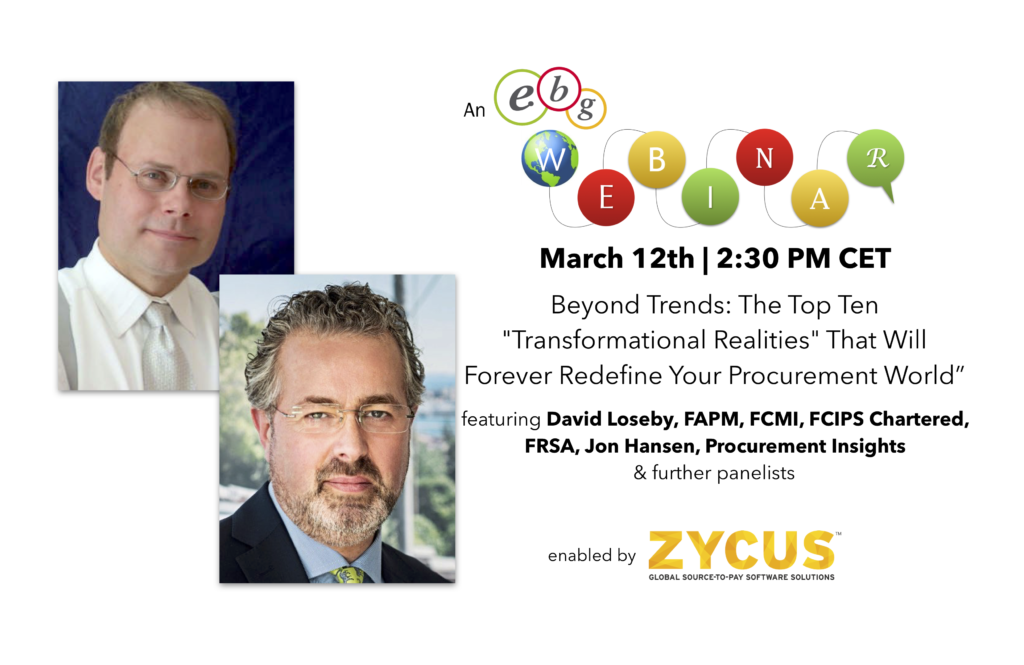 EBG | Network invite you to an insightful online session grounded in a forward looking paper. What will impact procurement the most ahead? What does that mean to You working with procurement? Take the time to pause from your here and now tasks and join us and a knowledgeable group of professionals and look ahead.
When you hear the word 'trend' or 'trends' what immediately comes to mind? For most, it means that something new is on the near horizon, which of course is true. But lost in the ubiquity and vagueness of this definition is the real and practical impact that trends have on our profession.

Join EBG and Jon Hansen among a group of panelists – the first out being David Loseby, FAPM, FCMI, FCIPS Chartered, FRSA – to discuss what the top trends – and what they implicate on a more granular level – for procurement.
Date: March 12th 2019
Time: 2:30-3:30 CET
Place: Your computer/tablet/phone
Language: English
Cost: Free of charge but requires registration
Organizer: EBG | Network & Zycus

Register here
Three trends in focus
In other words, and much like overarching catchphrases such as digital transformation, beyond the cloud on-the-ground thinking is critical, if you are to truly understand what trends such as Artificial Intelligence mean to the way you work in the everyday real world.

In this webinar, joining Procurement Insights' Jon Hansen will be an international panel of industry experts who will talk about the top ten trends for 2019 before zeroing in on the three specific areas that will have the greatest impact on procurement professionals right now and for the foreseeable future.

Here are the key takeaways from this webinar:
Of the top 10 trends, the panel will be discussing, we will focus on the three that are likely to have the greatest and most immediate impact on procurement
The panel will provide insight that reflects both the benefits and challenges associated with the top 3 trends
The panel will provide direction on what you as a procurement professional must do to address said challenges and remain relevant
All who register will receive the slides and recording, joining us online will give you the opportunity to compare live with peers. Your online and registration details will only be shared with the co-organizer. We promise to take care of your time spent with us.
Beyond trends reflections
In a series of articles, Jon Hansen ask industry experts to reflect on what will impact procurement ahead. Below you can find those related articles:
Beyond trends from industry experts | I – David Loseby
About David Loseby
David Loseby, FAPM, FCMI, FCIPS Chartered, FRSA, is a CPO, Advisor, Author and Global Board of Trustees Member of CIPS.
With over 25 years' experience at senior executive/director level driving value and change through procurement, organisational transformation and change management, my background spans a variety of roles with significant global experience and responsibilities in both private and public sectors (pharmaceuticals, banking, FMCG, manufacturing, consulting, retail, venture capital, healthcare (NHS) & local Government. Formerly Group Procurement Director for Inchcape Plc., I was the principal architect behind one of the key strategic pillars for leveraging global scale across the group.

Today's businesses understand the need to leverage insights from behavioural science, social sciences, decision sciences and psychology as a critical success enabler.

My passion is to help organisations partner more effectively, harvest exponential value from their collaborative engagements and allow their people to be the best they can.

David Loseby, LinkedIn
About Jon Hansen
As the Editor and lead writer for the Procurement Insights Blog, Jon Hansen has written nearly 3,000 articles and papers; as well as five books on subjects as diverse as supply chain practice, public sector policy, emerging business trends and social media.
In addition to being a much sought-after speaker and moderator internationally, Jon is also the host of the highly acclaimed PI Window on The World Show on Blog Talk Radio, which has aired more than 800 episodes since its initial broadcast in March 2009.
A two-time Ottawa Finalist for the Ernst & Young Entrepreneur of the Year Award, out of a group of 15,000, Blog Talk Radio named Jon Hansen as one of their top 300 hosts.
About Zycus
Zycus is a leading global provider of complete Source-to-Pay suite of procurement performance solutions. Our comprehensive product portfolio includes applications for both the strategic and the operational aspects of procurement.
Zycus has been Recognized as a Leader in Gartner's Magic Quadrant for Strategic Sourcing Application Suites for four years in a row, making it the only solution provider to achieve this feat.