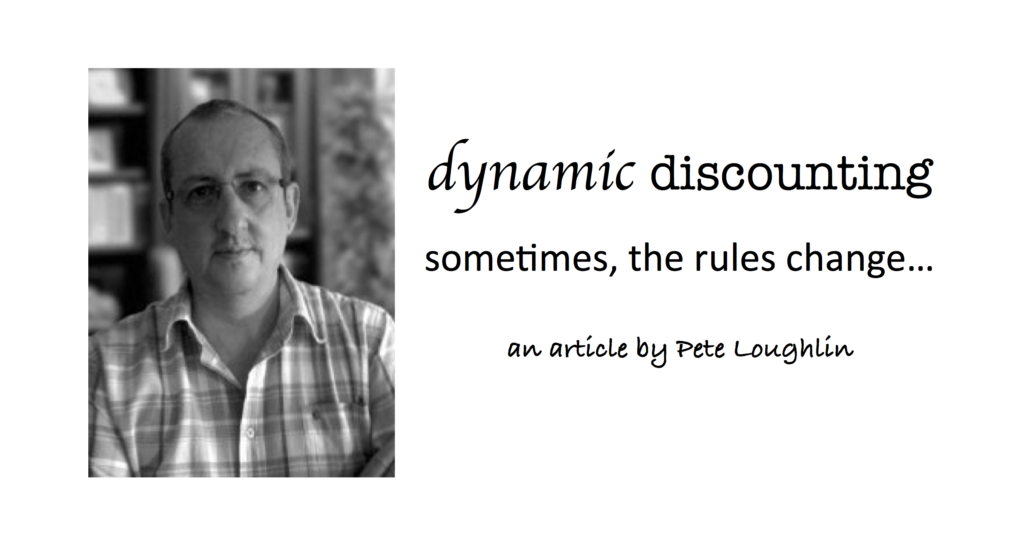 There's always new and better ways to do things; Change is good.; Challenge the status quo and transform; Think outside the box!
I've heard myself say all of the above. I'm in it to make a difference – not to become the same and simply implementing existing best practice or creating an imitation of something else that works isn't my idea of fun. Not everything can be changed of course. If I've learned one thing in my working life it is that established business practice is usually there for a good reason.
But sometimes, the rules change. New technology, changes to the rules and regulations, economic change – they all offer the opportunity to rethink established ways of working and create change.
Dynamic Discounting
I'm a fan of dynamic discounting. It is new (yes – it is new! It's similar in principle but not the same as factoring and supply chain finance) and it plays well to the unique set of economic circumstances – the combination of constrained liquidity and very low interest rates. And it different – it's counter intuitive to pay suppliers early and that, combined with a potential 30% plus return on capital – this is real B2B out-of-the-box thinking that could make a real difference.
But there's a but.
Before you accept a 2% discount for paying a supplier early – have you asked for the 2% discount anyway? And if the answer is "no" then how do you know there isn't a 4% opportunity there? And another thing, before you pay early – ask yourself if you can pay early? In other words are your systems and process sufficiently robust and efficient to be able to do this? And, are your existing terms optimized yet? If you're paying a supplier in 30 days when all of their other customers are paying in 45 you are already giving away cash flow.
Dynamic Discounting presents an exciting opportunity but it is the icing on the cake. It is only beneficial if the basics are in place. Only when ever last drop has been squeezed out of a deal should dynamic discounting be used. It is great out-of-the-box thinking but before you get carried away thinking outside of the box – make sure you've thought through the inside of the box first.
Article written by Pete Loughlin at Purchasing Insight