Jerry Öhman participated in a conference held by SKL, ESV and Kammarkollegiet "Good Examples Day" at Näringslivets Hus in Stockholm on November 29th, 2010. In a gripping half-hour, he outlined the journey towards more efficient and less costly purchases that Luleå Municipality has undertaken. e-procurement, e-invocicing but above all – change management and organisational re-organisation.
For the article in its domestic language, swedish >>Click here
A municipality moving towards more efficient purchasing and improved spend monitoring
The function that Jerry represent is procurement decentralized to operational level, that yearly has a turnover of approximately 1 billion SEK (both goods and services), 150 000 supplier invoices and with 5 000 suppliers in the ledger. The municipality has 200 supplier agreements, which shows how difficult it is to motivate contract loyalty.
Background to re-organisation
Luleå Municipality went on with their technology projects and was involved in e-commerce. In a pilot study in 2005, a student at Lulea University got to do her her ex-job (Purchasing agreement loyalty – a case study at the municipality of Lulea), the mission was to get to the bottom with a mapping of the municipality's approach to purchasing issues. (She then got to continue working in a project continuing to map purchase processes) Local government auditors realized after the result that the purchasing function needed to be re-structured, during an audit in 2007 problems in the municipality's commercial processes was revealed.
"For those of us who work with procurement, it was the best thing that could happen, those of us working daily with procurement issues got an ok but the other 6000 buyers did not get it."
Main problems
Problems mainly in the administrations' approach to their purchases
The monitoring must be developed
It was clear that the municipality had employees equal to 25 full year employed, who ran around and made 60 000 cash and carry – despite free home delivery!
Only 65% of purchases were made with contracted suppliers.
Large proportion of other catalouge supplies were purchased – what the municipality bought from contracted suppliers was not the contracted assortment range but other items! To significantly higher prices.
Everyone had the right to go shopping, there were no limits and the municipality had 6500 clients, which meant problems in spreading information and qualification education within the area.
"It is hopeless for us working with procurement and purchase to teach 6000 persons to purchase properly. Some suppliers were giving quotations on for instance office supplies, supplies that they had no intention to deliver! Take a binder for example – a binder costs 0,65 SEK in the contracts statement, and 59.50 when municipal employees (6 500 persons) call the supplier and want to purchase. "
Results of the pilot study
Luleå Municipality decided to change the e-commerce system. The municipality had Raindance as financial systems, and is now using Intrade as e-commerce system.
A major education effort was decided in order to raise awareness of what happens if we buy the right things.
A new purchasing organization will be implemented and purchase responsible persons at operational levels appointed.
"We've always had support from the management committee, there have been many harsh words on the way – it is difficult to change a culture that existed a long time."
"The purchasing department is composed of nine persons, the 6500 waa communicating with us, which was completely unreasonable – it has to be more about communicating what to do in various situations. To bring order, all departments has to create their own purchasing organization. People who will work with purchasing processes full-time. "
The new purchasing organization
The new purchasing organization has five purchasers, one system administrator and a system support billing part. All administrations have designated purchasing coordinators who in turn appoints the authorized purchaser. "Not everyone's right to purchase today in Luleå Municipality, those who can do it." The purchasing coordinators are now key personal.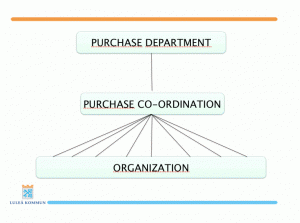 Results
There is a need for a greater focus on buying from contracted suppliers and contracted goods and services –  with two specific goals for 2010 and 2011:
"Internal Control 2010: (only office supplies) Ensure that purchse loyaty to the municipality's contract agreement is high" and "Scorecard goals for 2011 (which will be compared to 2010, reported to the management board and also in the annual accounts) Improved contract loyalty to municipal framework agreements in comparison to 2010"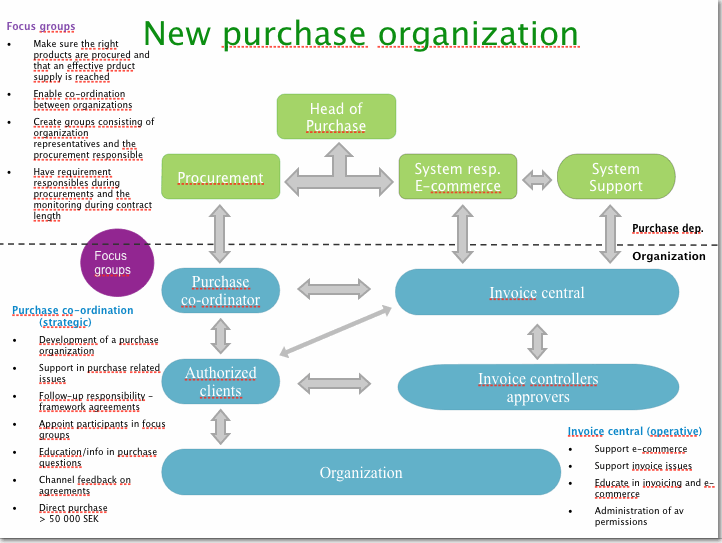 What happens now?
Implementation of new purchasing organization – new roles and goals to further reduce the number of clients.
Development of information channels, new framework agreements directory, new intranet, new shopping guide
"Today is 17 or 19 freamework agreements completed, we will not get any further with (Swedish standard for public sector red.anm.). There is the need for new technology such as Sveorder and WebEDI."
Development of monitoring tools to improve and simplify the approach and distribution of information
"Not always easy to do right!"
Follow-up areas
Purchasing behavior
E-Commerce
Procurement Support
"During the process of mapping the entire organization, I could not in the wildest imagination have believed that procurement was not our main task. Procurement is a support project as well as supporting our customers in the organization. We are working on a new way of looking at purchasing as a supply process."
Challenges in the project
The e-commerce system gives more centralized administration and limits the number of users
Many authorized clients have low computer experience – many without any computer experience at all! It is not them who should purchase.
Administrations have many inactive authorized purchasers. This issue has been addressed differently by various administrations, some have minimized the number of clients to 19, while another has trained 200 clients. In the latter case it can be stated that only 20-30 of them actually have ordered within the system, which raises the question of how effective it is to educate so many.
"Purchasing Behavior and Culture is our biggest challenge!"
Conclusion
What can we save?
25 000 0000 SEK!
How?
By framework agreement loyalty, fewer cash and carry purchases, invoice management
"We have worked with e-invoicing, we do not have to scan 50% of invoices any more, this is a subproject of the project, connecting suppliers to e-invoices."
Questions to Jerry
Five top tips for those who want to streamline their purchasing organization?
Be sure to have municipal management on the train – politicians as well as servants!
Communicate more – to get everyone to understand why we do this! Focuse on business issues not IT solutions
Let the involved parties feel part of the process – listen listen listen!
Minimize the number of clients – increase the level of knowledge!
Make follow-up simple, clear and visible
How should a company be able to avoid the vendors sell it in themselves by low prices for individual products and then take sugar prices for other goods?
We demand that the largest number of marketed products should be procured from the net-priced range. If we notice a different buying pattern, the supplier is responsible to pay attention to this and replace or add to the articles. In addition, our authorized dealers can see in e-commerce system which items they should buy to do right – they are marked with "blue balls". So we say often that they must "hunt blue balls" when they shop!
During the conference it was mentioned that it is difficult to manage services in systems and that the bulk purchases made are actually services – what do you think of this?
Services are a tough nut to crack when they can be difficult to define in the same way as an article. This is precisely why it is important that the system vendors focus on technologies other than SFTI and make systems more flexible for other solutions.
Allowing a few or all to purchase within the system seems to be an issue – how do you think one should reason in the matter?
Procurement is an important strategic function where you should use taxpayers' funds the best way possible and comply with the regulations that exist. That is why it doesnt work if all municipal emlpoyees should ha the right to do purchases. The level of knowledge will be too low and many people make purchases just as they would be done privately. The municipality must become more professional in their approach to buying – that is why the number of clients is limited and the level of knowledge increased.
Many perceive activating suppliers in e-invoicing projects as a major problem – how have you gone about when you connected contractors?
We opened a number of different ways for companies to send Svefaktura or Full Text Invoices to us. All suppliers who send more than 30 invoices per year have received letters and have been contacted. Those with large numbers of invoices have been processed further, if necessary, and we have tried to get them to send invoices in a for us cheapest way. If the need existed to review the supplier customer lists to ensure that there are only correct reference number, this can sometimes be burdensome. The work on the connection process itself, depending on what ways are used, is not burdensome.
It has long been a major focus on invoice flows and e-invoicing where the focus has been on the finance department – how have you worked with the finance department in the process of purchase-to-pay?
We have a very good cooperation with our sister, the Financial and accounting department, we are responsible for the whole process even if some parts of the system support lies on financial departement. We see it as a strength that we have such good relationship between economists and buyers!
Compare with Sigtuna Munucipality, Trondheim Municipality and TIEKE.
Jerry and Luleå Municipality has also been interviewed in Upphandling 24