Erfaringer i den offentlige sektor: Indførsel af elektroniske og automatiserede processer i staten
En obligatorisk ordning giver udvikling, men gevinsterne kan kun realiseres lokalt. Elektroniske fakturaer er kun én del af et handelsflow.  Fakturaflowet kan gøres mere automatisk, hvis ordreafsendelse og varemodtagelse også foretages elektronisk. Elektroniske ordrer har været en udfordring. Interessen har været der, men ingen standarder og ingen tvang som på fakturasiden.
Erfaringer i staten – leverandører
Vigtigt at få leverandørerne til at sende ægte elektroniske fakturaer. Indscannede fakturaer gav mange problemer. Hvis de store gevinster skal hentes skal hele handelsflowet gøres elektronisk, brugen af GLN numre er også afhængig af leverandørens systemer. Derfor er leverandørerne nøglen til succes >>Guidelines to IndFak

Formål med IndFak
Staten skal have ét system til håndtering af indkøb og fakturaer, systemet skal anvendes af næsten alle statslige institutioner og kan anvendes af selvejende institutioner – bedre og billigere løsning gennem fællesstatslig aftale.
Ind: Danmark indtager en førerposition på eIndkøb i det offentlige
Fak: Systemet skal understøtte at staten betaler regninger til tiden
Besparelser ved eIndkøb i staten
Gevinster ved IndFak
Automatisk match mellem ordre og faktura
Understøtter Best Practice processer og giver overblik
Anvender fælles standarder (OIOUBL) og åben infrastruktur (OIOSI)
Bedre udnyttelse af (statslige) indkøbsaftaler
Sikring af systemintegration til fx Navision Stat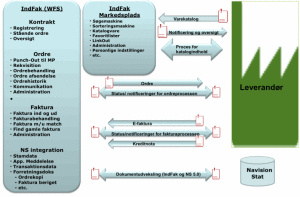 Hvor er IndFak
Pilotinstitutioner har haft systemet i drift siden slutningen af oktober 2009. Vi er stadig i gang med at brugerteste inden overtagelsesprøve kan godkendes
Der er opnået automatch, men…
Vi håber at kunne starte bølgeudrulningen af IndFak til statsinstitutionerne efter påske
IndFak og leverandørerne
Leverandørernes digitaliseringsgrad
Type A: Lav digitaliseringsgrad – intet system, kun eFaktura
Type B: Lav digitaliseringsgrad – bruger Front End, eFaktura, eOrdre, eKatalog
Type C: Medium digitaliseringsgrad – OIOXML faktura/kreditnota
Type D: Høj digitaliseringsgrad – Fuld UBL kompatibilitet
IndFak frontend til vareleverandører
Bliver tilgængelig på nettet
Upload og eksport af data
Kataloger, ordrer, fakturaer, kreditnotaer og rykkere
Debitorhåndtering og statistik
Questions and answers:
What has happened since we met?
Currently more than 30 government institutions has implemented IndFak. Before summer more than 100 institutions are scheduled to implement IndFak
What is going on in the public sector in Denmark in this area?
In 2011, the OIOUBL standard will become mandatory when sending invoices to public sector institutions. This will give a better frame for e-business.
What advice do you give to others wanting to optimise these processes?
Start with focus on the workflows not the systems, but be flexible when chosing solutions. It's often better to adjust workflows slightly than having a lot of change requests for a system.
What will happen next at Økonomistyrelsen?
Focus will be on implementing IndFak in the governmental institutions.