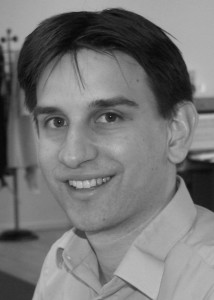 I was happy to meet with Jakob in Copenhagen, and following  the work that Denmark and The Danish Agency for Governmental Management is doing is a road-map to many public sectors throughout Europe. In the following text Jakob makes a broad explanation of the basics in the Danish e-procurement and e-invoicing strategies and implementation phases.
For the article in danish click here >>Article in danish
Experience in the public sector: Implementation of electronic and automated processes in the state
A mandatory scheme provides development, but the gains can be achieved only locally. Electronic invoices are only one part of a trade flow. An invoice flow can be made more automatic, where the order of dispatch and receipt of goods also are done electronically.
Electronic orders has been a challenge. The interest has been there, but no standards and no compulsion as in the invoicing side.
Experiences in the state – suppliers
It is important to get suppliers to send true electronic invoices. Scanned invoices equals many problems. If the big gains are to be retrieved, the entire trade flow needs to be done electronically.  The use of GLN numbers are also dependent on the supplier's systems  and therefore, suppliers are key to success  >>Guidelines to IndFak
The purpose of IndFak 
The state shall have one system for handling purchases and invoices. The system must be used by almost all government institutions and may be used by private institutions.  There should be better and cheaper solutions through joint governmental agreements.
Ind: Denmark holds a leading position in e-procurement in public sector
Fak: The system must support the State paying bills on time
Savings from eIndkøb in the state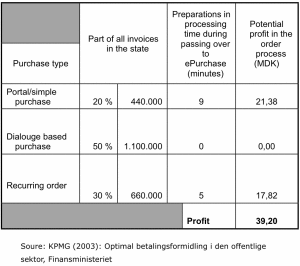 Gains with IndFak
Automatic matching between order and invoice
Supporting Best Practice processes and provides an overview
Using common standards (OIOUBL) and open infrastructure (OIOSI)
Better use of (government) procurement agreements
Ensuring systems integration to eg Navision Stat
Where is IndFak
Pilot Institutions have had the system in operation since late October 2009
We're still in the process of user testing before acceptance test may be approved
There has been auto match, but …
We hope to start bølgeudrulningen of IndFak to government institutions after Easter
IndFak and suppliers
Suppliers digitalization rate
Type A: Low digitalization rate – no system, only eInvoice
Type B: Low digitalization rate – using the Front End, eInvoice, eOrdre, eCatalog
Type C: Medium digitalization rate – OIOXML invoice / credit note
Type D: High digitalization rate – Full UBL compatibility
IndFak frontend for product suppliers becomes available on the Web,  uploading and exporting data, catalogs, orders, invoices, credit notes and reminders and accounts Receivable Management and Statistics.
Questions and answers:
What has happened since we met?
Currently more than 30 government institutions has implemented IndFak. Before summer more than 100 institutions are scheduled to implement IndFak
What is going on in the public sector in Denmark in this area?
In 2011, the OIOUBL standard will become mandatory when sending invoices to public sector institutions. This will give a better frame for e-business.
What advice do you give to others wanting to optimise these processes?
Start with focus on the workflows not the systems, but be flexible when chosing solutions. It's often better to adjust workflows slightly than having a lot of change requests for a system.
What will happen next at The Danish Agency for Governmental Management?
Focus will be on implementing IndFak in the governmental institutions.