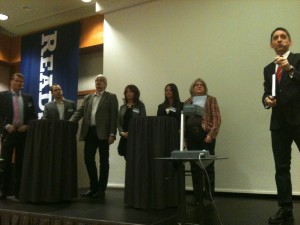 11.00
Panel debate  with systems providers Medius, Palette and Basware on one side and Onoff, Orbit One and Högsby municipality on the other.
Basware: on invoice automation, saving about 50% of the cost, when moving on mapping suppliers, realising if the right product is purchased at the right price – then there will be huge cost savings.
Think about choosing a provider that can grow a case, to look further. (Knowing that most systems providers like Basware starts with invoice processes within a company and then grow the business further into the organisations).
Medius: about processes not being unified – the greatest benefit being to get a grip of and unifying processes. Together these three system providers have about 2 000 customers in Sweden.
Palette: Safety and longevity, thinking about what provider to choose. Moving further into order matching and centralisation of processes. If you have an agreement in the purchase process towards the supplier – the rest should follow automatic.
Orbit One:45% e-invoices in January – there is no better than PDF invoices (my note – NOT an e-invoice).
Högsby municipality: awaiting government regulations, today they only recieve 10% electronic invoices.
Questions:
About people not being thrilled about implementing a workflow system?
Answer: When you do not have the support of the organisation and management. Invite one person from the organisation to join the project group. If you get the management team onboard you should be ok.
Archiving – whos responsibility is it to archive an electronic invoice?
Answer: The incoming file should be archibed, the regulation says that an invoice should be saved in the matter you recieved it in 10 years. Possible to call tax authorities and not have to save the paper invoice (if they for instance are scanned) for 10 years but for instance for 3 years.
You might get an invoice in a matter that the supplier did not send it (if it for instance is sent through a VAN operator). It should still be the way you get it to the company.
If you start from scratch – should you start with both the procurement and invoies from get go or chose either or?
Answer: Both. The market is ready to start with both. If you should eat an elephant you should eat it in small pieces. If you also will be changing ERP system – does it matter? Answer: Not if you choose an independent system provider.
Is there a catalouge where you can see what formats different suppliers are sending?
Not in Sweden.
About ROI – one of the most difficult questions (in my mind it has to be easier to calculate!). Again it is mentioned other issues at hand – experienced ROI… No real answers…