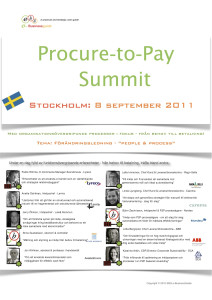 I will soon switch to swedish – there are times to talk global and times to act local – and on the 8th of September EBG launches a summit focusing on procure-to-pay processes. Although few companies in Sweden truly has had the opportunity and resources to work through these complicated and function crossing processes – we need to look at the bigger picture.
I have spoken to you working in both the finance departement and purchase department and it has for long struck me that some of your biggest challenges comes from the difficulties taking a truly approach to procurement all the way to payment. Of course you want to lower the spend amount – but who takes care of implementing purchase orders and making sure that the number of invoices doesn't blow the roof through numerous of small purchases from an organisation where basically anyone can make a purchase. Of course you want to increase first time matching of invoices, and to do that you need e-invoices or a really good scanning service – who makes sure suppliers are activated and motivated – what is the business case?  Do you have an eye on the total cost of a purchase? What KPIs do you use to measure where you can cut costs – not only through lowering spend, but making sure agreements are followed, the number of invoices lowered and controlled, purchasers educated and informed. EBG believes that no matter if you are focusing on lowering spend or increasing e-invoices – you could benefit from looking at the bigger picture from time to time. And not forgetting change management – how well you structure, educate and motivate your organisation will define your progress.
Welcome to Stockholm if you speak swedish and want to learn first hand from those having optimised parts or the entire P2P process
Nu till svenska, det är min tro att vi lever i en så pass global värld att engelska inte bör vara något problem för de stora penseldragen. Men det finns tid för att vara global och tid för att vara ytterst lokal och närvarande. Därför arrangerar EBG Procure-to-Pay Summit den 8 september 2011 på Bonnier Conference Center i Stockholm – en dag helt och hållet på svenska för mesta möjliga samtalsstimulans. Där samlas ett hundratal personer med behov av att lära mer om hur ni effektiviserar hela eller delar av P2P processen, där delas erfarenheter mellan chefer och processägare i detta unika funktionsövergripande och tvärindustriella forum.
Är det lägre spend som är er stora utmaning? Att kontrollera vilka som köper och vad de köper?
Är det mer effektiv fakturahantering som hägrar? Att öka andelen e-fakturor och fakturamatchningen?
Är det utmaningen att omorganisera organisationen – beställarstruktur, ekonomifunktion, inköpsorganisation?
Temat för dagen är förändringsledning, för är det något jag tagit till mig under åren är att det alltid landar där. Läs mer här >>P2P Summit
Du kan på förhand lära mer om de moderatorer och talare du möter den 8 september, vi är trots allt svenskar och du som kommer har möjlighet att skicka in frågeställningar i god tid före den 8 september för att på bästa sätt utnyttja de värdefulla minuterna och timmarna under dagen.
När kunde du senast sitta med andra beslutsfattare från såväl ekonomi- som inköpsavdelningar och diskutera utmaningar och möjligheter?
Välkommen till P2P Summit!
Vill du veta mer eller vet du redan nu att du vill anmäla dig – maila till p2p@e-businessguide.eu för preliminär agenda och bokning – antalet platser är begränsat för kvalitativa diskussionsmöjligheter