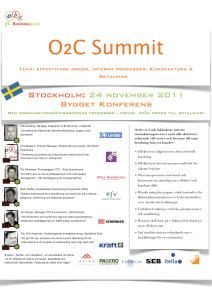 EBG welcomes SEB, Ariba, Crediflow, Itella, Tieto and Pagero to O2C Summit 2011. They are joining us for an intense panel debate where we answer pre submitted and spontanious questions from the participants.
Sending e-invoices, improving order to cash processes and intercompany processes will be discussed.
How is their view on cash management improvement through the modern technology they provide? Are we stuck in e-invoicing tech talk? Will there be interoperability in Sweden? How do they support suppliers wanting to improve customer service and cash flow through for instance sending e-invoices? What will future order-to-cash processes look like and in what ways can companies expect to be supported in their aim to reach higher control and efficiency?
Throughout the day interactive round table sessions will be held together with plenum presentations and networking during breaks and lunch.
Welcome! Email o2c@e-businessguide.eu to request the agenda or to book a seat for the day