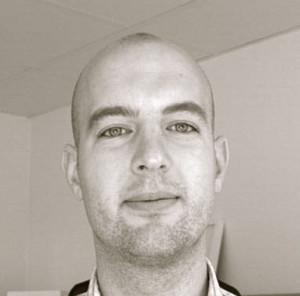 The Lindab Supply Chain
The supply chain is very central in the Lindab business.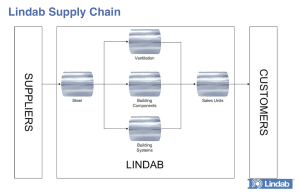 There are many business documents exchanged in the supply chain and many people involved in the different processes. And there are many different type customers, many small customers and few suppliers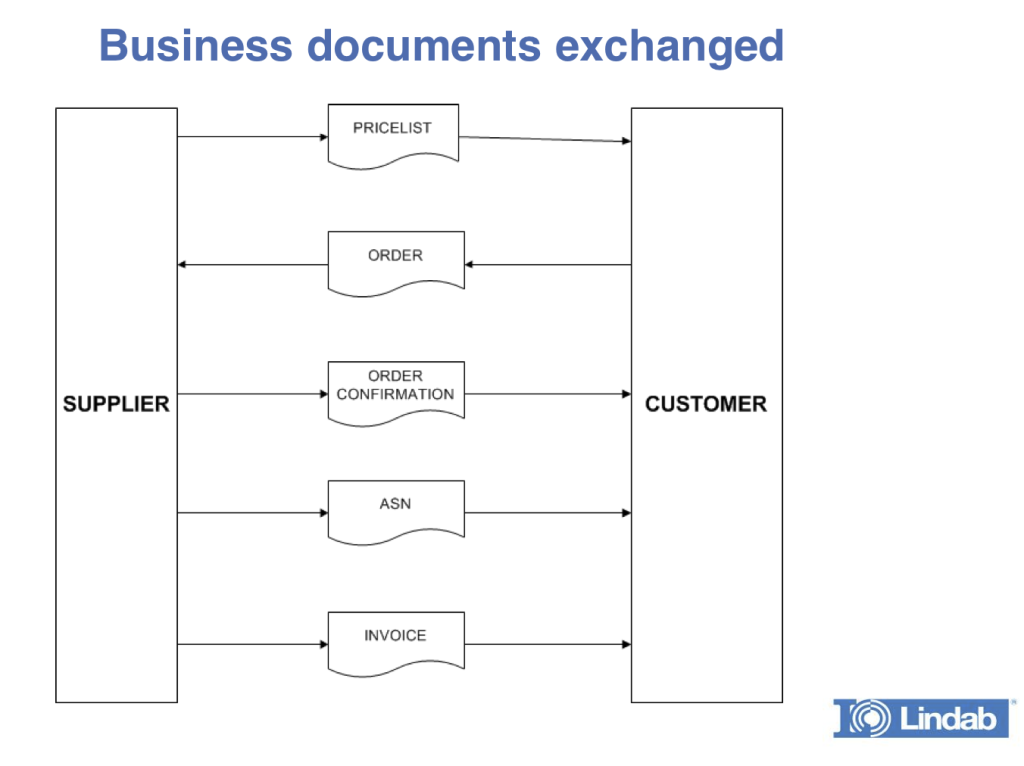 Lindab have long leadtimes from order to delivery – about 2-4 months leadtime from we get the order until we get the goods. Fewrer and bigger orders at the customer side we work with small orders an short leadtimes – from 0-5 days from order to delivery to customer. We rarely have anything in stock for more than five days. That gives us quite a few challenges through the whole supply chain, short leads times and small orders againsst our customers and large order and lobng lead times from our suppliers.
In the the whole supply chain process it's about value adding possibilities, raw material in the beginning and ready product in the end.
Electronic document exchange
Common documents that are exchanged, pricelists, purchase orders form the customer, order confirmations, shipping notices and invoices. Most of our invoices are purchase invoices, we do have cost invoices as well but not as many.
Prerequisites when developing a supporting solution
De-centralized organization – more than 30 individual companies
Many internal business transactions, up to five steps from end customers to suppliers and the documents need to flow through the entire process since manual handling is very costly
Many customers with different demands, different markets, different behaviours. We are the suppliers and customer support is very important. We need to meet customer demands, if a customer have invested in a solution we have to be able to meet that, we cannot ask them to use our solutions
Different local market conditions
Lindab have an aim to develop common processes for within the group, it is not cost efficient to do thing differently between companies, we need one solution one process that we can use across the companies. As a business system we use Microsoft Dynamics but still many different ERP systems are used within the group.
What demands does this give us when choosing how to support the process development?
We must have fast communication
Short delivery times and it is very important that our core competitive areas are that we are ablie, and should be able to deliver in short leed times.
Similar process and interface regardless of communication
Electronic solutions as customer service
Customer service is one of our most important competitive advantages
Speed up the process and shorten lead times in the supply chain between us and the customer
Tie our customers closer
Make both us and the customer more efficient
If you have an order with 300 lines and miss two of them it could be that you cannot mount any of it – we must be able to deliver everything to the customer. To be able to do that we need fast communication and transparence of information. The sales man at Lindab should be able to tell the customer and recieve the goods fast. We also need to be able to meet the different demands in different markets.
We have many internal transactions and we also want a reusability of solutions as IT-solutions tend to be more and more expensive.
What have Lindab done?
First of all we chose strategy, we see that the internal exchange of documents is very essential for our business. There are several companies in our group that are involved in each order, so many business 3transactions for each order. We want to be able to control that, and to optimise that as much as possible, we know our processes best. So we handle those processes our selves, technology wise. However, the external document exchange need an external solution that work with these processes all the time.
We have one interface bagainst external partners, external customers and suppliers. Our users do not have to care how they handle an order, how should this invocie reach the customer – it is fully automated by the system. It should be easy to connect new partners and customers to be able to communicte with them. It cannot be a big cost for every new connection. Therefor the solution chosen shouyld be able to support all messages exchanged. We have one agreement with one partner – but our customers and vendors have different contracts with other suppliers. As when you make a phone call…
Lindab basic
Lindab Group Strategy to implement common processes within the group
Several internal business systems
Strategy to have common system platform supporting the process, based on Microsoft Dynamics Ax as business system
External EDI partner demands
Easy to connect new partners, therefore a Hub-based solution with possibility to support
all formats and protocols
Agreement of interoperability with other EDI vendors to be able to communicate with all
partners
Flexibility and reliability
Demands when choosing process support
Fast communication and transparency of information in the supply chain process
Support local market conditions
Optimizing internal processes
High degree of automization
Re-usability of solutions, cost efficiency
Lindab solution for electronic document handling
Lindab Internal EDI handled by Lindab, external EDI outsourced to external partner
Runs on BizTalk integration platform
One interface against external partner that handles communication with external customers and suppliers
Interoperability problems in the EDI and XML world
On the interoperability note – what we do when there is not an interoperability agreement we need to sign an agreement with other customer choices. This is nothing we want to do, but we might have to.
Conclusion – both the customer and Lindab should benefit and improve efficiency thorugh faster, more efficient and more secure document exchange!
Questions:
1. What was the aim before indulging into this project?
The communication of electronic business documents (information) is an essential part of our project for implementing common processes and solutions within the whole group. The aim when starting this was to be able to use best-practise solutions within the whole group, and to be able to grow without having administrative costs growing proportional to the turnover.
2. How have the way you measure these processes changed since this project was implemented?

A lot, we are implementing common KPI's for these processes, for example:
–       The time it takes from when the customer sends an order to we send an confirmation.
–       Delivery precision (actual delivery date vs promise date)
–       Automatic matching percentage of supplier purchase invoices.
3. How have different functions been involved in this project (sales/AR/IT)?
It actually varies quite a lot between our different local companies, in some Sales and/or AR are very active and involved, but in others this is handled only by IT.