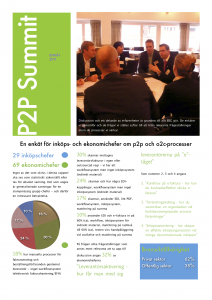 Each year EBG will conduct surveys along with articles, summits, newsletters etc. How do finance and procurement leaders think and what are their priorities? By no means these reports are to be seen as statistic truth but gives an interesting view on topics to discuss, the possible discrepancy between functions and KPIs and a basis for discussions during our summits.
This first survey is conducted in Sweden in Swedish and has been translated.
Click below to download you copy
Participate in the 2012 survey and receive a 500 SEK discount on P2P Summit 2012, swedish end users only: >>Go to end user survey 2012
Use the code P2PSUR for your discounted price.
Your responses are confidential and seen by EBG only, the results will be gathered into a summary report and sent to you