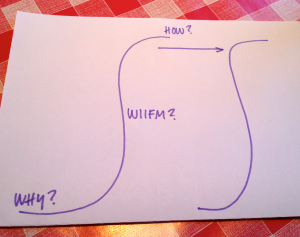 In this LinkedIn discussion the note of Change Management is again brought up. Now from a CIO point of view. EBG recently attended a Cloud focused conference and in whatever way we talk about change and CIOs, we understand it. As systems become more user friendly and are targeted more towards the business rather than the IT departmenet (a study at the conference pointed at CIOs not knowing how much of their systems were cloud based, the business on the other hand thought they knew, and it was a lot) change is everywhere.
But, as pointed out in this discussion, change can mean many things. Strategies and processes, human behaviour, systems and services. It is still interesting how many people believe change – in whatever way we perceive it- can come out of enforcement. It just don't. It is also interesting that there is still an idea that change management in relation to whatever processes, strategies or system implementation we might be talking about, is seen as an underdog, too soft and too avoiding type approach.
Nothing could be more wrong. On our next upcoming Swedish conference we again focus a lot on change management, an understanding of how to link together the hard facts, the systems and the processes with everyday behaviour, mental understandings and actual change of behaviour. One participant showed us a very simple, no news, but very clear picture, seen below: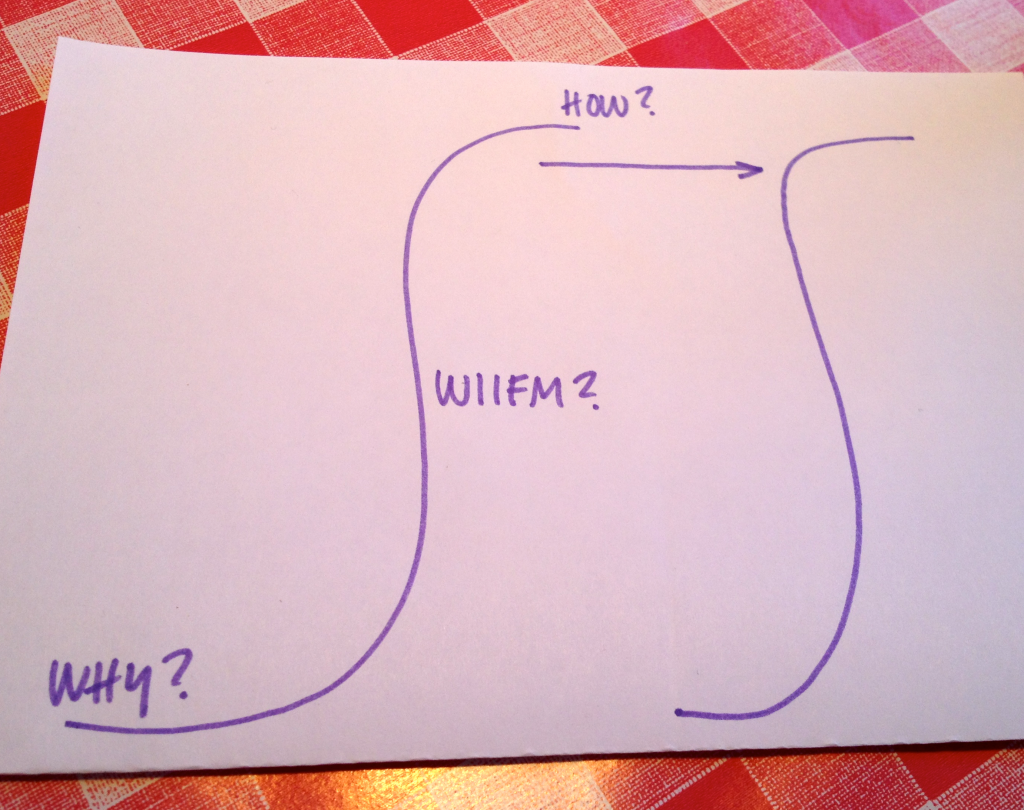 Any type change process starts with people understanding why the need of change (what ever it might be), moves on to understanding Whats In It For Me and then moving on to an understanding of How. That's how humans work.
What happens if that process is exlusive to management teams? And, as the arrow points out – the implementation phase in the organisation starts at How?. What will the outcome be?
From the LinkedIn discussion we have chosen the following extracts:
"It never ceases to amaze me that people still write articles like this.

When are CIO's (and any other 'C' level executives going to understand that the implementation of an IT solution (whatever it may be) will have a profound impact on how a business goes about its day to day operations! This is almost always lost on the IT Project Managers who are normally appointed to run and implement the project who invariably have no idea of how to manage the people side of change and think the use of the new technology is something that be overcome by a bit of training toward the end of the project. It is arguable that this contributes to the high failure rate of change projects.

Change is about people and is personal. People do not like being foisted upon by some upstart armed with their off-the-shelf approach which they blindly adhere to regardless of the circumstances. The key is to understand the change and employ common sense using the knowledge you possess as a Change Manager and use the right tools and techniques (which can be adapted and adopted from any of the aforementioned methodologies) where appropriate, in the right circumstances and at the right time … this comes with experience and know-how.

I have Change Managed the impact of IT implementations (from ERP through to Infrastructure changes) on a business for over 15-years and have found that a combination of a good PM and an equally good CM works wonders. Both will have a responsibility for their own plan but both plans will need to be aligned to agree joint milestones. Unfortunately not every organisation is willing to invest in that sort of overhead. Very short-sighted I must say.

Anyway fyi and have my own approach, however when going into an assignment I do not try and foist this on an organisation as the "answer to all their prayers". I will always try and build a bespoke approach (aligned with the overall plan as mentioned above) based on my experience and knowledge of available methodologies, tools and techniques (including my own) and align them with what an organisation already uses. This is the most powerful way to gain buy-in from Sponsors and Key Stakeholders because they can see that you have done the research on their organisation and have designed an approach that suits their specific needs.

The core element of any IT implementation is that of Adoption/Business Readiness Measurement which needs to be tracked from inception through to eventual go-live which should not be sanctioned unless the business have indicated through the measurement results that THEY (not the technology) are ready to work with the new solution/application."
"This article unknowingly argues for the use of participatory techniques in the change process. People will support what they have created; there is no need for them to 'buy in' since they already own it. Participation is the key to successful change."
Group: Business Improvement, Change Management & Performance
Discussion: Change Management Is More Than Spreadsheets … Awesome Article !