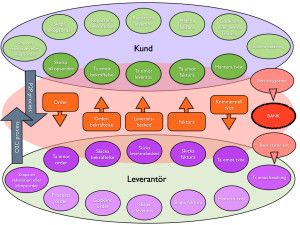 A new year, a year of new beginnings and endings, of plans and projects and an energy promising that now, it will all come true. All the plans, and all the projects.
Many companies will have transaction optimation on the agenda. Minimizing paper and scanned invoices, automating and controlling purchase orders, implementing more electronic catalouges.
And still – those that will need to help realise this is still, in 2013, arguing about interoperability, what e-invoicing operator is the best and who is not. And nothing of that is helping end users come to term with transaction control and automation.
Following the inspirational Pete Loughlin and his blog, we read the string of articles beginning with the case for and the case against interoperability, followed by a conslusion. By all means, read the below comments. Some parts make sense while some simply don't.
What we do now is that, still in 2013, it is in some cases almost impossible to exchange electronic documents between B2B buyer and supplier due to lack of functioning interoperability. And – even if a transaction can be "shipped" between two parties – the compliant issues can be mindblowing even for the most experienced users. It is not 100% clear who, how and what should be validated when a document is transported. All operators do not send receipts (no demand for that in Peppol for instance). It isn't in Peppol, it isn't among all operators.
And as long as it is not crystal clear how well operators take care of company critical information, it doesn't matter who screams the highest. Merely moving a document between two is no biggie, this is not what the discussion is about.