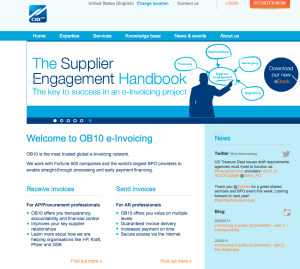 At the EXPP we caught up with OB10 and Gary Benson, VP Corporate Development at OB10. There is a lot written about OB10 these days and there is a lot happening in the "e" industry at large. Some has got to do with some buying others and a lot has got to do with real end user business value. As an organization having pushed end-to-end processes and the need for win-win perspectives between buyer and supplier – all is for the better.
In the below interview we talk about compliance, why it is crucial but still not a commodity aspect of e-invoicing, mass market adoption, value added services coming to life, express payments, non faulty data and end-to-end processes.
The key for mass market adoption must be adding the possibility for SMEs to acknowledge their invoice has been received (should be commodity), will be paid and – the number one issue one would think WHEN it will be paid. If the development also mean being able to process orders and supply chains faster and more accurately on the supplier side – great!
And of course – we talked about the Tungsten acquisition. If there is someone NOT realizing the economic value in the financial value chain running between buyer and supplier – it is time to wake up!