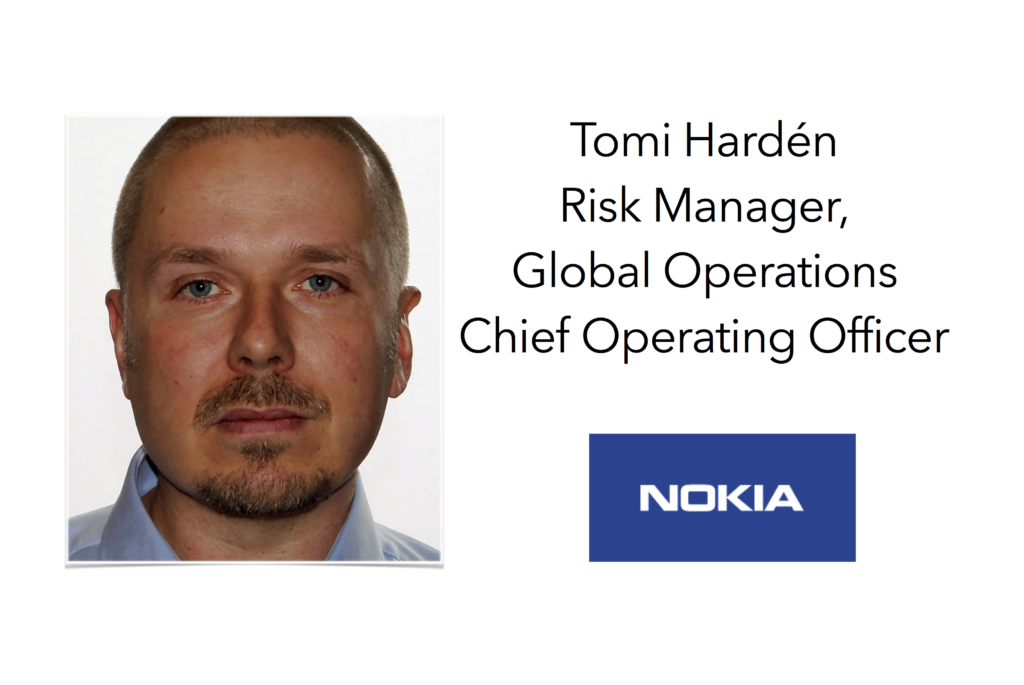 A vital part of end-to-end visibility and control is managing risk. Risk management come in many shapes and forms – not having a clear strategy may impact profitability, your brand and potentially the very existence of your company.
EBG | Network are thrilled to welcome Tomi Hardén, Risk Manager, Global Operations, Chief Operating Officer at Nokia to Source 2 Pay Summit 2018, April 24th in Stockholm. He will share his experiences during a Focus Session and two round table discussions called Theme Discussions. These sessions are enabled by riskmethods.
If discussion risk management strategies and ways to make them come true you should not wait to register. Source 2 Pay Summit is not a fair – EBG | Network enable real experience exchange and lots of face-to-face interaction based on Your needs.
Want to learn more sooner? Take a look at the upcoming webinar EBG | Network host together with riskmethods on April 9th. Joining is free of charge but require >>registration.
Back to the summit.
About Nokia
We create the technology to connect the world. Powered by the research and innovation of Nokia Bell Labs, we serve communications service providers, governments, large enterprises and consumers, with the industry's most complete, end-to-end portfolio of products, services and licensing. Nokia is enabling the infrastructure for 5G and the Internet of Things, and shaping the future of technology to transform the human experience.
Few companies have Nokia's storied capacity for transforming, developing new technologies and adapting to shifts in market conditions.
From its beginning in 1865 as a single paper mill operation, Nokia has found and nurtured success in several sectors over the years, including cable, mobile devices, paper products, rubber boots and tires, and telecommunications infrastructure equipment.
Nokia's sector-by-sector success over the years has mirrored its geographical rise: from a Finnish-focused company until the 1980s with a growing Nordic and European presence; to a bona fide European company in the early 1990s; and onto a truly global company from the mid-1990s onward. With the acquisition of Alcatel-Lucent in 2016, we further deepen and widen our global reach.
Nokia has been producing telecommunications equipment since the 1880s – almost since telephony began.
..continue reading about the amazing development of Nokia here
About riskmethods
riskmethods provides award winning Supply Chain Risk Management solutions to address the entire lifecycle of identifying risk, assessing impact and enacting plans to prevent or mitigate risk. Our approach combines innovative Big Data and Artificial intelligence capabilities with insightful risk intelligence to ensure that the right people have the right information at the right time.  Over 100 businesses trust riskmethods to fuel their supply chain risk management programs.  Armed with a digitized representation of the risk profile for their supply network, our customers are able to make better decisions and achieve first-mover advantage in the face of threats. This immediate visibility to emerging risk exposure helps clients assure supply, maintain compliance and protect their revenue and reputation
riskmethods.net | @riskmethods1