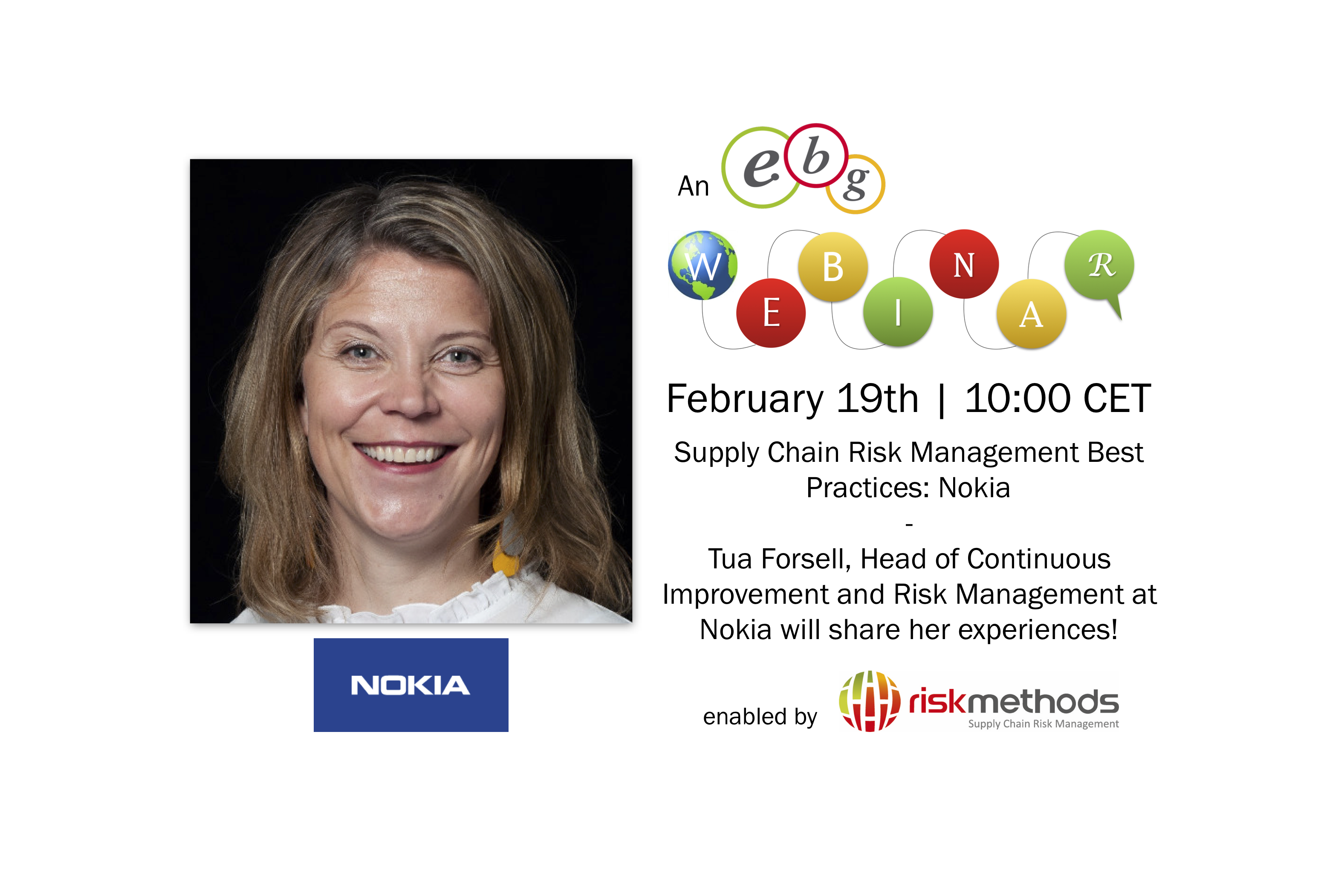 Apart from meeting face to face and being able to ask each other questions and listen to each others experiences – meeting online is a great way to increase knowledge in different areas. EBG are happy to present an opportunity to learn more about supply chain risk management from Nokia.
Managing risk is a top priority for all organizations and we have learned that there are many challenges facing those in charge of reducing that risk exposure. Luckily today there are advanced technology that – together with skilled professionals – reduce the uncertainty and drill deeper into supplier and supply data than anyone thought possible.
This webinar is enabled by riskmethods and will share the best practice experiences Nokia have through the skilled know how of Tua Forsell, Head of Continuous Improvement and Risk Management.
Date: February 19th 2019
Time: 10:00-10:45 CET
Place: Your computer/tablet/phone
Language: English
Cost: Free of charge but requires registration
Organizer: EBG | Network & riskmethods

Register here
Supply Chain Risk Management in Practice
Learn how Nokia addresses the risk that threatens their supply chain and their organization. 

You'll learn:
How Nokia incorporates supply chain risk management into their larger enterprise risk management journey
How Nokia moved from ad-hoc, scattered actions to a systematic and proactive supply chain risk management process
How Nokia's supply chain risk management program helped them achieve sub-tier visibility and maintain business continuity
When EBG | Network host a webinar – the aim is for all who join to be abe to learn both from the presenter and from as many as possible who is joining. Interactive poll questions and Q&A sessions are share during the webinar. This enables You who join to – without leaving the office – learn as much as possible from as many as possible.

All who register will receive the slides and recording, joining us online will give you the opportunity to compare live with peers. Your online and registration details will only be shared with the co-organizer. We promise to take care of your time spent with us.
About Nokia
From its beginning in 1865 as a single paper mill operation, Nokia has found and nurtured success in several sectors over the years, including cable, mobile devices, paper products, rubber boots and tires, and telecommunications infrastructure equipment.

Nokia's sector-by-sector success over the years has mirrored its geographical rise: from a Finnish-focused company until the 1980s with a growing Nordic and European presence; to a bona fide European company in the early 1990s; and onto a truly global company from the mid-1990s onward. The acquisition of Alcatel-Lucent in 2016, further deepened and widened our global reach.
We are at the dawn of a new era. Digital technologies – cloud computing, artificial intelligence, machine learning, the Internet of Things and 5G networks – are changing our world. Nokia is driving innovation and the future of technology to power this digital age and transform how people live, work and communicate.

We push the boundaries of what is possible to create new ways of connecting people, things and services instantly and effortlessly. Building upon a foundation of integrity, quality and security, we help our customers navigate the complex choices of the connected world, to unlock its opportunities and provide extraordinary experiences in people's lives each day.

Nokia.com/about-us
About riskmethods
riskmethods was born because its founders had a mission: to create a world of reliable supply networks. Rolf Zimmer & Heiko Schwarz launched riskmethods in 2013, when they saw that companies everywhere needed a way to navigate risk in a more effective way

riskmethods provides award winning Supply Chain Risk Management solutions to address the entire lifecycle of identifying risk, assessing impact and enacting plans to prevent or mitigate risk. Our approach combines innovative Big Data and Artificial intelligence capabilities with insightful risk intelligence to ensure that the right people have the right information at the right time. Over 100 businesses trust riskmethods to fuel their supply chain risk management programs. Armed with a digitized representation of the risk profile for their supply network, our customers are able to make better decisions and achieve first-mover advantage in the face of threats. This immediate visibility to emerging risk exposure helps clients assure supply, maintain compliance and protect their revenue and reputation
www.riskmethods.net | @riskmethods1