A big thank you to Tua Forsell, Head of Continuous Improvement and Risk Management at Nokia for generously sharing how they are stepping up their supply chain risk management ways of working.
In a session enabled by riskmethods you can learn both from Tua, riskmethods and from those attending live.
Supply Chain Risk Management in Practice
Learn how Nokia addresses the risk that threatens their supply chain and their organization. View a webinar recording below to learn first hand from Tua Forsell, Head of Continuous Improvement and Risk Management at Nokia how they are choosing to deepen their supply chain risk management scope and ways of working.

View the recording here

You'll learn:
How Nokia incorporates supply chain risk management into their larger enterprise risk management journey
How Nokia moved from ad-hoc, scattered actions to a systematic and proactive supply chain risk management process
How Nokia's supply chain risk management program helped them achieve sub-tier visibility and maintain business continuity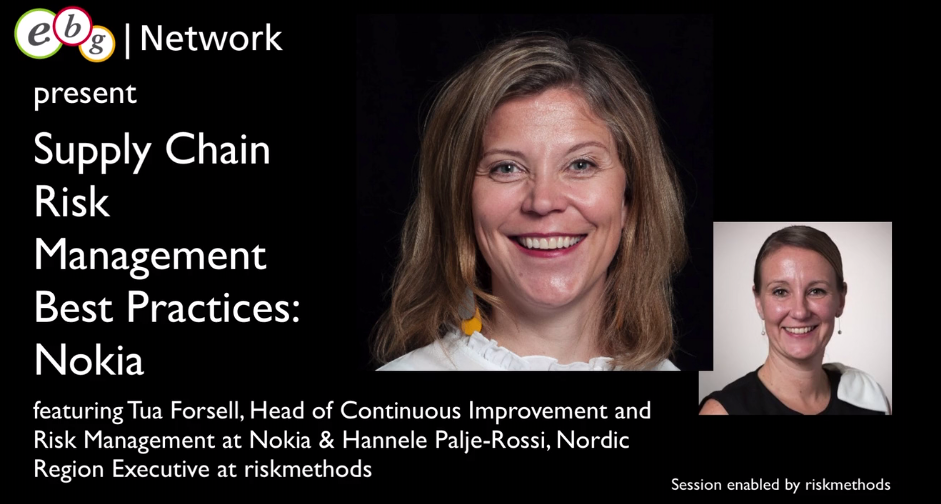 Whats the current risk monitoring scope?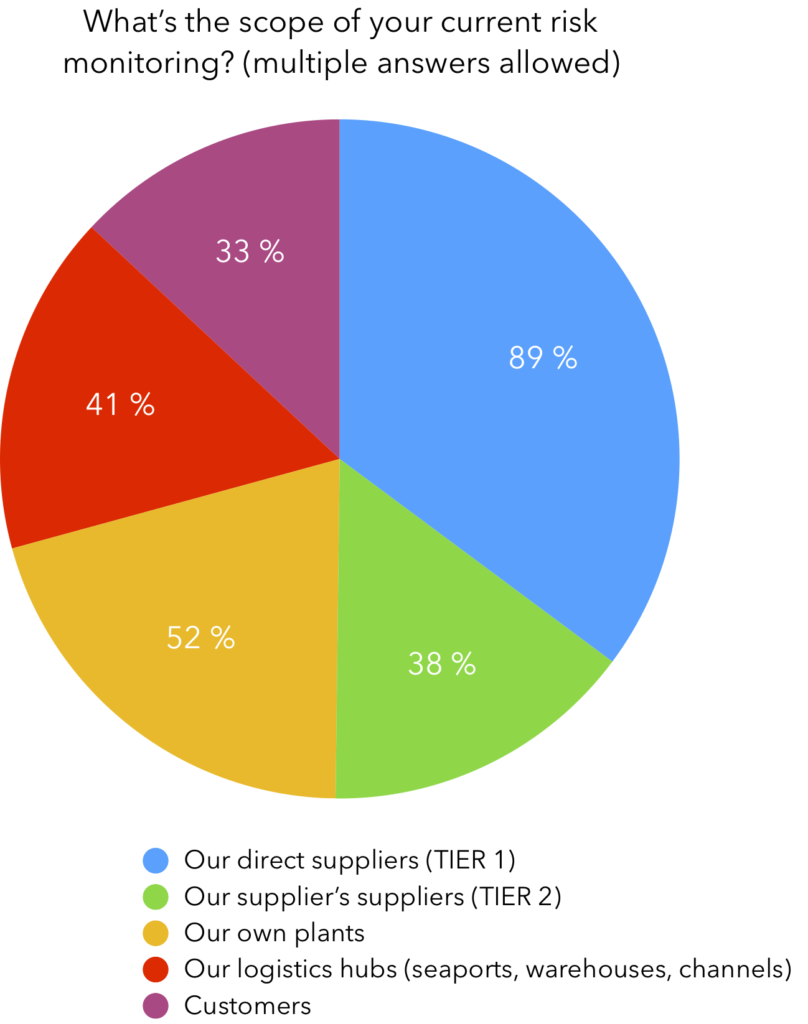 Let's see how this compare with the last three years figures (no statistical significance although enough valid and large companies to tell us something).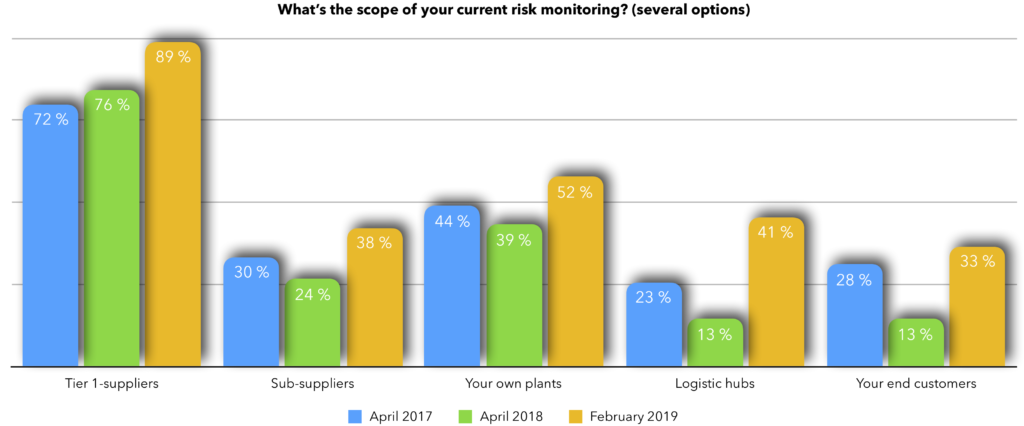 All aspects of the attending companies risk monitoring scope have increased! Can be because EBG have the best network of companies? Can also be (or a combination of both possibly) because the scope possibilities – due to companies such as riskmethods and a general understanding – have largely increased.
How do companies monitor potential issues that may cause disruptions?
We knew of course that excel is still very much a vital part of companies but as Tua states "Excel has it's plusses – it is easy to use and everybody can share…but depending on how many suppliers you have it may become more useful with a database type solution".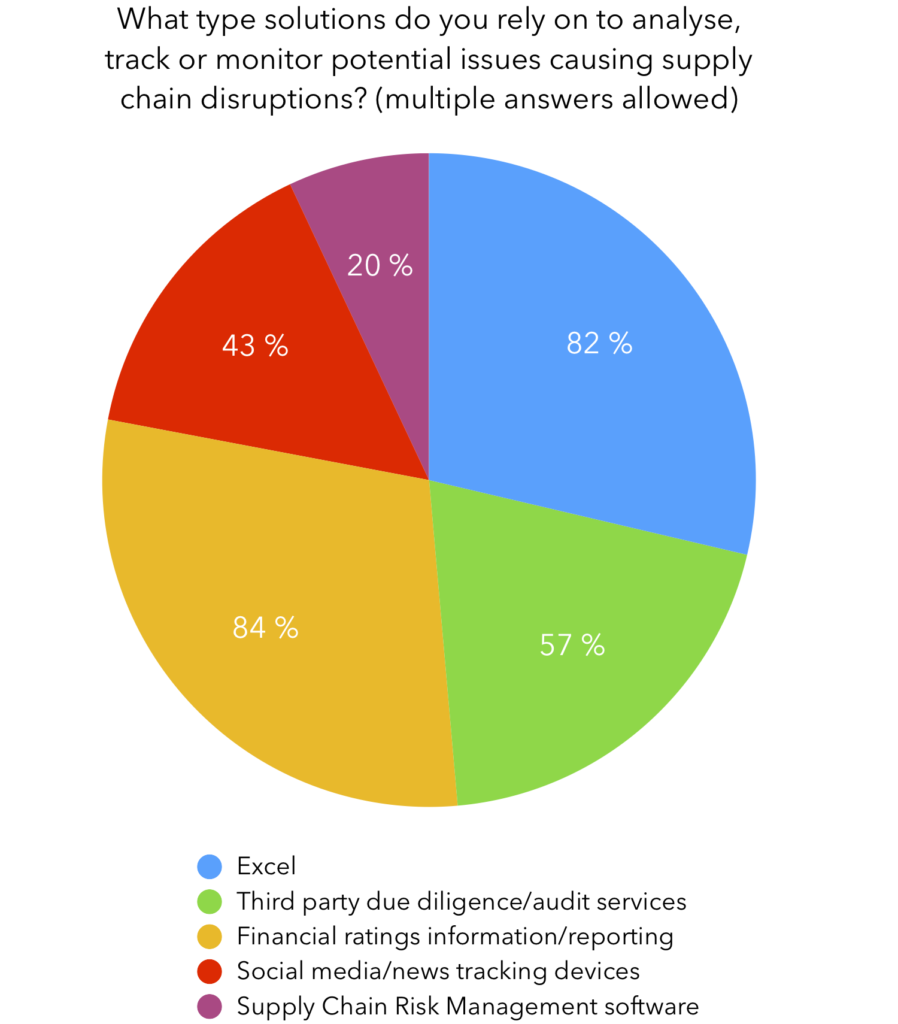 One aspect we didn't ask but that has been obvious in other gatherings, is the challenge in sharing data between those in need for it. At Nokia category managers play a significant role attending to risk scenarios and have the mandate to act if necessary. Who can act upon a risk scenario in your organization?
Continue the conversation, do take a look at the recording, welcome to join us another time live!