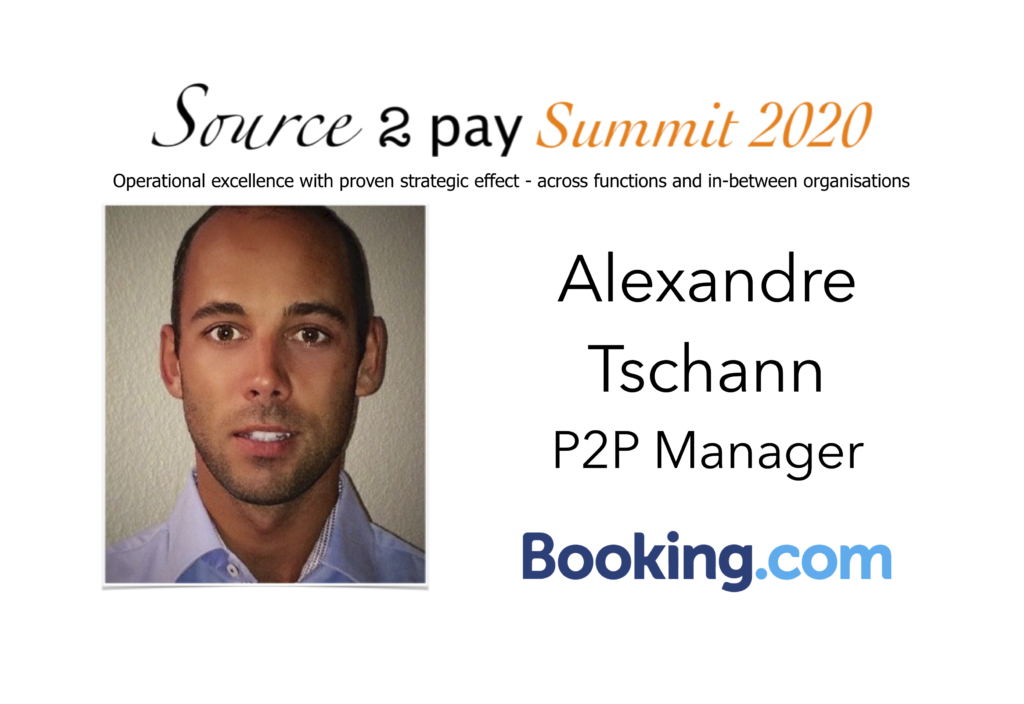 Welcome to Booking.com joining Source 2 Pay Summit 2020. Alexandre Tschann, P2P Manager at Booking.com will be sharing what their strive towards world class source to pay encompass.
In the source to pay area the words "best in class", "best practice" and "world class" is often use. But what does that mean? For sure not the same thing for every company, but what does it mean to one company and their decisions developing their sourcing, procurement and finance operations?
Let's find out!
One thing is for sure – companies need to "build the house" before starting to decorate it i.e unless you have control over what you do and how you do it (know you processes and structures) – how can you build a vision of automation, advanced analytics and assisted decision making?
At Source 2 Pay Summit 2020 you will be able to sit down with Alexandre and both learn form his experiences and that from other peers joining the summit. Take a look below what will be shared and discussed.
As a B2C technology driven company, the main areas of spend at Booking.com are in Digital marketing and Information Technology, but with a need to support a really extended global network of offices with local vendors.
Theme Discussion | How and why should you aspire to reach world class source to pay?
At booking.com the decision has been made to strive for world class source to pay processes. As a technology based company listed on the Nasdaq and spread across the world, the company – with 18 000 employees – has a global, regional and local scope. Procurement focus is on strategic spend, while vendor management aims at mitigating risks for suppliers with a global, regional or local set up. The whole organisation aims for higher level POs finding the right balance between controls/risks and agility for the business.  Here you can learn about what booking.com are doing to develop their processes, as well as share and discuss your experiences.
What does world class source to pay mean? The journey taken by Booking.com shared.
How to balance controls and efficiency: the struggle to define the efficient approval matrix and invoice validation process!
How do you balance local, regional and global set up within procurement and finance?
About Alexandre
Prior to working at Booking.com, Alexandre worked at Michael Page as a Global Process Owner, prior to that at Geodis as a SSC Finance EMEA Manager, prior to that at SNCF, KPMG, Société Génerale, BNP Paribas and Bosch. He bring tremendous experiences to the summit!
About Booking.com™
Founded in 1996 in Amsterdam, Booking.com has grown from a small Dutch startup to one of the world's leading digital travel companies. Part of Booking Holdings Inc. (NASDAQ: BKNG), Booking.com's mission is to make it easier for everyone to experience the world.
By investing in the technology that helps take the friction out of travel, Booking.com seamlessly connects millions of travellers with memorable experiences, a range of transport options and incredible places to stay – from homes to hotels and much more. As one of the world's largest travel marketplaces for both established brands and entrepreneurs of all sizes, Booking.com enables properties all over the world to reach a global audience and grow their businesses.
Booking.com is available in 43 languages and offers more than 28 million total reported accommodation listings, including over 6.2 million listings alone of homes, apartments and other unique places to stay. No matter where you want to go or what you want to do, Booking.com makes it easy and backs it all up with 24/7 customer support.
Booking.com is one of the world's largest e-commerce companies, and the number one destination to book any type of accommodation. Our mission is to empower people to experience the world. Helping us do this is a diverse community of over 17,000 employees across 198 global offices, all connected by a love of travel and a passion for creating the perfect customer experience.
About Source 2 Pay Summit
At Source 2 Pay Summit all are talking about digitalization.
At Source 2 Pay Summit all are talking about automation.
At Source 2 Pay Summit all are talking about changing behavior.
At Source 2 Pay Summit all are talking about growing and developing core businesses through the aid of operational excellence.
At Source 2 Pay Summit no one believe you can cherry pick one of the above but need to address it all.