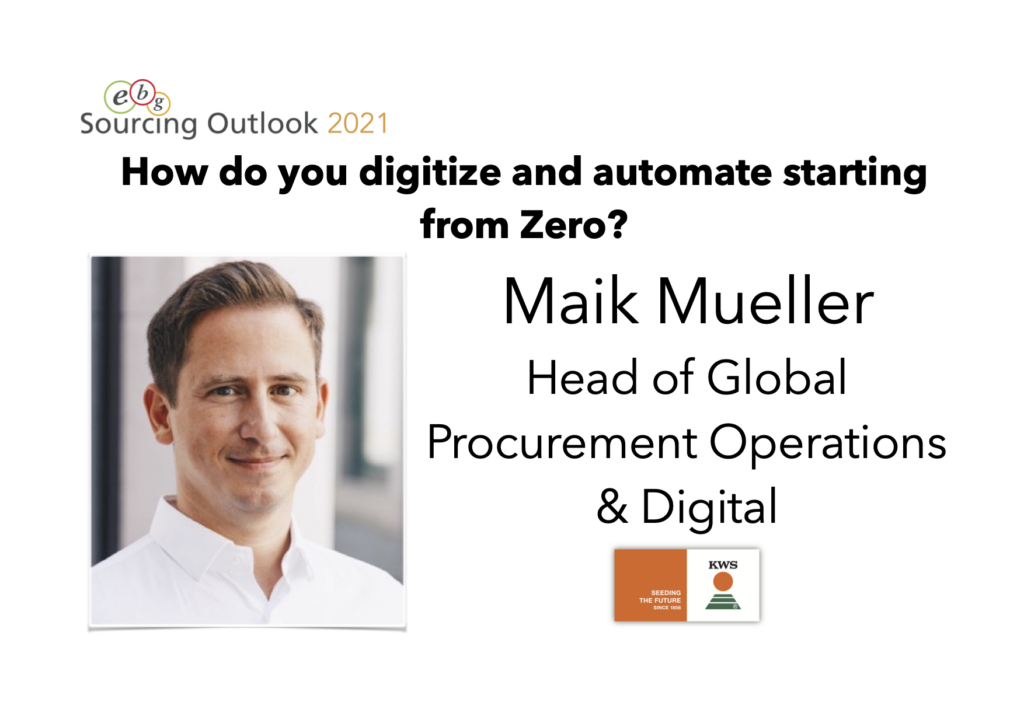 Where are you on your procurement digitizing and digitalization journey? Taking all aspects into account. How to be organized, what structures to enable, which processes to develop, what transactions to digitize and automate. EBG | Network welcome Maik Mueller, Head of Global Procurement Operations & Digital at KWS Group to Sourcing Outlook 2021.
On November 25th you who join the summit can choose to attend an Online Round Table Discussion hosted by Maik. EBG enabled round table discussions – by us called Theme Discussions – are unique opportunities to come together with peers and have real conversations about challenges, opportunities and concrete projects of importance to You.
Maik invite you join his session to learn from his experiences developing KWS Group digital procurement. Starting from Zero and on. What were the choices made, experiences, lessons learned. Discuss Your questions and challenges in the group consisting of people like you – other practitioners. Small groups that can actually speak to each other.
MISSION STATEMENT
This session will give you insights from how one company have chosen to digitize and automate from scratch. Learn about pitfalls and lessons learned and make sure to compare with the peer group.
How do you digitize and automate starting from Zero?
Maik have been part of planning and executing the KWS digitalizing and digitizing journey starting from zero. There were no processes and no team. Starting with indirect spend, KWS have since deployed systems (and ways around them when needed using analytics), gotten people on-board, created mandate to be flexible when needed yet keeping the strategic direction. During this session you will learn from that journey and compare with yourself and the peer group joining.
Learn and discuss;
How are you balancing strategic sourcing and procurement operations?
To what extent should you allow deviations versus standardization of processes?
How can you balance local versus global (languages/processes/systems) to ensure ease of interaction?
About Maik
Maik is an experienced manager with extensive expertise in strategic sourcing and purchase-to-pay process management for direct and indirect spend. Proficient in leveraging digitalization, automation, and data analytics to drive source-to-pay (S2P) efficiency and effectiveness. Skilled in setting up, developing, and leading international cross-functional teams.
Maik is Head of Global Business Services Procurement and IT with global accountability for procurement operations and IT operations. Key responsibilities include the definition and deployment of strategy and guiding principles, lean and automated processes, state-of-the-art systems and tools (RPA, AI, process mining, data analytics, chatbots), and the setup and development of a high-performing, results-oriented organization.
About KWS Group
For more than 160 years, KWS has stood for tradition, a down-to-earth approach and successful plant breeding, and also for modernization and international growth. In Klein Wanzleben, in the Magdeburger Börde, in 1856, farmer Matthias Christian Rabbethge laid the foundation for a family-owned company that is still closely linked to agriculture today.
The operating business of the KWS Group is managed in the three core segments of corn, sugarbeet and cereals. In addition, KWS builds up a new business unit for vegetable seeds.
The business units are supported by research and development, as well as administrative functions. Due to the integrated structure, the individual segments are closely connected.
KWS Quick Facts
Founded: 1856 in Klein Wanzleben
Headquarters: Einbeck, Lower Saxony, Germany
Revenue: € 1,283 million ( 2019/2020 )
EBIT: € 137 million ( 2019/2020 )
Employees: 5,709 , including approx. 2,100 in research and development
Research & Development: € 236 million ( 2019/2020 )
Breeding and sales operations in over 70 countries
87 subsidiaries and affiliates
About Sourcing Outlook
"You create some of the best events in Sweden and top three in Europe. Most of all the round table discussions give the greatest benefits, when we working in procurement talk to each other and share our practical experiences."

EBG Summit long time participant
The above summarize what EBG aim for. Not the "best-in-class" aspect – more the aspect of constantly keeping value creation for our participants, our network, in mind. Knowing that it is great to listen in on marvelous experiences and high profile visions. But even better to meet face to face in smaller groups and break those business transformait0on projects down into smaller pieces. Being able to ask each other questions and listen to others.
Since EBG Summits are about round table discussions – we still cannot meet in person. Keeping a distance just doesn't do it for round table discussions. It was therefore decided from the start that the fourth (and final) "pandemic" adjusted summit will also be held online.
Online Round Table Discussions
Even though it is not the same, below is what joining an EBG Summit look like. People coning together in smaller groups based on each individual interests and development areas. You can start choosing Theme Discussions straight after registration. Limited seats, an EBG Summit is open for maximum 130 senior (you should all contribute in the round table discussions) procurement professionals.
Other Theme Discussions to choose from