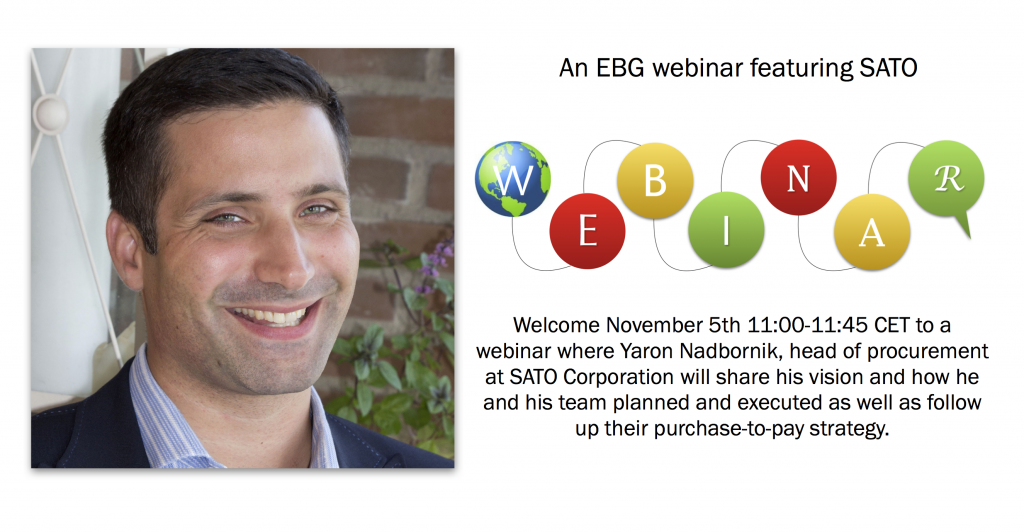 Date: Thursday November 5th
Time: 11:00-11:45 AM CET (12:00-12:45 Finnish time)
Language: English
Location: Your computer/phone/tablet
Cost: Free of charge but requires registration
Organizer: EBG | Network & OpusCapita
NOTE: This webinar has over 120 registrants and take 100 attendees joining live. Should you not be able to join the session live, EBG will send you the recording to all who registered. //EBG | Network
Last year SATO Corporation – a housing investment company in Finland – decided to take control over spend and purchasing behavior. Reducing cost but also ensuring possible supplier risk control and working capital optimization.
A supplier base of 2 000 active suppliers were to be reduced by 50%, supplier invoices to be automated by 80% and maverick spend minimized.
The solution meant aligning strategies, processes and technology and making sure management, employees and suppliers recognize the importance of set up processes.
Welcome November 5th 11:00-11:45 CET to a webinar where Yaron Nadbornik, head of procurement at SATO Corporation will share his vision and how he and his team planned and executed as well as follow up their purchase-to-pay strategy. Together with Martin Casserdahl, Director, P2P Presales and Director, P2P Presales and Consultancy at OpusCapita you will get an up-to-date purchase-to-pay overview and action plan.

• How do you enable purchase-to-pay control?
• How can you ensure policy and process compliance?
• What direct and indirect savings are calculated?
• What KPIs are used making sure strategies are realized?
A warm welcome to all practitioners wanting to benchmark purchase-to-pay efficiency and get inspired by Yaron Nadbornik. You will be able to compare your experiences live with peers and ask your questions, why not gather the team?
All who register will be sent the taped recording, it is free of charge to join.
A warm welcome!
EBG | Network & OpusCapita