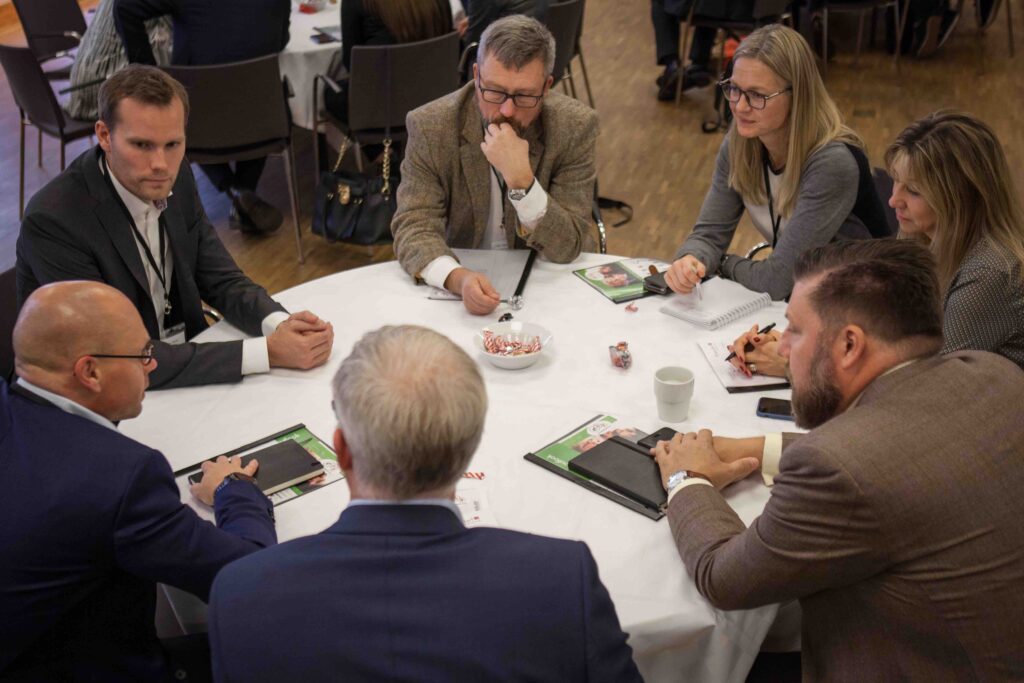 Since 2010 EBG | Network have gathered peers and experts online and irl in informal yet to the point ways to share experiences. The desire and willingness to exchange know how has been the red thread throughout these years. Two annual summits, a dozen or so webinars, interviews and occasional workshops are what EBG do annually and You are welcome to join!
EBG | Summits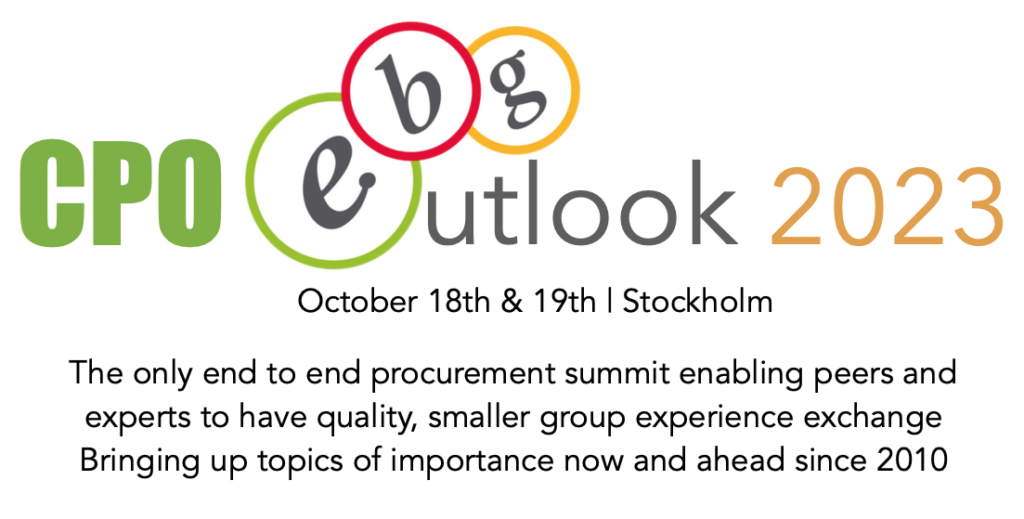 In 2022 a new EBG summit met Nordic and beyond end to end procurement practitioners in Stockholm and online. CPO Outlook being a two day summit combining Source 2 Pay Summit and Sourcing Outlook. The only summit of its kind in the Nordics. Learn more via cpooutlook.com

The first summit created by EBG | Network, the first held in 2010. The aim with this one day summit is to bring together sourcing, procurement and finance professionals and experts. When functions that often work in silos magic happen!
Learn more about what Source 2 Pay Summit used to look like via source2pay-summit.com
In 2020 EBG held both annual summits 100% online. Still with the same round table discussion focus – and it worked! Limited seats, on web-camera, moderator led, topic focused and pre-chosen experiencde exchange targeted discussions. People from across Europe coming together to draw from each others experiences.
About 350 peers and experts joined each other for 35 + 19 round table discussions and 14 keynotes.
View the Source 2 Pay Summit 2020 Post Summit Report and welcome to join us in 2021. EBG can help you make a difference.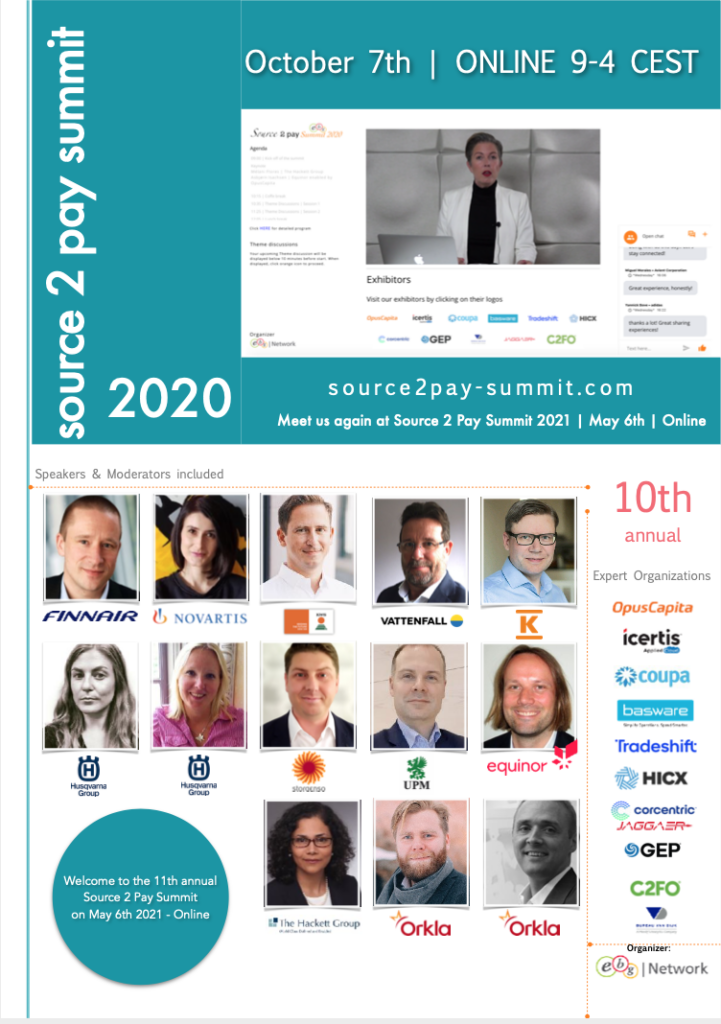 Post Summit Reports
Don't take our word for it, below yo can view and re-view past summits!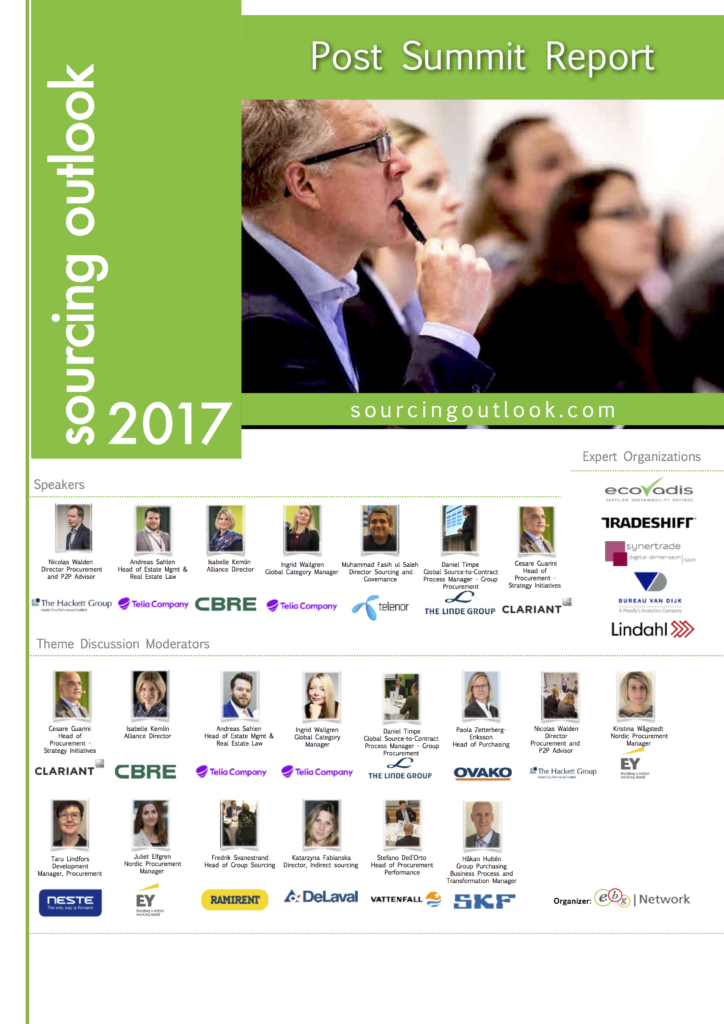 View Source 2 Pay Summit Post Summit Report 2019
Take a look at Source 2 Pay Summit Post Summit Report 2018
Check out Source 2 Pay Summit Post Summit Report 2017
Want to join? Register here or email lars(at)ebgnetwork.com to sponsor the summit.

The second conference created by EBG | Network is called Sourcing Outlook. This one day conference focus on bringing together sourcing and procurement professionals and experts to share experiences in today's and tomorrows ways of working with external spend and value creation.
Learn more about via sourcingooutlook.com
Post Summit Reports
Want to see what we have been up to so far? Take a look at past summits Post Summit Reports!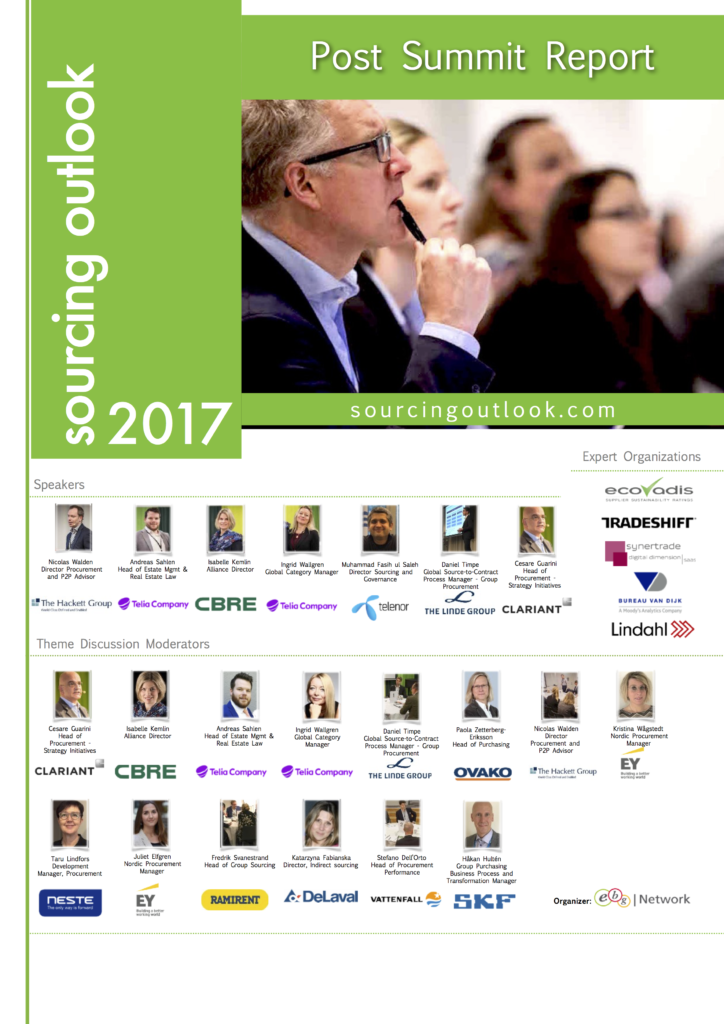 Re-visit Sourcing Outlook Post Summit Report 2019
Take a peak at Sourcing Outlook Post Summit Report 2017
EBG | Webinars
Meeting online is a great way to exchange know how without leaving the office. EBG | Network began hosting quality webinars in 2014 and have since gathered thousands of peers virtually. Live poll questions enable on the spot benchmark and Q&A sessions make sure as much questions as is possible are answered.
All webinars are published On Demand after.
Go to EBG | Webinar to view pre session invitations.
Go to EBG | Play to re-view On Demand sessions.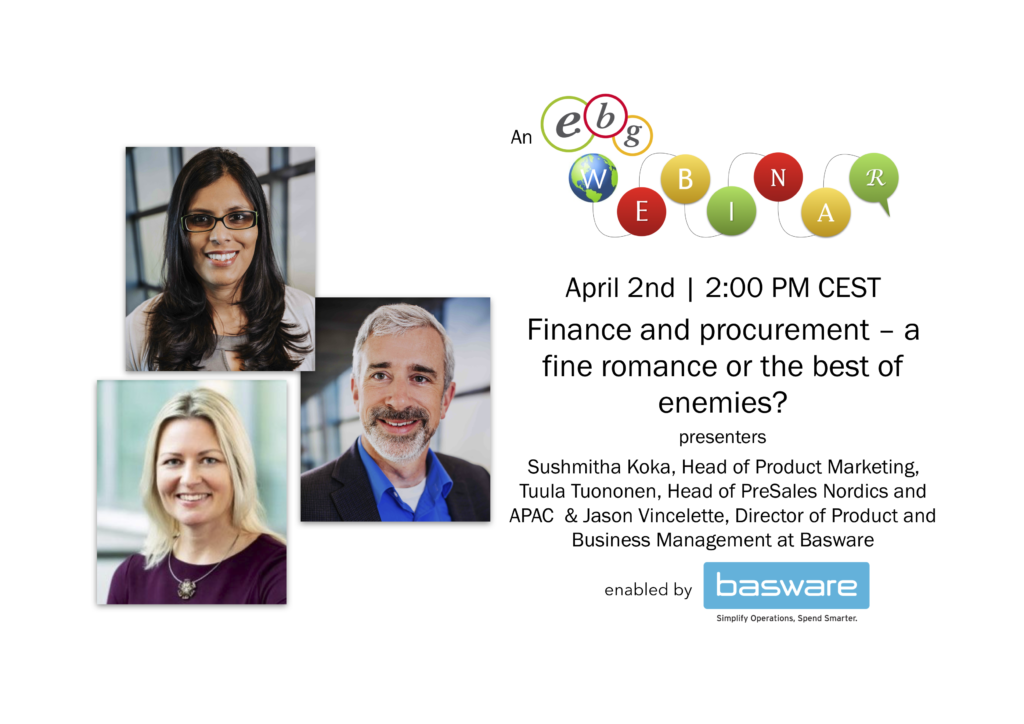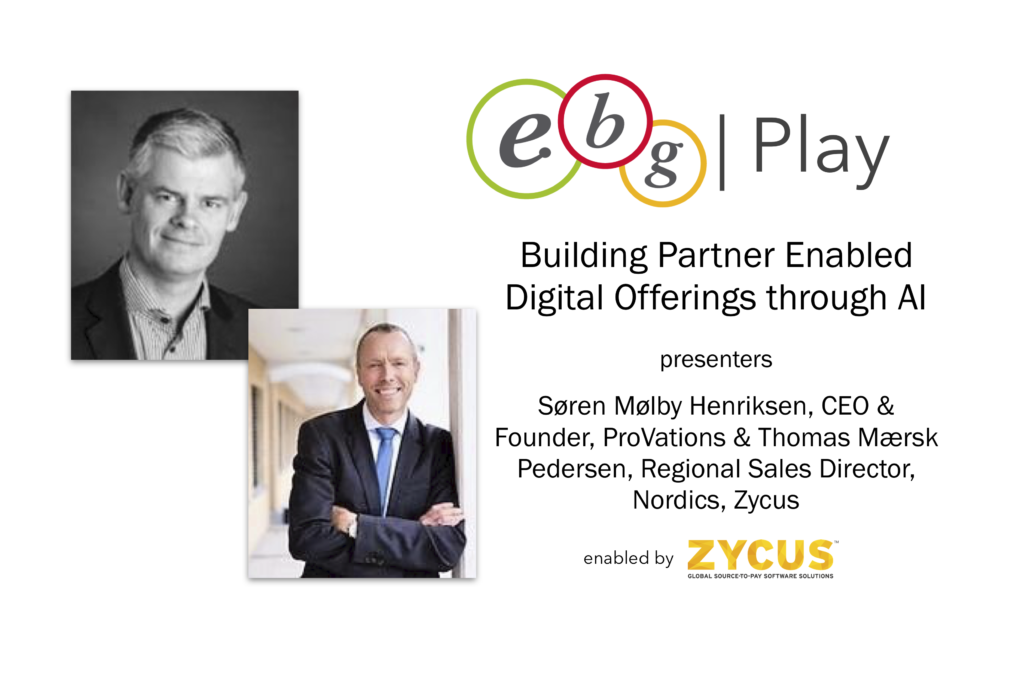 Contact lars(at)ebgnetwork.com if you want to learn more about sharing your know how online.
EBG | Workshops
A couple of times a year, EBG | Network are able to create dedicated workshops in Stockholm (mainly). Example workshop can be found here and here.
Contact lars(at)ebgnetwork.com (or use the chat!) today to find out how You can benefit from the 10 years experience EBG have.
EBG | Interviews
Since 2010, EBG have been traveling round the world doing video interviews. Not to try and mimic an HD quality newsroom recording, but to give you a face to look at and to see the persons behind the opinions and shared experiences.
Back in 2012 EBG interviewed DIFI about the then much discussed e-invocing legislation in Norway. View the interview here. In Sweden, government decided to push e-orders which EBG did an interview about here. Most focus has been on online interviews, here one with Tradeshift founder Christian Lanng back in 2013. Win-in buyer and supplier relationships has always been very important for EBG, back in 2013 we also interviewed Kate Vitasek about Vested (which we then brought to the Nordics via Source 2 Pay Summit).
More recent interviews can be found via EBG | Insight.
Contact lars(at)ebgnetwork (or use the chat!) if You want your company to share insights via an interview.
What EBG don't do
EBG do not sell banner ads, advertorials, nor paid for advertising emails or database extracts.