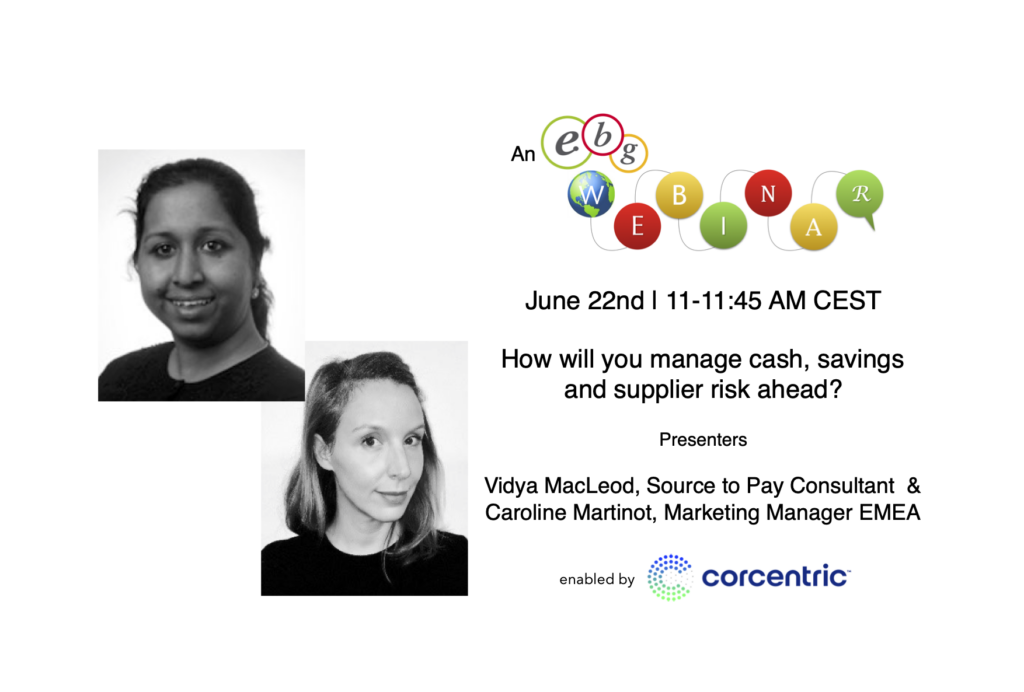 As the economy begins to bounce back from the global health crisis, companies are working hard to rebuild and re-assess how to drive growth. Procurement teams must adjust to a world focused on cost-centric measures as companies rethink the role of procurement to focus on cash management, savings and supply risk mitigation to enable growth agility.
Date: June 22nd 2021
Time: 11:00-11:45 AM CEST
Place: Your computer/tablet/phone
Language: English
Cost: Free of charge but requires registration
Organizer: EBG | Network & Corcentric
During this webinar we will discuss how these three focus areas affect supplier, sourcing and category management strategies and provide best practices to position your procurement department in a way that enables growth and agility.
We will discuss;
Are we throwing prior strategies out of the window, making minor changes, or staying the same? 
What are the best practices for cash management in a cost-centric environment?  
How to set coherent savings targets aligned with corporate strategy?  
How to manage supplier risk and uncertainty?  
All who register will receive the slides and recording. We hope to see you at this final EBG webinar before a summer break!
About Corcentric
Corcentric helps more than 2,300 companies enhance cash flow quickly through an unmatched combination of software, advisory services, and payments that transform how companies purchase, pay, and get paid.
corcentric.com