Short Description
Turn raw data into remarkable outcomes with end-to-end, multi-cloud data integration and analytics solutions. Close the gaps between data, insights, and action.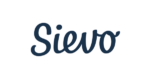 Short Description
Sievo combines best-of-breed spend management software, world-class services and value-added content.

Short Description
Each procurement department has its own specific challenges. Our eProcurement Software, which is available in 23 languages, is composed of a wide range of tailor-made applications to match your exact requirements. Our focus on ergonomics and ease-of-use ensure rapid user adoption and great satisfaction.