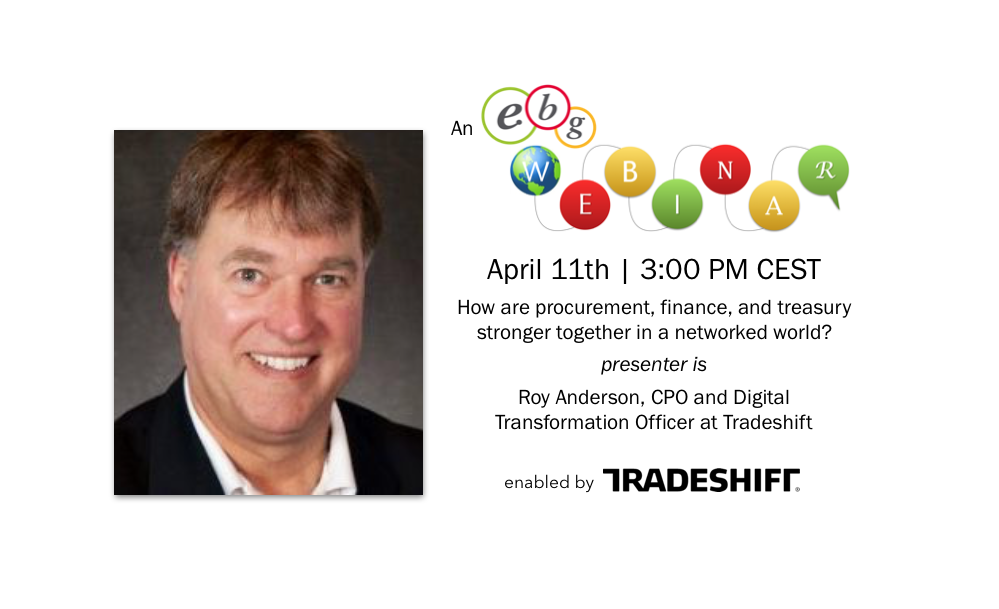 Working as a procurement and finance professional today mean overseeing huge amounts of data, several cross function processes and infinite amounts of people who need to act in order to reach set targets.
Welcome to a webinar where we will aim to take a 360 view on business development from a procurement – finance and treasure perspective. Why? Because today we can and because in the future we believe business will have to.
Date: April 11th 2019
Time: 3:00-3:50 PM CEST
Place: Your computer/tablet/phone
Language: English
Cost: Free of charge but requires registration
Organizer: EBG | Network & Tradeshift

Register here
During this session Roy Anderson, CPO and Digital Transformation Officer at Tradeshift – a fast growing business commerce company with HQ in the US – will work from top to bottom to reason with and empower you who work within procurement and finance. He will go through common challenges he has faced and face in his current work environment.
We will look at how you can think beyond day-to-day challenges and act now on the fact that the supply chain is moving into a networked world – and gain competitive advantage as an organization and individual.
What is the Status Quo?

Are companies still organized in silos? What are the lost opportunities?
What are the main issues CFOs and CPOs wrestle with when deciding upon actions that will affect long-term fiscal health?
Where are we heading?
What is "The Technology Evolution in a networked world"? Is it here or far away?
How can companies reach a more structured way of grasping innovation?
How are the roles of the CPO and CFO inevitably changing and what steps do you need to take?
What can You do NOW
How can you use digital-as-default today from a procurement and finance perspective?
How can you leverage the networked supply chain and marketplace today and create real value?
What's in it for you? What do you gain if you keep up and risk if you don't keep up?
We will ensure it is worth your time spent with us live (and if you cannot join the live session we will send it to you). You who register will also receive the slides via email.

Register here
Welcome!
EBG | Network & Tradeshift
About Roy Anderson
Roy is a Senior Procurement Leader known for transforming procurement organizations into centers of innovation, people driven, technology enabled, high value, holistic solutions. He has experiences from both high-growth and consolidating companies within military and commercial manufacturing and financial service environments. Roy is a strong partner to business units and finance teams, streamlining processes, driving innovation, embedding cost savings to the bottom line. He has a track record of reskilling teams to meet higher demands and instilling the highest standards for professional integrity and ethics.
EBG Interview with Roy | Part I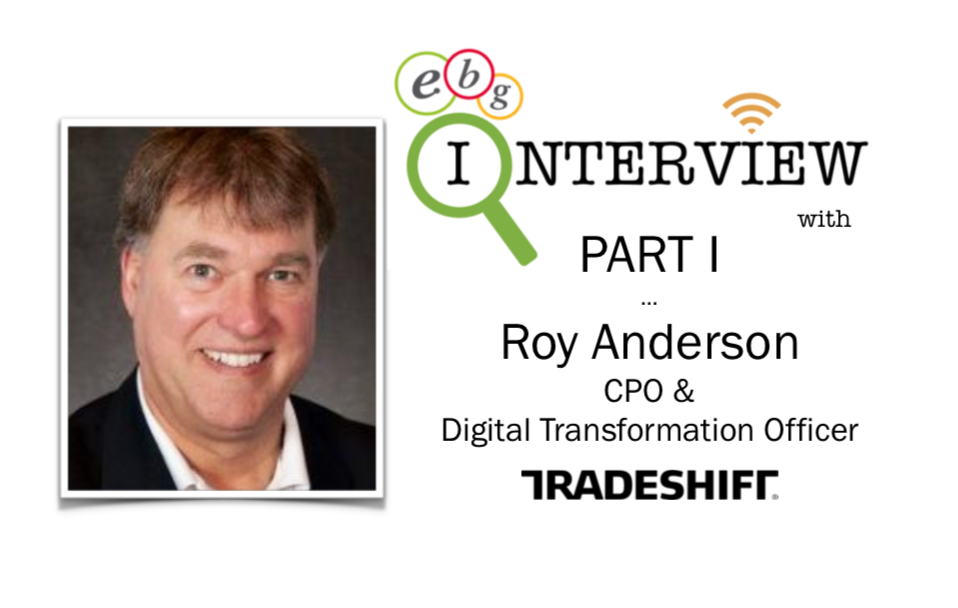 Want to learn more about Roy and his view on being a CPO in a tech-company?
Go here to view the Part ı interview by EBG | Network.
About Tradeshift
Founded in 2010, Tradeshift is the world's largest business commerce platform that connects buyers and sellers. Tradeshift connects over 1.5 million companies across 190 countries, processes over half a trillion USD in transaction value yearly, and has a marketplace containing 28 million SKUs. It offers solutions for procure to pay, supplier engagement and financial services, and enables companies and partners to build custom or commercial apps on its business commerce platform. Tradeshift is headquartered in San Francisco, with offices in Copenhagen, New York, London, Paris, Suzhou, Chongqing, Tokyo, Munich, Frankfurt, Sydney, Bucharest, Oslo, and Stockholm. tradeshift.com