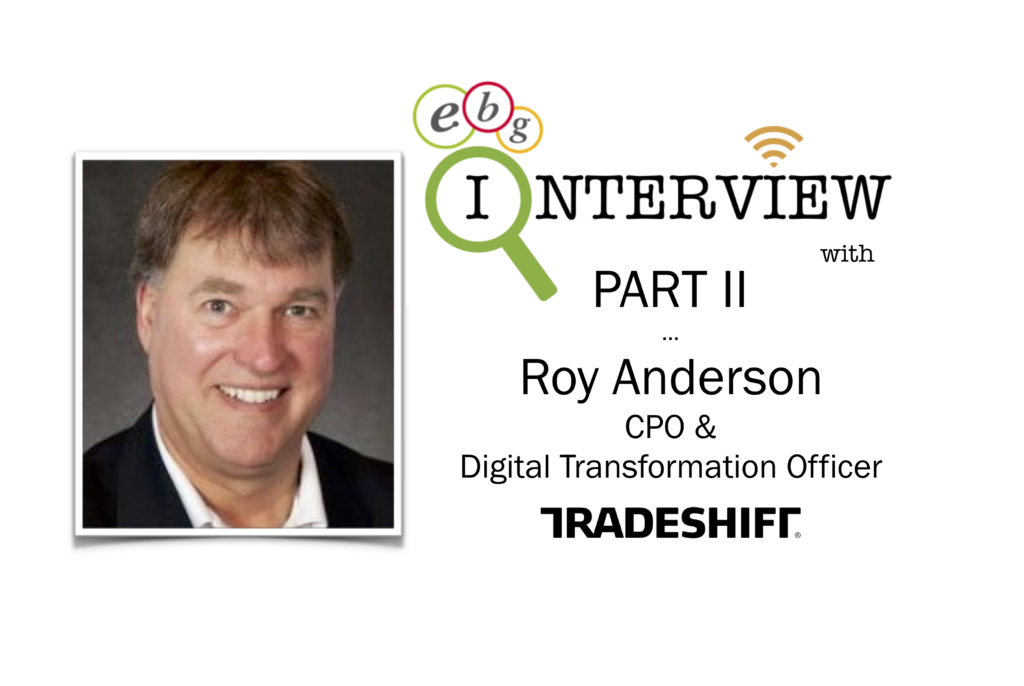 A recent conversation with an experienced person within Business Control again opened up our eyes for the lost opportunities when people work in silos. Business opportunities, revenue and margins lost because processes and use of data is not aligned across functions and in-between organizations.
Can we find a solution over an interview and upcoming webinar session? No, but we can help point your attention to concrete examples of how others have chosen to operate and how a CPO & Digital Transformation Officer view his and other roles now and ahead.
In the below second part interview, Anna Bjärkerud speak to Roy Anderson, CPO & Digital Transformation Officer at Tradeshift. Roy is a graduate supply chain management lecturer at Northeastern University (and how many of you struggle with the untapped opportunities in forecasting, predictions, logistics, cash flow and more in SCM due to silos and data gaps?). He has been CPO at State Street (financial services), MetLife (insurance), John Hancock to mention some experiences.
Interview with Roy Anderson
The discussion surround organizations in silo, how to prove an effect you have yet to showcase, what the possibilities lost may be and what "digital- as-default" may mean in this context.
Roy is inspirational and have years of experience from numerous organizations. Now in an organization building its development on disruption and a shift in ways of communicating and doing business. It is extra interesting to hear his view on his profession from before until now and ahead.
Join the conversation online
Date: April 11th 2019
Time: 3:00-3:50 PM CEST
Place: Your computer/tablet/phone
Language: English
Cost: Free of charge but requires registration
Organizer: EBG | Network & Tradeshift

Register here
Roy Anderson, CPO and Digital Transformation Officer at Tradeshift, is US based and well-known for transforming procurement organizations into centers of innovation, people driven, high value and technology enabled. During this session he will empower procurement and finance professionals to become strong partners to leverage digitization within their organization.
Change is inevitable – what steps do CPOs and CFOs (and others working with sourcing, procurement and finance) need to take to keep up with the changing roles? What do you stand to gain if you do act, and what do you risk losing if you don't?
Join our webinar to learn:
What are the main issues CFOs and CPOs wrestle with when deciding whether to make changes for your company's long-term fiscal health – and how do you approach them?
Find silos within source-to-pay and identify where to start closing the gaps
How do you build a roadmap to a "digital as default" organization and create an outline to a structured plan?
We're quickly heading towards a networked source-to-pay economy – find out what it means to you
How can apps and marketplaces become a competitive advantage?
We will ensure it is worth your time spent with us live (and if you cannot join the live session we will send it to you). You who register will also receive the slides via email.
About Tradeshift
Founded in 2010, Tradeshift is the world's largest business commerce platform that connects buyers and sellers. Tradeshift connects over 1.5 million companies across 190 countries, processes over half a trillion USD in transaction value yearly, and has a marketplace containing 28 million SKUs. It offers solutions for procure to pay, supplier engagement and financial services, and enables companies and partners to build custom or commercial apps on its business commerce platform. Tradeshift is headquartered in San Francisco, with offices in Copenhagen, New York, London, Paris, Suzhou, Chongqing, Tokyo, Munich, Frankfurt, Sydney, Bucharest, Oslo, and Stockholm. tradeshift.com