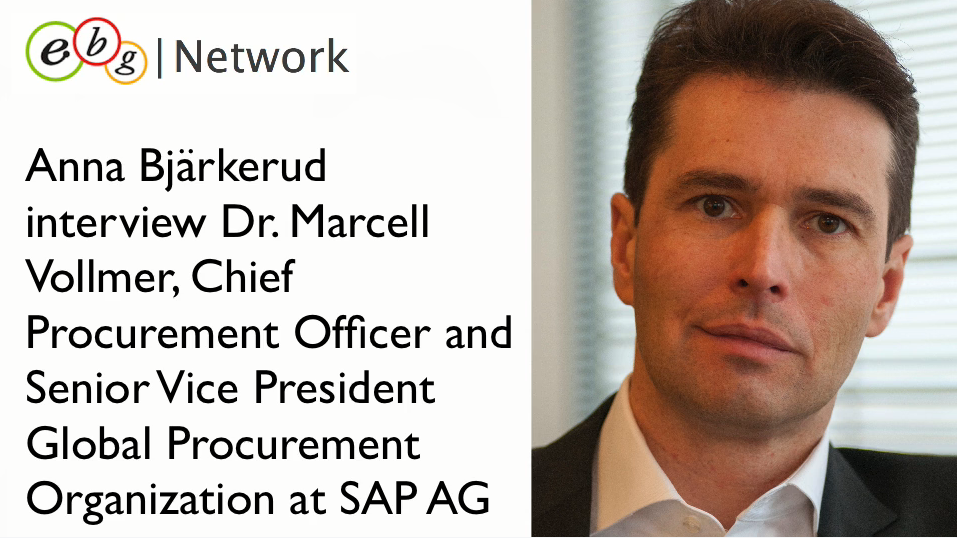 It is fair to say that the possibilities in keeping control and gather the facts in any type supply chain has increased dramatically past ten years. At the same time, more of businesses have been externalized and finance and procurement as we once new them does not look the same. What we buy and how, how we communicate and when as well as what businesses are and how businesses operate has put pressure on many CPOs and CFOs and both the challenges and opportunities that lies in aligning end-to-end processes and flows have never been bigger.
Many know of SAP, many have personal experiences of the SAP life cycle of services. But SAP is also a a large, global service organization with all the challenges and opportunities that fact bring to both internal and external stakeholder management. Procurement and finance are not an exception.
In this interview Dr. Marcell Vollmer, Chief Procurement Officer and Senior Vice President Global Procurement Organization at SAP AG share his ideas on procurement challenges and opportunities. Over the past years, SAP and Marcell have developed a global procurement and finance organization and do note – Marcell has great experience in the globalization of finance processes and shared services organization, i.e is it really possible to disconnect procurement and finance strategies and operations?
…
Take the chance to see, listen to and discuss with Marcell at the upcoming Source to Pay Summit 2015 in Stockholm – one of very few summits that look at procurement as an end-to-end process