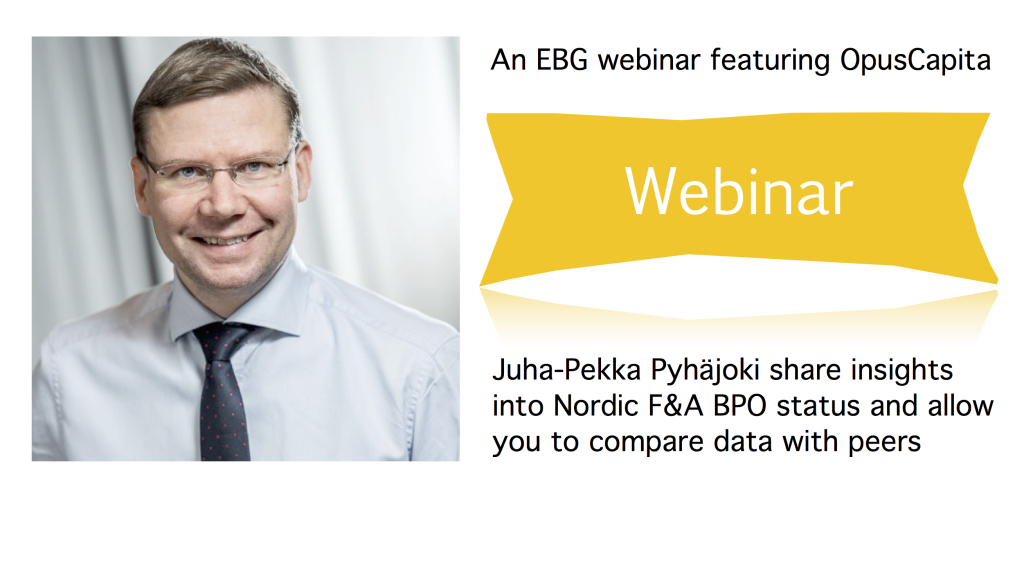 Date: Friday April 17th
Time: 11:00-11:55 AM CET (12:00-12:55 Finnish time)
Language: English
Location: Your computer/phone/tablet
Cost: Free of charge but requires registration
Organizer: EBG | Network & OpusCapita
>>Click here to register for the webinar
The idea of centralizing and outsourcing all or part of finance and accounting (F&A) has been around in the Nordics for quite some time. Lowering full time employee (FTE) costs and finding ways to utilize specialized competences have been the driving forces behind the development.
But what is the status today? To what extent have Nordic finance organizations managed to improve in efficiency and effectiveness? On a global note all agree head count cost reduction is given but what comes next?
OpusCapita has transformed numerous Nordic finance processes and over the years gathered valid data to benchmark organizations.
What is evident is that there still is room for process improvement – and knowing your processes enables you to develop your finance operations further. Join us for an interactive webinar where Juha-Pekka Pyhäjoki, Vice President, Finance & Accounting Outsourcing, will share OpusCapita data and experience as well as sharing input brought to the session through your peers.
Compare notes on matters such as:
How efficient are your processes?
What productivity measures do you use?
What is the latest in Nordic F&A BPO development?
How can robotics (RPA) improve your F&A speed and quality?
Welcome to an interactive and high quality webinar focused on giving you the benchmarking tools to bring your finance operations to the next level! Register today – all who register will get the recording afterwards via email.
We hope to "see" you in April!
EBG | Network