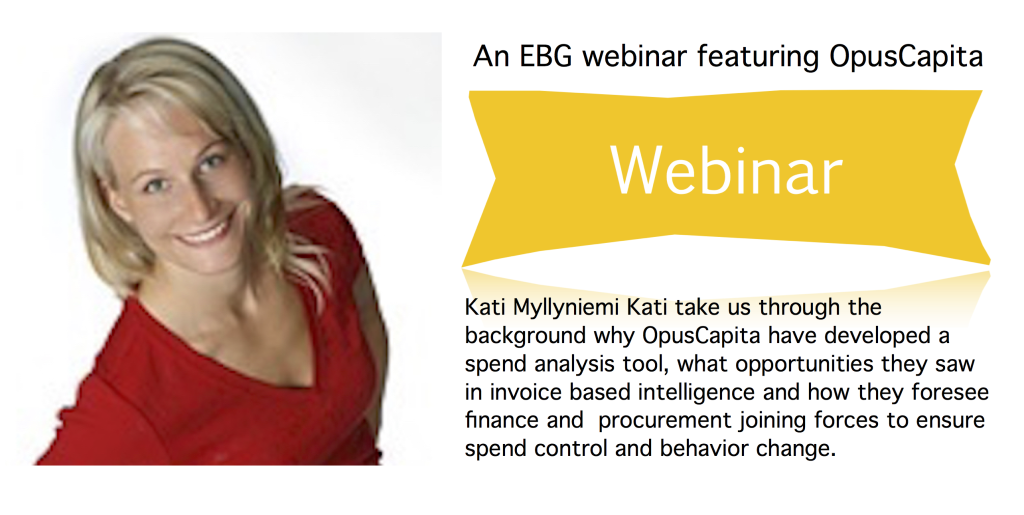 Date: Friday May 22nd
Time: 11:00-11:45 AM CET (12:00-12:45 Finnish time)
Language: English
Location: Your computer/phone/tablet
Cost: Free of charge but requires registration
Organizer: EBG | Network & OpusCapita
The amount of spend related data produced in a mid to large size organization is daunting. The amount of reports created are not seldom too in a large quantity – leaving the question behind – what data affect bottom line savings or top line turnover the most?
Welcome to a webinar on May 22nd 11:00-11:45 CET where Kati Myllyniemi at OpusCapita take a look at the hidden gold in accounts payable data. 


Spend analysis is not a new way of overlooking cost structures but it is easy to get caught up in the masses of data produced. Through the spend analysis finance and procurement find mutual challenges and opportunities – how can we make sure that we have an understanding of what we spend in order to enable control over who we spend it with.
Having worked for many many years with accounts payable optimization OpusCapita have developed a spend analysis tool based on a QlikView platform. Data already collected is visualized, transformed and continuously updated into out-of-the-box graphic reports leaving excel sheets and manual guess work in the past.
Benchmark you peers and join the discussion:
How much of  non-compliant or non-contractual purchasing outside the company's preferred arrangements often go unmanaged?
What amount of spend is usually not managed on an item-level?
How do businesses tend to create reports aimed at controlling spend and spend patterns?
What are the trends within spend data control from a finance and procurement perspective?
Kati take us through the background why OpusCapita have developed a spend analysis tool, what opportunities they saw in invoice based intelligence and how they foresee finance and procurement joining forces to ensure spend control and behavior change.

We aim to ad value attending live in May – all who register will get the recording – even if you at the end cannot make the live session.
Welcome!