Last Friday I had a vision. You know when you accidentally happen to look in a direction you might not have previously and see something you otherwise wouldn't have seen?
Last Friday I hosted a webinar together with OpusCapita titled "Spend Analytics revealing the hidden gold in accounts payable data" referring to the spend analytics tool OpusCapita have developed based on the QlikView platform. Based upon years of collecting accounts payable and receivable data it was obvious how much of that data is not put into real time work. Registered to the webinar were some of the Nordics largest companies and very knowledgeable people.
We asked three questions, the first being: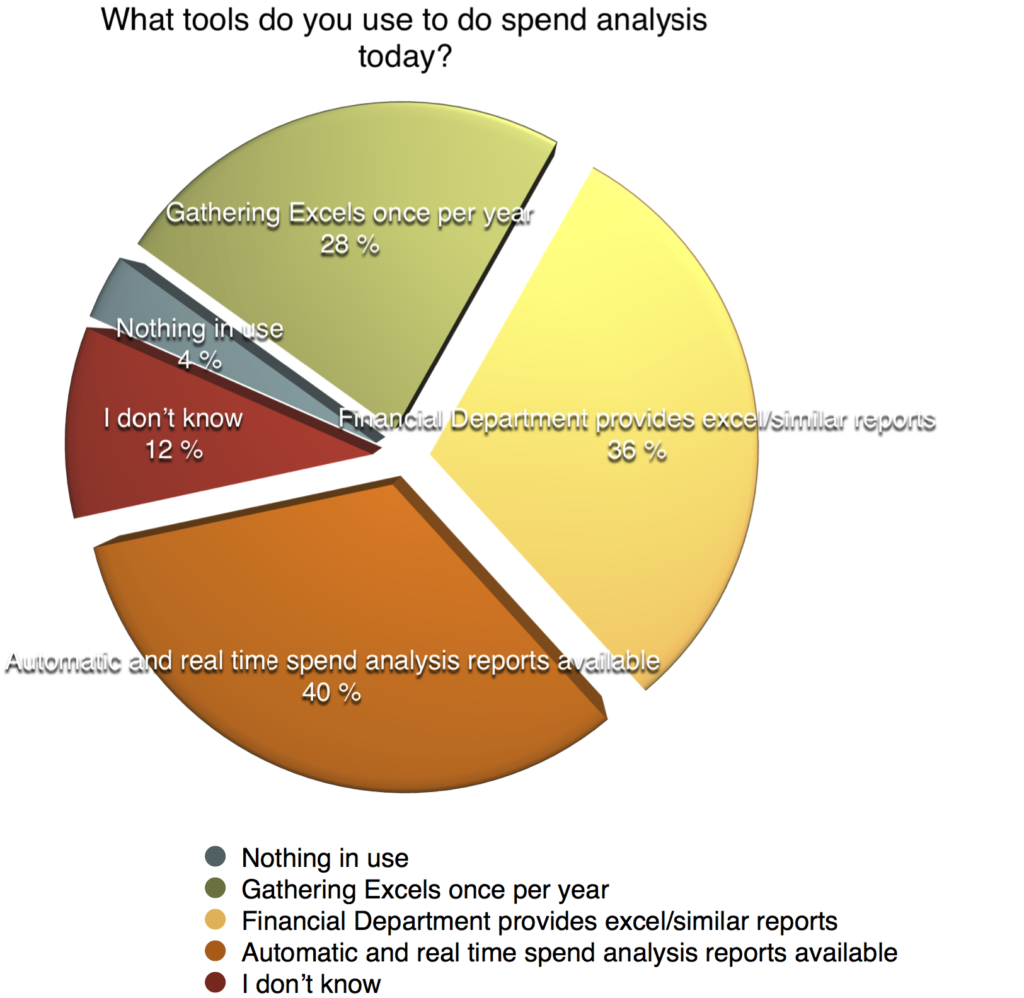 The results were as can be expected, different usage of different tools and a fair amount using what was segmented as "automatic and real time spend analysis reports available".
The second question following the "what" question was about how content the (mainly) sourcing and procurement managers were with the spend data they are provided with today.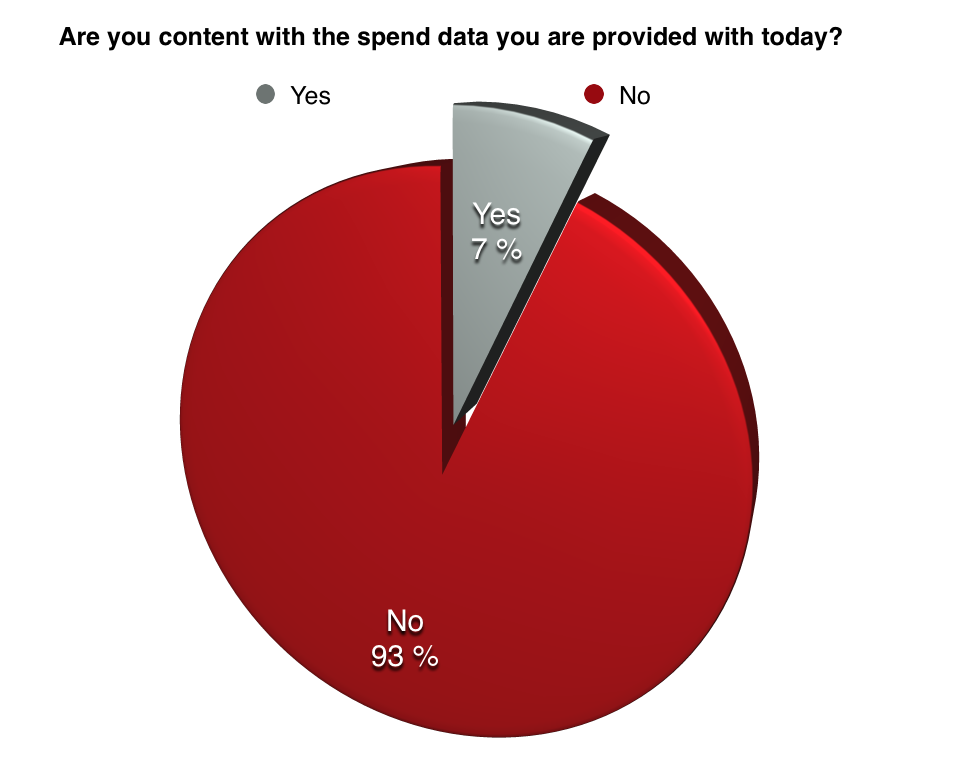 Take a moment. And look at the results.
It wad greatly interesting to see how even though 40% had real time analytics in place – 93% – 93% were not content with the spend data provided. Of course the 7% who are content need to be interviewed asap.
Finally we asked;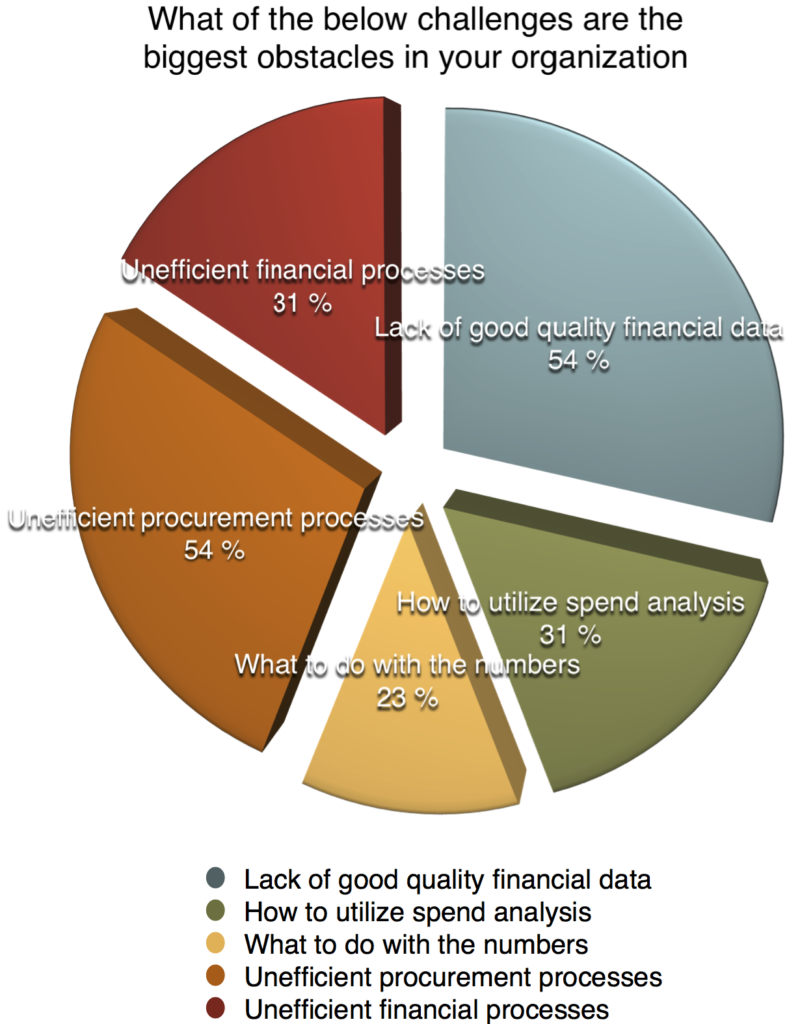 A quite even spread where lack of proper procurement processes and lack of good quality financial data were noted as the biggest challenges. But we know for sure those invoice based masses of data are there, however the quality and however received.
These results – coming from a range of different type organizations however all really large ones – enforce my belief in the need for a more holistic approach to finance and procurement big data. Imagine all those hours of work being spent on sourcing, agreements, purchases, accounting, payments and cash management – and still people along the process cannot leverage on possibilities due to lack of end to end visibility.
Luckily it is not only sales and marketing being surrounded by enormous amounts of data, they only have come a bit longer in learning how to make sense of the data. Someone just have to take the lead and ask the data the right questions.
And these results are the exact reason why EBG | Network are hosting a series of online benchmark conferences starting this autumn – opportunities to dig down into the different aspects of taking control over your sourcing, procurement and financial processes in order to leverage proper insights and bottom line results.
Do you want to be a part of illuminating Nordic Finance and Procurement Managers? Make sure to contact us today.
Regards
Anna Bjärkerud
Founder & Editorial Director
EBG | Network