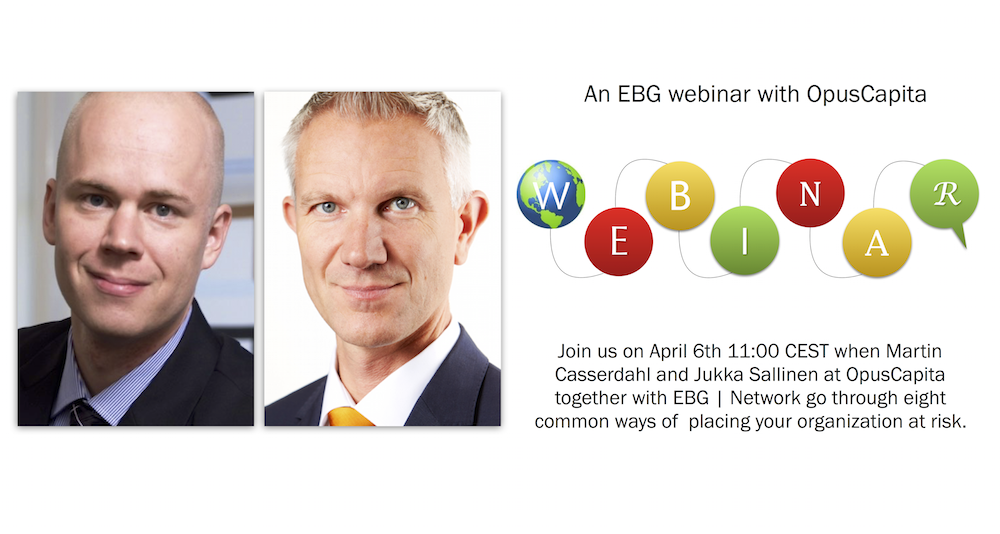 Date: Wednesday April 6th
Time: 11:00-11:55 AM CEST (12:00-12:55 Finnish time)
Language: English
Location: Your computer/phone/tablet
Cost: Free of charge but requires registration
Organizer: EBG | Network & OpusCapita
There are numerous research and studies highlighting that fraud is an increasing reality. The Association for financial professionals say that 62% of their study respondents claim they were targets of payment fraud in 2014. Deloitte conducted a live survey which indicated that one-third of the surveyed had faced supply chain fraud, waste or abuse in the past 12 months.
This webinar – the first in a series of three – will go through common risks your organization might be facing and allow you to compare with your peers. Further the webinar will give concrete advice as to how you can prevent, detect and respond to risks and fraud attempts.
Join us on April 6th 11:00 CEST when Martin Casserdahl and Jukka Sallinen at OpusCapita together with EBG | Network go through eight common ways of  placing your organization at risk.
– How can you make sure you eliminate both internal and external risks of fraud?
– How big of a problem is it?
– In what ways can cash management and purchase to pay control (procurement, T&E, P-Card, AP, and disbursements) and efficiency reduce risk?
– How do you manage risks without creating too much bureaucracy and control steps?
Areas covered:
1. Fictitious invoicing
2. Segregation of duties
3. Fake vendors or manipulation of supplier master data
4. Non-compliant suppliers
5. Supplier kickbacks and bribery
6. CFO attacks
7. Travel expenses falsification
8. Payment anomalies
You may or may not have been the subject of one or several of these attempts to frame your organization. They may or may not put your organization at a high risk. You may or may not have holistic control that ensure you know when a fraud attempt is happening.
A warm welcome to join us and learn more! Everyone who register will be sent the recording which will not be published afterwards.
NOTE: All polls in this webinar are answered anonymously, EBG ensure your responses will not be shared and only the percentage who said what will be shown during the webinar.