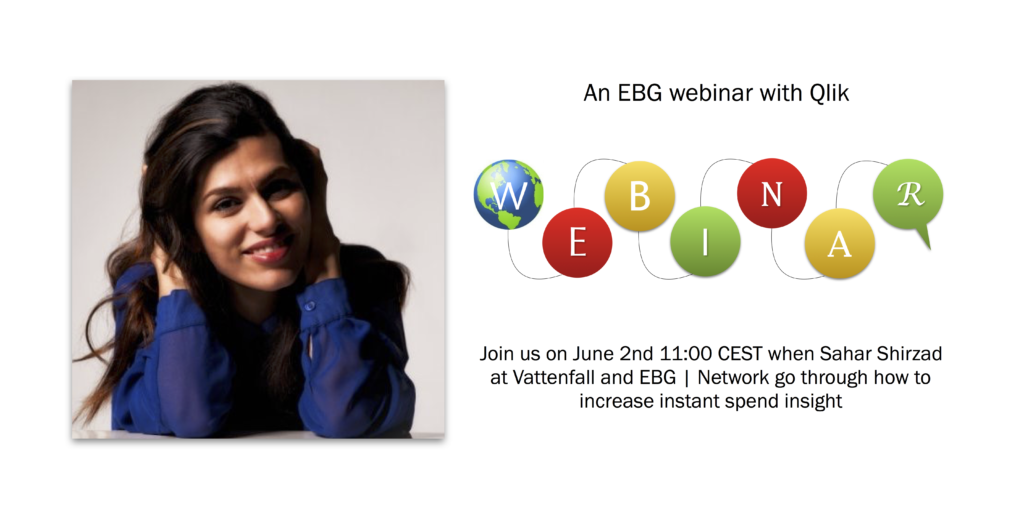 This webinar is – no surprise – very popular and almost fully booked! EBG know from experience that a number of those registered at the end will not attend the live webinar and therefor allow the webinar to be more than fully booked. In case all try to log in, the first 100 attendees will be logged on.
Date: Thursday June 2nd
Time: 11:00 AM-12:00 PM CEST
Language: English
Location: Your computer/phone/tablet
Cost: Free of charge but requires registration
Organizer: EBG | Network & Qlik
Vattenfall AB is owned by the Swedish state and is one of Europe's largest generators of electricity. Achieving instant insight into spend and savings has been a challenge with about 28 000 employees, thousands of transactions and billions in direct and indirect spend across countries.
During a webinar on June 2nd at 11:00 AM CEST, Sahar Shirzad, Researcher | BI Analyst Procurement Development at Vattenfall AB will share her and her organizations roadmap towards instant spend data and actual and possible savings insights.
As so many organizations Vattenfall operate in an environment with multiple ERP systems and multiple data sources across multiple countries. Spend data used to be gathered via Excel from different departments making it hard to create one single, up-to-date, truth available for all.
In this webinar you will learn how Vattenfall created a strategy for procurement analytics development across countries, measuring both direct and indirect spend. Further they will share how they executed the strategy and what will happen next.
– How have Vattenfall chosen to organize procurement?
– How are they able to create one single spend truth available for all?
– What KPIs are they using to measure developments?
– How have they worked with different stakeholders across the organization?
– What challenges have they faced depending on country and old habits?
As usual you who listen in will be able to benchmark your experiences live, creating a dynamic session you do not want to miss! It is free of charge to join, practitioners have precedence. EBG will not share the recording afterwards at this moment. Your registration details and responses will only be shared with the co-organizer.

Welcome!
EBG | Network, Vattenfall & Qlik