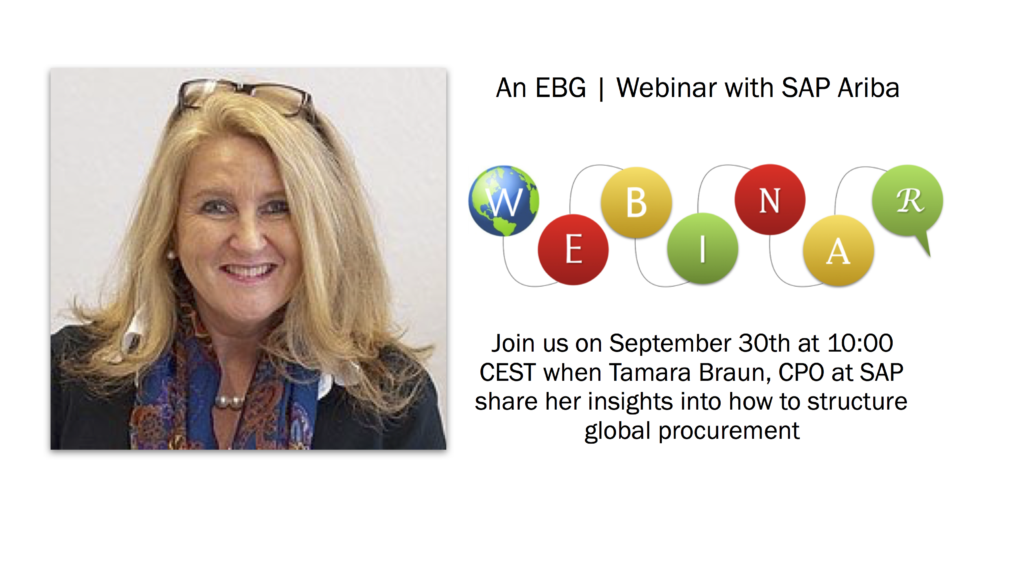 As within finance, procurement increasingly centralize both strategic and operational sourcing as well as procurement activities. It is recognized that end-to-end visibility and control is needed in order to leverage on purchasing power, achieve sustainable savings and mitigate risk.
This webinar is fully booked – the first 100 who log in can join the live session. All who have registered will be sent the recording.
Date: September 30th
Time: 10:00 AM-11:00 AM CEST
Language: English
Location: Your computer/phone/tablet
Cost: Free of charge but requires registration
Organizer: EBG | Network & SAP Ariba
But it can be easier said than done. Someone with long experience from centralizing both finance and procurement is Tamara Braun, CPO at SAP who has a background in finance and is now head of 200+ employees covering source to pay.
Welcome to a webinar on September 30th 10:00 CEST where Tamara Braun will share her insights into how a large organization such as SAP are choosing to organize sourcing and procurement from strategic and tactical procurement to operational procurement, accounts payable and T&E.
An increasing amount of organizations centralize and gather procurement in shared service centers and here you can gain valuable insights into the experiences Tamara have in doing so. Knowing how to work closely with finance is another vital aspect of fulfilling procurement strategies. Get insights into how procurement and finance can co-operate more closely in order to reach set strategies and increase value created.
During the webinar you can benchmark:
How have you chosen to organize your finance, sourcing and procurement operations?
To what extent can procurement and finance co-operate more closely?
In what ways can you ensure engagement and compliance across the organization?
As always EBG | Network aim to include you who listen in, answer your questions and allow you to compare with others attending. It should be worth your while joining us live! If you for some reason cannot join us, register and you will be sent the recording. Your registration details and responses will only be shared with the co-organizer.
A warm welcome!
EBG | Network & SAP Ariba