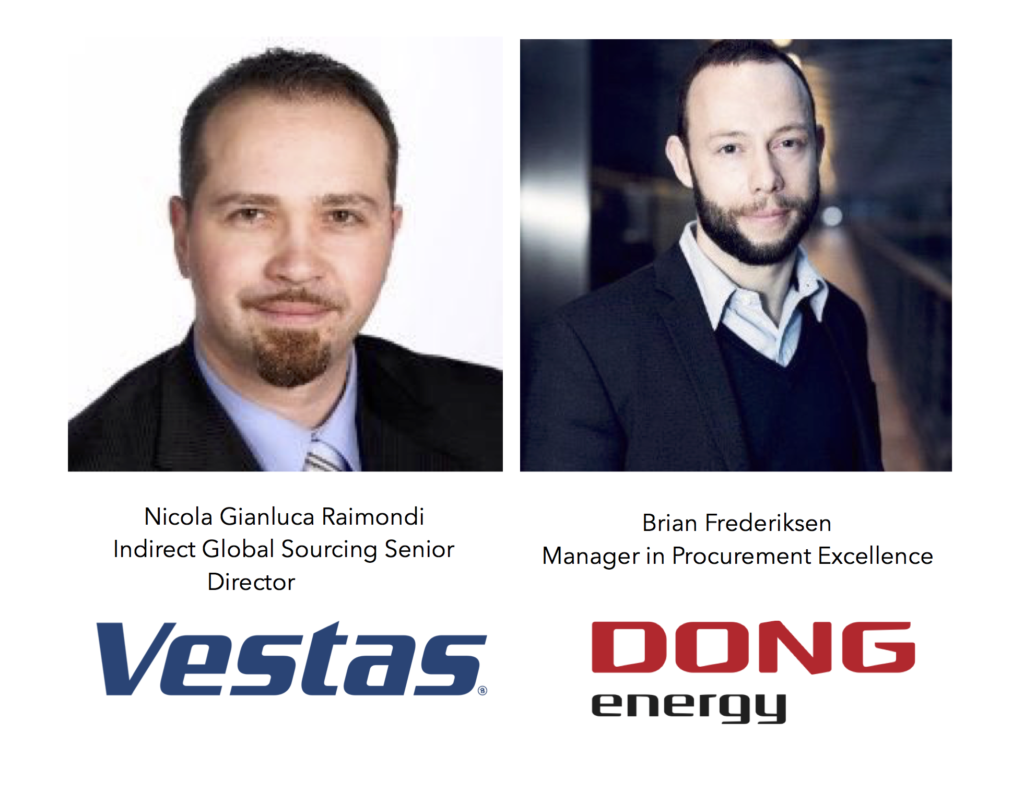 The hard but rewarding job of creating next years Source 2 Pay Summit has started. EBG are inviting experienced managers with a story to tell and questions to ask.
First to be welcomed are Nicola Gianluca Raimondi, Indirect Global Sourcing Senior Director at Vestas and Brian Frederiksen, Manager in Procurement Excellence at DONG Energy.
Industries that represent one of the biggest challenges the world have – to secure energy for generations to come.
EBG are happy to welcome you both and will continue to welcome moderators leading up to the summit. A summit that takes place March 29th & 30th 2017 in Stockholm, see more here or contact EBG today to find out how you can be a part of this great experience exchange opportunity.
About Vestas (from www.vestas.com)
Vestas is the only global energy company dedicated exclusively to wind energy. Wind is our business and our passion.
Origin
Founded in 1898 as a blacksmith shop in western Denmark, we started producing wind turbines in 1979, and have since gained a market-leading position with 75 GW of installed wind power and more than 50 GW under service globally.
Vestas' organisation is structured on seven key pillars representing all key disciplines of the company and all employees. These seven key pillars are headed by the eight members of the Executive Committee, which ensures the well-functioning of the company as well as Vestas' overall performance.
As a structurally lean organisation,  Vestas has offices in 24 countries and five strong regional sales business units in Northern Europe, Central Europe, Americas, Mediterranean, and Asia Pacific & China.
About DONG Energy (from www.dongenergy.com)
DONG Energy is a focused energy company with a strong profile in renewables. DONG Energy have activities primarily in Northwestern Europe. DONG Enrgy are building a world-class energy company with a renewables portfolio based on leading competences in offshore wind, bioenergy, and energy solutions.
Origin
DONG Energy was established in 2006 by the merger of six Danish energy companies: DONG, Elsam, Energi E2, Nesa, Københavns Energi and Frederiksberg Forsyning.
Portfolio
DONG Energy divide their operations into four businesses: Wind Power, Bioenergy & Thermal Power, Distribution & Customer Solutions, and Oil & Gas. The Bioenergy & Thermal Power and Distribution & Customer Solutions businesses jointly constitute their Danish utility business.
Source 2 Pay Summit is a cross functional summit focusing on experience exchange among peers. The summit is held March 29th (voluntary workshops and dinner) and March 30th (main conference) in Stockholm. Learn more and register >>here