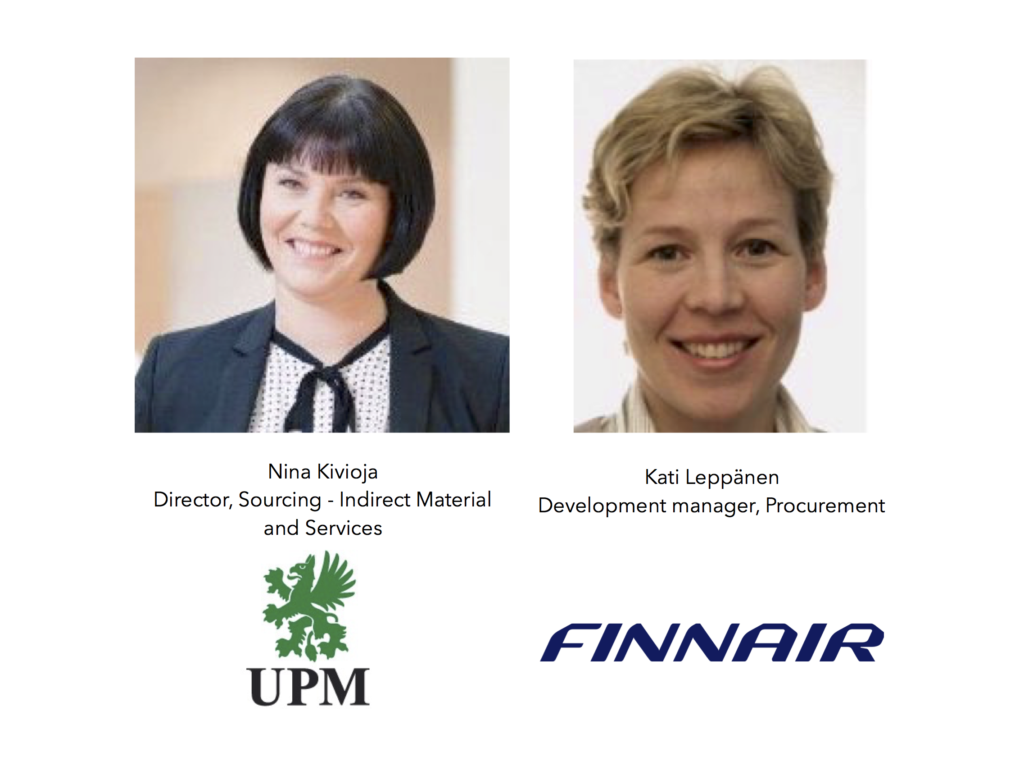 EBG | Network are very happy to welcome two experienced managers to Source 2 Pay Summit 2017. Nina Kivioja at UPM and Kati Leppänen at Finnair both have long experience from shaping, measuring and developing sourcing and procurement processes and organizations further.
During Source 2 Pay Summit 2017, Nina and Kati will moderate Theme Discussions aiming at not only sharing their know how but allowing the group joining to share theirs. What can be gained when experiences from different industries and countries join forces? A lot as it seems and EBG speak from experience, having hosted this summit for seven years annually.
About Nina and UPM
Nina is Sourcing Director Indirect Material and Services at UPM. She is Managing and developing a team of sourcing professionals overseeing several spend categories. She is defining and developing holistic category strategies for specific spend sub-categories. She develops collaborative relationships with key internal Senior Business stakeholders and strategic suppliers and improving efficiency and productivity for corporate objectives and industry best practices.
Through the renewing of the bio and forest industries, UPM is building a sustainable future across six business areas: UPM Biorefining, UPM Energy, UPM Raflatac, UPM Paper Asia, UPM Paper Europe and North America and UPM Plywood. Their products are made of renewable raw materials and are recyclable. UPM serve their customers worldwide. The group employs around 19,600 people and its annual sales are approximately € 10 billion. UPM shares are listed on NASDAQ OMX Helsinki. UPM – The Biofore Company – www.upm.com
About Kati and Finnair
Kati is development manager, procurement at Finnair. Her areas of work covers:
– Process owner: Finnair Contract management process & Strategic Sourcing Process
– Responsible for Finnair Group Procurement spend reporting
– Spend analysis and category development support
– Procurement development projects
– Sourcing projects
Finnair is one of the world's oldest operating airlines. Finnair is the only Nordic carrier with a 4-star Skytrax ranking and a member of the oneworld alliance. In 2015, Finnair's revenues amounted to EUR 2,324 million and it had a personnel of 4,800 at the year-end. Finnair's head office is located at Helsinki Airport and its shares are listed on the NASDAQ OMX Helsinki Ltd. Finnish government is a major shareholder with a 55.8 per cent holding. Other shareholders include public bodies, financial institutions, private companies and households.  For more information on Finnair, please refer to www.finnairgroup.com or www.finnair.com.
Source 2 Pay Summit is a cross functional summit focusing on experience exchange among peers. The summit is held March 29th (voluntary workshops and dinner) and March 30th (main conference) in Stockholm. Learn more and register >>here