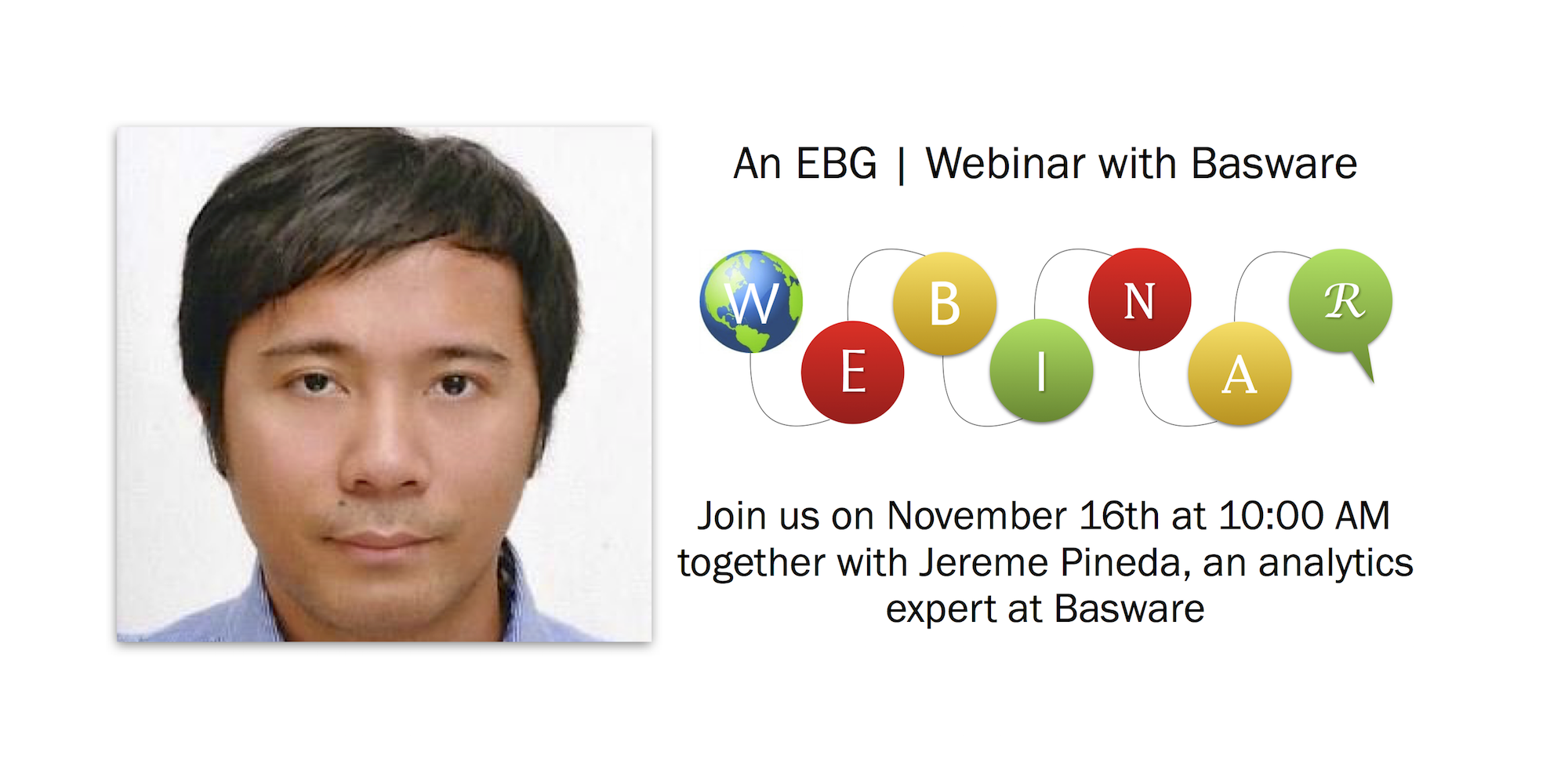 Date: November 16th 2016
Time: 10:00-10:45 AM CET
Place: Your computer/tablet/phone
Language: English
Cost: Free of charge but require registration
Organizer: EBG | Network & Basware
"It seems these days that the availability of data is outstripping many organisations' capacity to make effective use of it. " Jereme Pineda states in an article published April 28th 2016 via LinkedIn. "To some", Jereme continues in the article,  ""analytics" is just a glorified word for reporting – to others, it connotes impenetrable algorithms and supercomputers. To me, analytics sits on a continuum from simple to complex, which reflects organisations' maturity in the way they use data."
EBG | Network have time over time realized that those in need of data support in order to make better decisions – seldom rely on the data they are provided with. How come?
Welcome to an interactive webinar where Jereme Pineda, Product Manager for Analytics at Basware will share the insights behind creating Basware Analytics. Jereme will share the typical starting point and analytics roadmap often developed. Jeremy have a background from Microsoft, Nokia and GE where he analyzed data on a daily basis.
Minimizing value leakage
During this webinar you will learn how you can break down spend data depending on who will view it, how analytics can help change behavior and how end-to-end visibility can help you ensure value is not leaked due to a possible disconnect between procurement and finance.
Being able to make sense of thousands of transactions from different perspectives, it being a CFO, CPO, treasury or accounts payable perspective, is becoming easier as new tools are being developed. Basware being one such company using their experiences and creating an application that make visible sense of  the masses of data flowing through their purchase-to-pay-solution.
Webinar content summary
During this webinar we will go through:
• How can you make sure you can rely on the data you have access to?
• Analyze "committed spend" (i.e PO's) or invoiced spend (i.e paid for costs)?
• How can you minimize the disconnect between finance and procurement?
• What are the most commonly measured KPIs?
• In what ways can you change behavior using data?
As always, EBG | Network invite you to share your insights and benchmark with the others attending – it should be worth your while attending live! If you at the end cannot attend, do register and you will be sent the recording. Your registration details and webinar responses will only be shared with the co-organizer. Practitioners have precedence.
Welcome!
EBG | Network & Basware