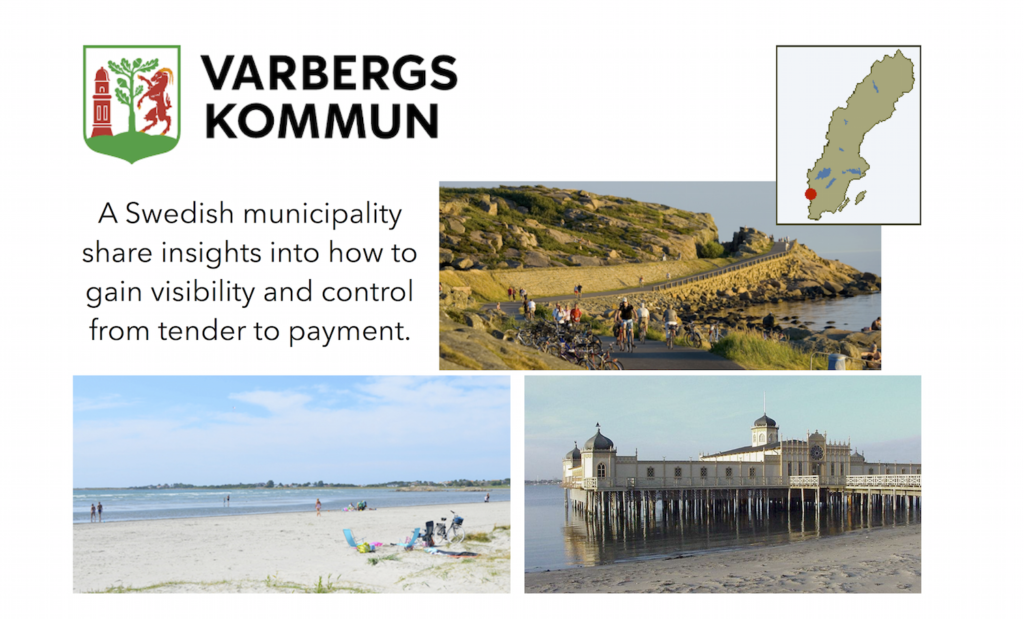 In the early spring EBG | Network held a couple of Online Benchmark Sessions focusing on Public Sector Tender and Procurement development. Most of what EBG do is done in English – however it became fairly clear that the public sector target group wanted us to do the sessions in Swedish, so sorry to the rest of you, the below recording is in Swedish.
As always though a number of polls were done and the results are shown below.
The recording and polls concern Varberg Municipality and their experiences rolling out a purchase-to-pay system. Christine Källner and Cecilia Brag share their insights and the session was enabled by Visma Proceedo.
View the recording
Varberg in numbers
Varberg has approximately 61 000 inhabitants and 4 500 persons are employed by the municipality. Varberg has a turnover of 3,2 billion sek and procure goods and services for 1,2 billion sek annually.
E-procurement background
In 1998 the finance department initiated the purchase of a workflow system. The organization were willing to adapt but due to few resources and lack of time the system was not used as intended.
In 2006 invoices was scanned due to another finance project
In 2008 e-invoices were introduces and increased
And still – the development almost came to a halt.
As a comparison, a poll was launched focusing on where the attendees are in their e-procurement development.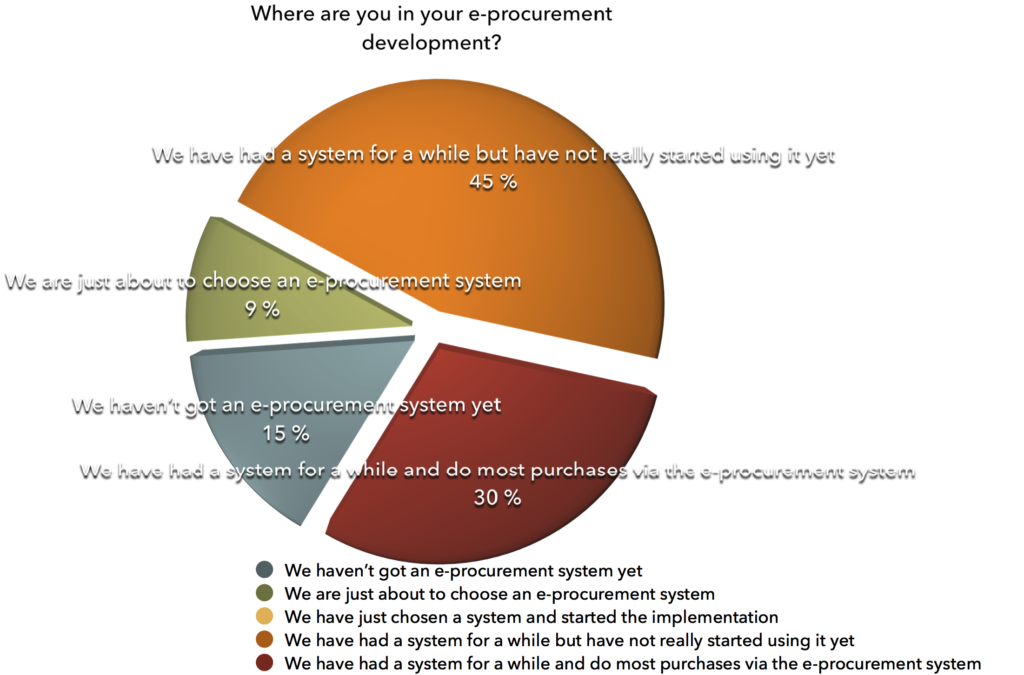 Between 2009 and 2010 pre-studies  and projects were initiated and equally closed since ROI was not satisfactory. In 2010 Varberg Municipality received an IT related funding and chose to use it to do a PENG analyzis (see more, in Swedish, via >>PENG).
In English, and excuse us for the free translation since EBG haven't found an official English translation, PENG is a way to identify and value the benefit realization aspects of an investment. The mapping process relate benefits to each other and relate them to the cost. The potential of an investment is thus identified already in the planning stages making it easy to decide and focus.
PENG analyzis in Varberg
At the time in 2010 when the PENG analysis is done, 3% of frame agreements were "in the system" and thus able to purchase from. Out of all frame agreement purchases – 8% were made in the system and 30% of the invoices were electronic.
According to the PENG analysis the above proved that the ROI was certain and that an investment will pay off.
The attendees were asked how much of their spend goes through a system:
A new start
In 2012 Visma Proceedo won a tender and their system was bought and implemented. Together with other surrounding systems all integrated – Varberg Municipality now had a complete e-procurement system from source-to-pay.
Learning from past mistakes
In summary Christine Källner and Cecilia Brag at Varberg Municipality give the following advice to those of you wanting to succeed with your source-to-pay optimization:
Organization and resources – make the time and secure enough resources
Have a structured way of working
Clear goals
Challenges as seen by the attendees below. The challenges differ with a slightly highest number saying user behavior is the biggest challenge. Nothing new there but vital to remember!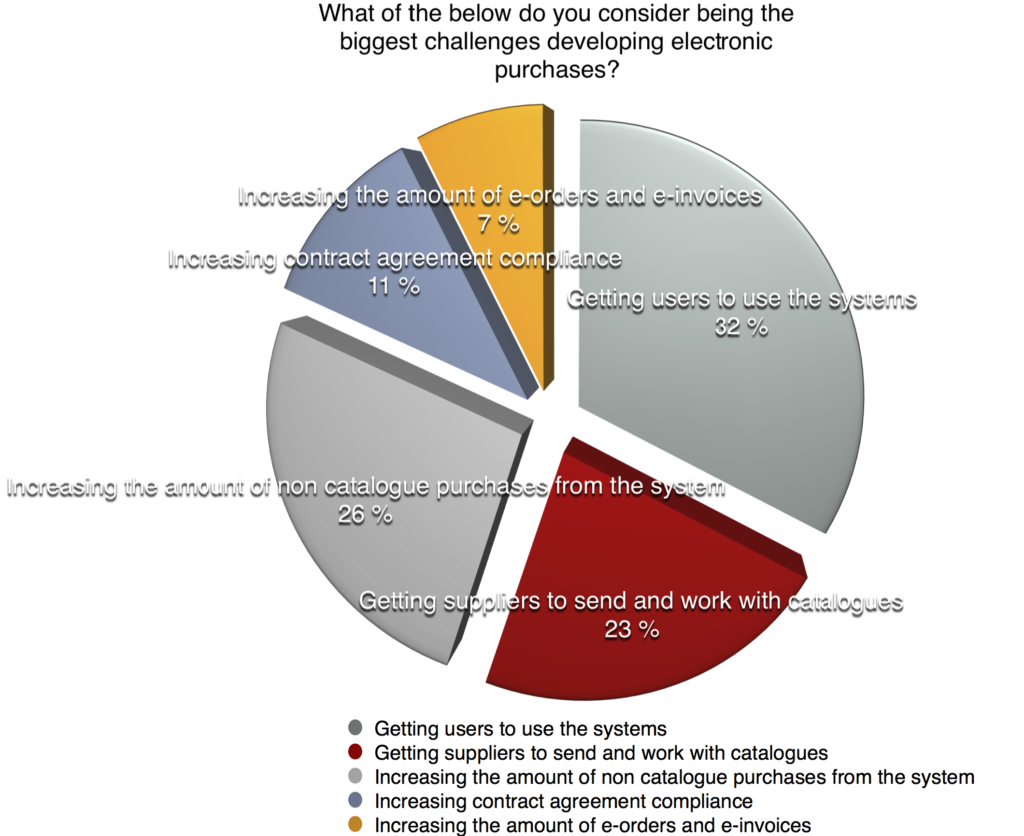 Results and continued work
After their focused work, Varberg Municipality could show an e-invoicing number of 82%, all having access to Proceedo and contract compliance 91%. Well done by Varberg who continue their work getting an even higher level of system usage, education and simplification.