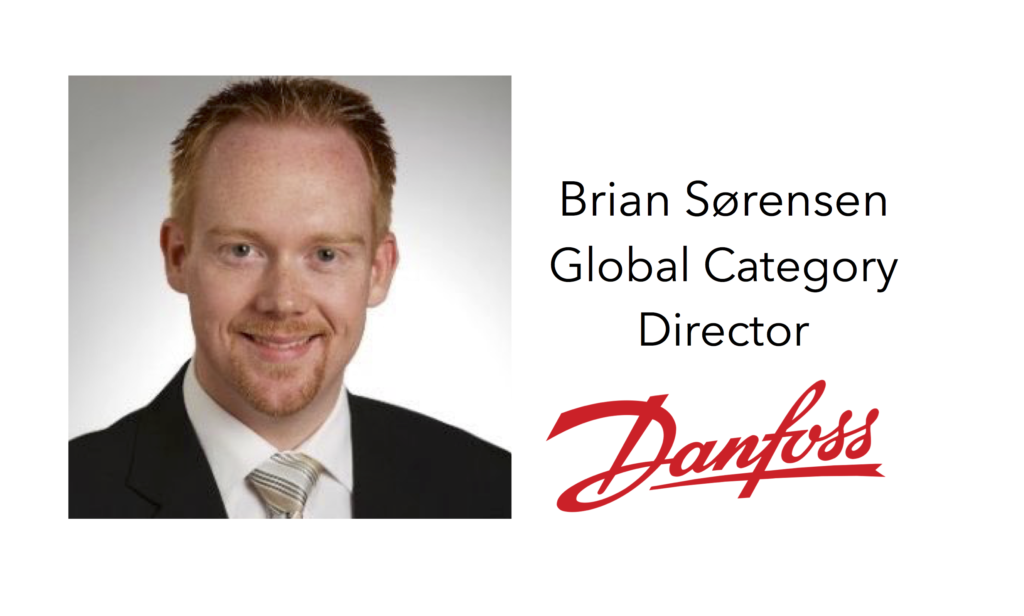 A warm welcome to Brian Sørensen, Global Category Director at Danfoss. Brian is leading a global team of category managers in Indirect Procurement; responsible for Professional Services, HR services, Marketing, Travel and Vehicles. He is driving category strategies to ensure year-on-year savings and supplier consolidation.
At Source 2 Pay Summit 2017 Brian invite you to discuss a topic EBG dare to say all have challenges with – professional services. Controlling spend, increasing value created and enabling savings impact.
Danfoss engineers technologies that enable the world of tomorrow to do more with less. They meet the growing need for infrastructure, food supply, energy efficiency and climate-friendly solutions. Their products and services are used in areas such as refrigeration, air conditioning, heating, motor control and mobile machinery.
Danfoss are also active in the field of renewable energy as well as district heating infrastructure for cities and urban communities. Their innovative engineering dates back to 1933 and today Danfoss is a world-leader, employing 23,400 employees and serving customers in more than 100 countries.
Danfoss is still privately held by the founding family. In 2015, net sales grew to the record level of DKK 38.0bn (EUR 5.1bn) against DKK 34.4bn (EUR 4.6bn) in 2014, corresponding to 11% growth. EBIT amounted to DKK 4.1bn (EUR 549m) against DKK 3.9bn (EUR 526m) in 2014, equal to an improvement of 4%. Net profit was improved by 13% to the record level of DKK 2.6bn (EUR 348m).
Source 2 Pay Summit is a cross functional summit focusing on experience exchange among peers. The summit is held March 29th (voluntary workshops and dinner) and March 30th (main conference) in Stockholm. Learn more and register >>here