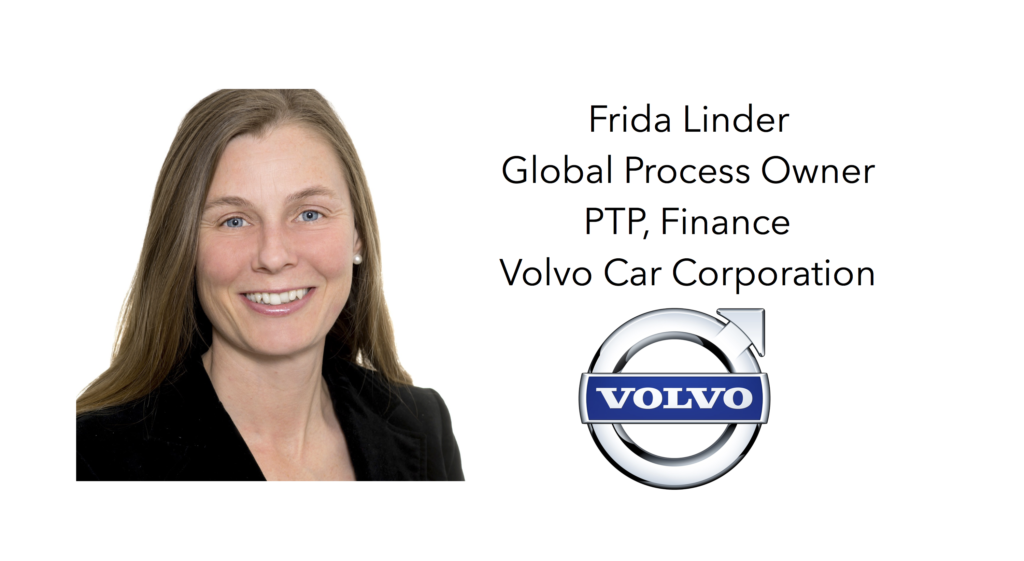 Frida has long experience from Volvo Car Corporation working within procurement – today Frida is Global Process Owner PTP within their global finance organization.
Although Volvo Car Corporation was founded back in 1927, the current finance organization is fairly new – created in 2006. Frida has the competence from procurement and is now working within the development of procure to pay processes and will invite you to sit down and discuss challenges and opportunities with her.
About Volvo Car Corporation
From the global website which summons up the basics about Volvo Car Corp:
The Volvo name can trace its origins as far back as 1915, at ball bearing manufacturer SKF. In 1927 the Volvo Group was formed to make vehicles in Gothenburg.
Since 1999 Volvo Car Corporation has no longer been part of the Volvo Group, but Volvo Cars and the Volvo Group still share the same brand name. A new jointly owned company, Volvo Trademark Holding AB, was established in 1999 to deal with brand matters for both companies.
Volvo Cars is owned by Zhejiang Geely Holding of China. The Volvo Group is a publicly-held company headquartered in Gothenburg, Sweden, with shares listed on OMX Nordic Exchange in Stockholm.
The company have 28 000 + employees worldwide.
About Source 2 Pay Summit
Welcome to register for Source 2 Pay Summit 2017 today, learn more via the >>conference website. The summit takes place in Stockholm March 29th (voluntary workshops and dinner) and March 30th (main conference). Source 2 Pay Summit is all about gathering and sharing experiences most organizations need in order to reduce cost and ad value across functions and in between organizations.