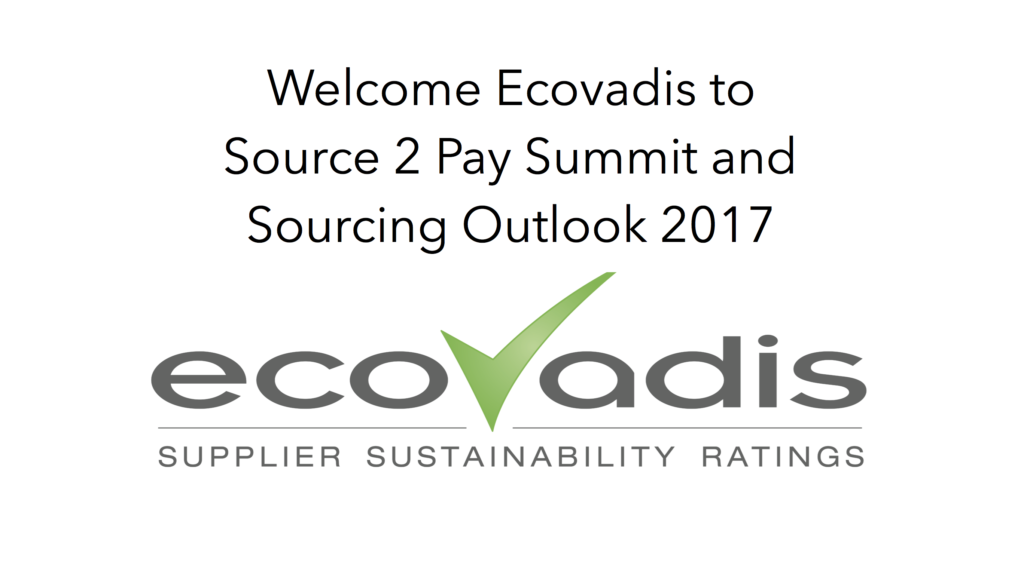 EBG | Network are happy to welcome back EcoVadis to Source 2 Pay Summit 2017 – a summit gathering sourcing, procurement and finance to oversee cost control and value creation as part of an end to end process. Knowing who you align with is increasingly important in global markets and CSR,  sustainability and performance improvement aspects are increasingly important as an integrated part of doing business. EcoVadis will also be joining Sourcing Outlook in October 2017.

EcoVadis is the first collaborative platform providing sustainability ratings and performance improvement tools for global supply chains. EcoVadis' easy-to-use CSR scorecards help companies to monitor suppliers' environmental, ethical, and social practices across 150 purchasing categories and 110 countries.
Over 130 industry leaders such as TeliaSonera, Nokia, SEB, Oriflame, Hempel, DNB, Kemira, Verizon, Merck, Coca Cola Enterprises, Heineken, Johnson & Johnson and Renault-Nissan use EcoVadis to reduce risk, drive innovation and foster transparency and trust among over 25,000 trading partners. See more at www.ecovadis.com
EBG interview with EcoVadis
About Source 2 Pay Summit 2017
Welcome to the 7th annual Source 2 Pay Summit held March 29th (voluntary dinner) & March 30th (main conference in Stockholm). The idea being that challenges and opportunities within sourcing, procurement and finance need to be discussed as parts of an end-to-end process.
How are business strategies translated into strategies for sourcing, procurement and finance? And how are those strategies being operationalized? Who need to do what based on how you are organized in order to achieve set goals?
Ad to that a changing supplier landscape and increasingly global markets and you have the layout for this summit.
At Source to Pay Summit we don't give easy answers but offer quality ways of asking questions and exchange experiences.
About Sourcing Outlook 2017
An in-depth focus on the upstream aspects of source to pay as an end to end process. Sourcing strategies change as do ways to ensure those strategies are realized end to end.
This summit focus on the structures, practices and skill sets needed to take sourcing to the next level.
See more and register to get updates via Sourcing Outlook