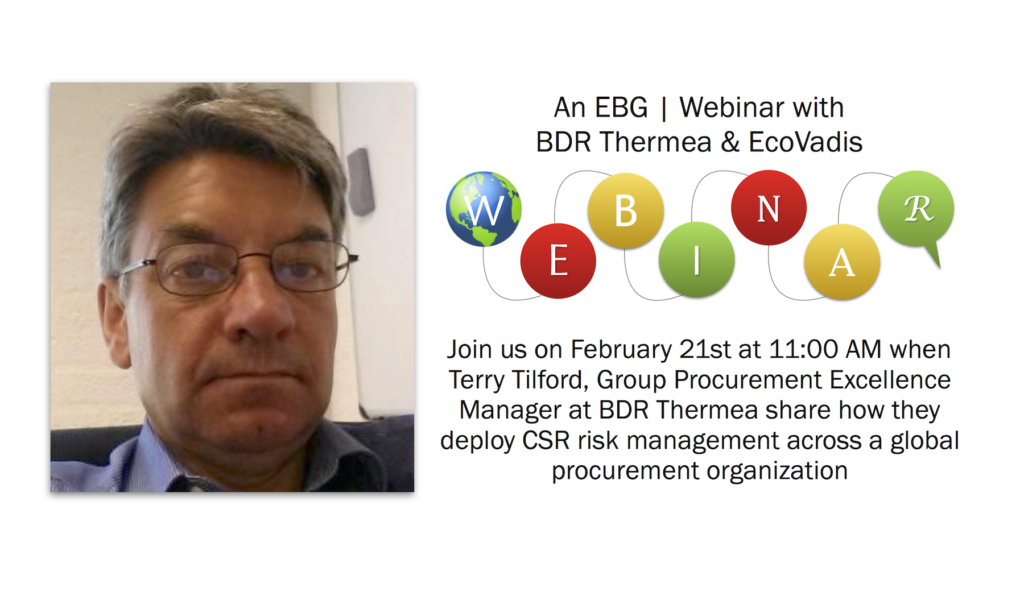 Many global groups are seeing increasing stakeholder demands for supply chain transparency on environmental, social and ethical risks to minimize disruptions, as well as to support brand and product efforts in sustainable categories. This task of supplier monitoring almost invariably falls to procurement. As most have discovered, having a supplier code of conduct is a good start, but to drive internal adoption by buyers/category managers on embedding these Corporate Social Responsibility (CSR) criteria requires a more comprehensive program of Sustainable Procurement.
Date: February 21st
Time: 11:00 AM-12:00 PM CET
Place: Your computer/tablet/phone
Language: English
Cost: Free of charge but requires registration
Organizer: EBG | Network & EcoVadis
In this webinar EBG | Network are happy to present Terry Tilford, Group Procurement Excellence Manager at BDR Thermea, a 2Bn Euro manufacturer with operations and suppliers in all continents. Terry will share their insights from creating a framework for deploying a supplier CSR evaluation and monitoring program, and integrating it into buyer – supplier relationships.
Terry will set the context of their journey from a shifting BDR group structure – with new stakeholder demands – and outline their program roll-out until now. What you will learn about:
Deciding upon a CSR strategy, choosing suppliers to start with. What are the components in the supplier CSR assessment process?
In what ways have internal engagement and adoption been fostered? What were some of the lessons learned in their initial wave of roll-out?
What was required to ensure Category leaders were engaged – for Group or local suppliers?
What targets and expectations are set?
How are the suppliers engaged? How are performance thresholds set? What are the actions based on CSR performance?
How is the CSR program integrated into more overall procurement processes and supplier relationship management structures?
Terry will share what the challenges have been so far developing and executing a CSR program and finally what their long term vision and targets are, to create more value in the program in 2017 and beyond.
During the webinar you will be able to benchmark your peers joining the session which is usually very appreciated and a strong reason to attend live. All who register will be sent the slides and recording. Your registration details and webinar responses will only be shared with the webinar co-organizer. Practitioners have precedence.
Welcome!
EBG | Network & EcoVadis/BDR Thermea
About BDR Thermea
BDR Thermea is a world leading manufacturer and distributor of sustainable smart climate and sanitary hot water solutions and services.  BDR Thermea is the name behind many of Europe's leading heating and hot water brands. BDR Thermea operate in more than 70 countries worldwide and employ approximately 6,000 people. Their headquarters is based in Apeldoorn, The Netherlands.