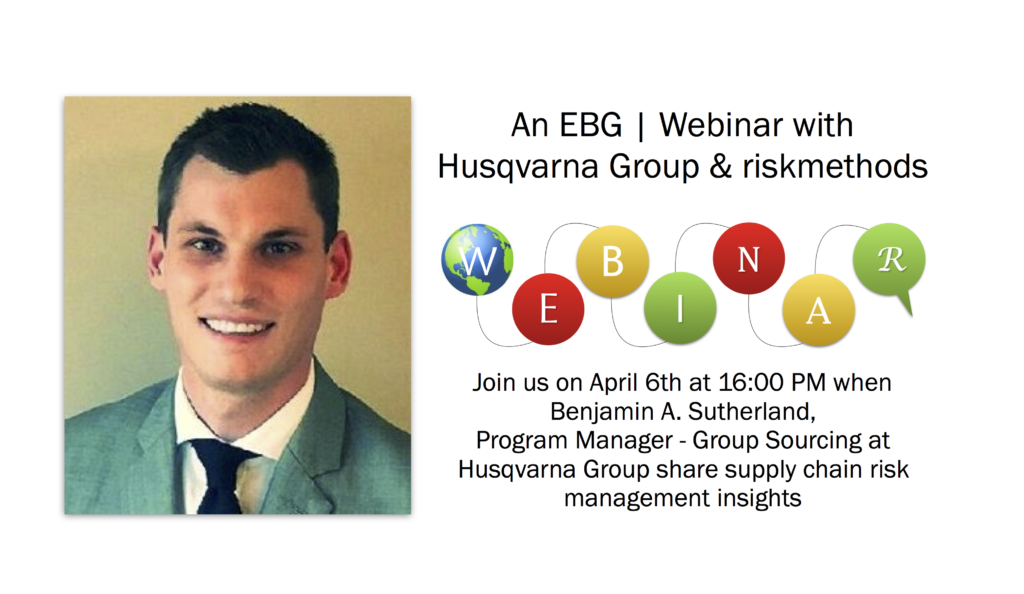 As supply chains become increasingly global, diverse, complex and important – so does calculating and reducing risk. Most procurement and supply chain professionals probably recognize this as one of your top priorities? And would you agree that it is becoming increasingly important with multiple ways of analyzing and communicating possible risk scenarios – before they occur?
Date: April 6th
Time: 16:00 PM-16:45 PM CEST
Place: Your computer/tablet/phone
Language: English
Cost: Free of charge but requires registration
Organizer: EBG | Network & riskmethods
Supply Chain Risk Management – tips and insights from Husqvarna Group
Procurement and supply chain organizations have a new ally in their fight to mitigate risk with their suppliers and across their supply chain networks: Supply Chain Risk Management. How are today's most innovative and cutting-edge companies using Supply Chain Risk Management to mitigate risk?
Husqvarna Group has successfully introduced their supply chain risk management program to get insights into vulnerability in the supply chain, critical to the business and creating a competitive advantage.
Join an interactive webinar with Benjamin A. Sutherland, Project Manager Group Sourcing at Husqvarna Group and riskmethods founder Heiko Schwarz to learn:
How can risk mitigation strategies help you prevent supply chain disruptions, maintain compliance, ensure quality and give you a leg up on the competition?
In what ways can real transparency in your end-to-end supply chain provide unprecedented visibility into risk lurking in your supply chain network?
How do you integrate risk management seamlessly into the existing organizational systems and processes?
To what extent does big data and artificial intelligence fuel the next generation of risk management?
During the webinar you will be able to benchmark your peers joining the session which is usually very appreciated and a strong reason to attend live. All who register will be sent the slides and recording. Your registration details and webinar responses will only be shared with the webinar co-organizer. Practitioners have precedence.
Presenters
Benjamin A. Sutherland, Project Manager Group Sourcing, Husqvarna Group
Heiko Schwarz, Managing Director and Founder, riskmethods
About Husqvarna Group
Husqvarna Group is a global leading producer of outdoor power products for forest, park and garden care. Products include chainsaws, trimmers, robotic lawn mowers and ride-on lawn mowers. Net sales in 2015 amounted to SEK 36 billion and the Group had more than 13,000 employees in 40 countries.
Welcome!
EBG | Network & riskmethods