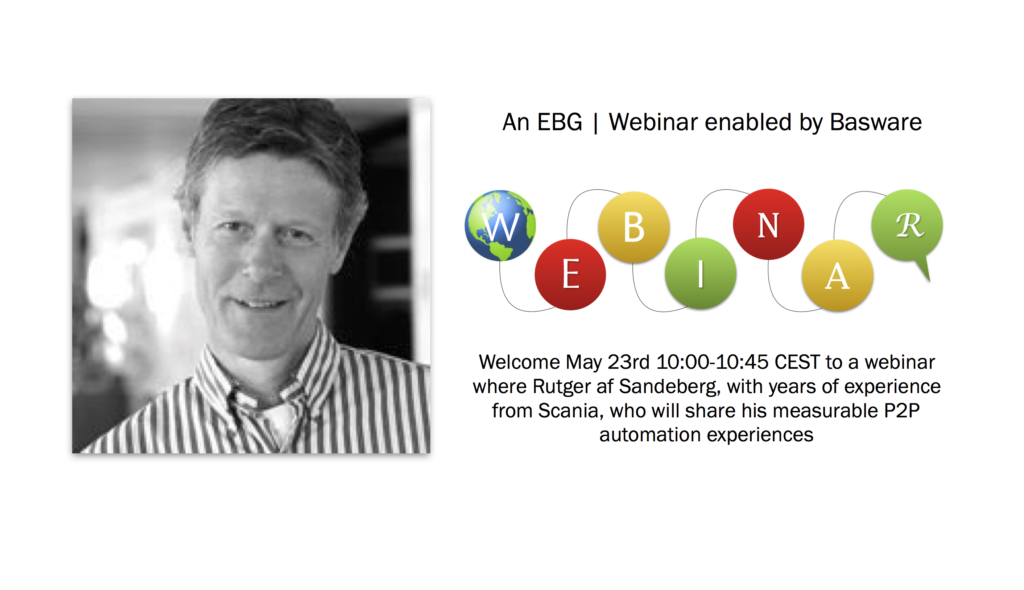 Automate! Digitalize! Now!
It's undoubtable that the future lies in automation and digitalization.
But how do you do make it happen? Imagine you work in a global company with thousands of employees across hundreds of business units facing tens of thousands of transactions yearly.
Date: May 23rd 2017
Time: 10:00-10:45 AM CEST
Place: Your computer/tablet/phone
Language: English
Cost: Free of charge but requires registration
Organizer: EBG | Network & Basware
How do you go about quantifying and measuring the value that possible automation and digitalization may have for your business?
How do you calculate the actual savings or earnings created through the actions taken and systems used?
In short – how do you create and follow up on a business case?
EBG Network are happy to welcome Rutger af Sandeberg who for years has been working at Scania automating their purchase to pay processes and transactions. In this webinar Rutger will share with you how you can create a business case for P2P automation, how you can calculate actual money saved and what KPIs you can use to ensure continued development.
After this webinar you will have a toolbox helping you to:
Develop your P2P processes with an understanding of who in your organization you need to involve
Make sure all agree on the targets and need for change
Create a business case for future automation of your P2P transactions
Choose what KPIs to single out and measure over time
Calculate actual money saved based on transactions via a system
EBG Network always encourages participation during live webinars, enabling you to learn from your peers' experiences. All who register will receive the slides and recording afterwards. Your registration and webinar responses will only be shared with the co-organizer.
We hope to "see" you online!
EBG | Network & Basware