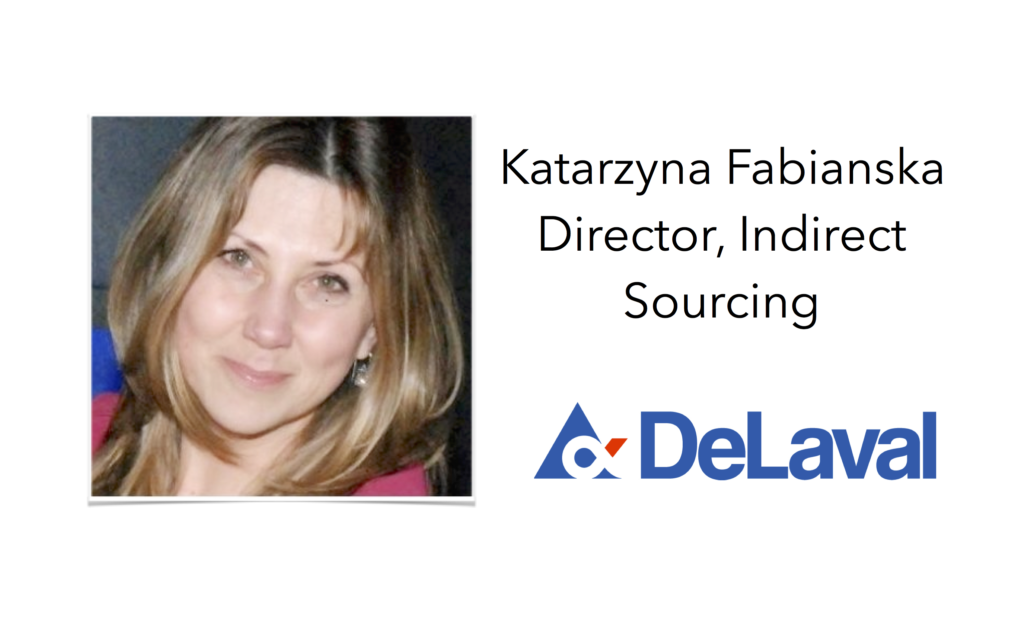 EBG | Network are happy to welcome Katarzyna Fabianska, Director, Indirect Sourcing at DeLaval to Sourcing Outlook 2017. As so many organizations, DeLaval are transforming their ways of working with procurement, especially indirect sourcing.
Katarzyna is facing the task of developing an entire new way of working – globally. Imagine the insights you can share with her during her Theme Discussion! Register now to ensure you among the first to choose.
DeLaval in brief
(from company >>website)
| | |
| --- | --- |
| Employees | about 4 500 |
| Local sales organizations | 35 |
| Markets | 100 |
| Net turnover (in million Euro) | 1020 |
The DeLaval vision is "to make sustainable food production possible".  DeLaval was founded more than 125 years ago in Sweden, when the visionary Gustaf de Laval patented the cream separator. Today, DeLaval has 4500 employees and operates in more than 100 markets. DeLaval, alongside Tetra Pak and Sidel, is part of the Tetra Laval Group.
DeLaval operates with more than 4,000 employees in over 100 markets. We provide integrated solutions that cover not only cow but also sheep, goat and buffalo dairy farms to over 1,000,000 customers around the globe.
About Sourcing Outlook
Sourcing Outlook is the response to the increased amount of revenue invested externally in most companies. As usual you cannot expect easy answers but we can promise you state of the art experience exchange. Take a look at the recently finished Source 2 Pay Summit to get an idea of how EBG "do summits" >>S2P Post Summit Report
Are any of the below questions relevant to you?
How are sourcing structures and processes developing?
How do you best align with business needs and strategy objectives?
In what ways can you ensure sourcing strategy outcome?
How do you mitigate risk and increase supply chain transparency?
What will future sourcing competences look like?
How are you managing and delivering control and value over different spend categories?
Sourcing Challenges Survey
Take our survey focusing on sourcing challenges, the survey can be >>found here – the results will be shared but not at all who says what.
Asking what is of greatest interest STRATEGY | OPERATIONS or GOVERNANCE, the respondents so far answered: