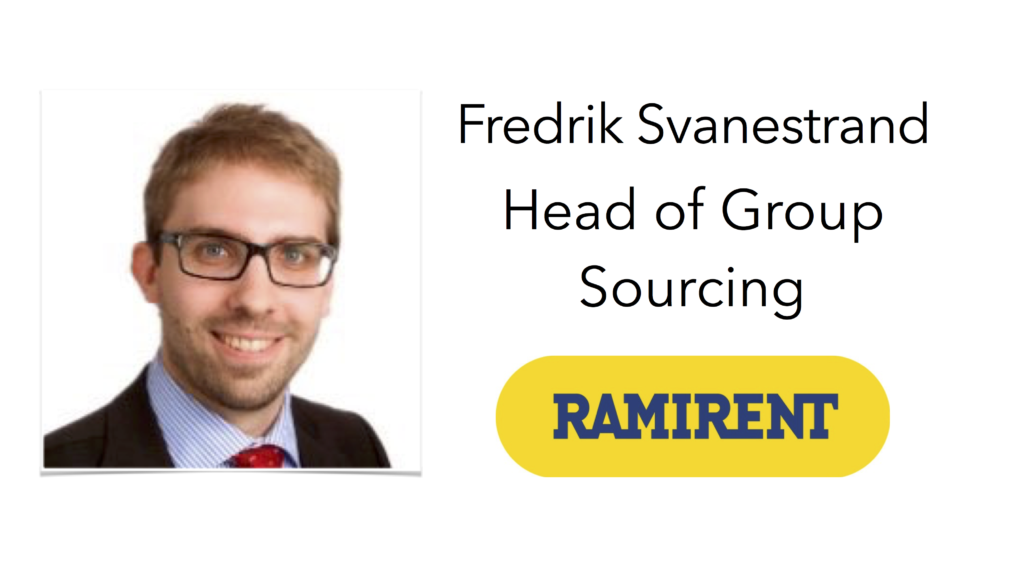 Imagine you operate in ten countries with a strong local connection. You want to stay local and to a certain extent de-centralized yet you realize there is a lot to be gained if you can share group know how adding to local experiences. Recognize the situation?
EBG | Network are happy to welcome Fredrik Svanestrand, Head of Group Sourcing at Ramirent Group who is joining Sourcing Outlook 2017 as a Theme Discussion moderator.
What could you gain from discussing business development key issues from a sourcing and procurement perspective? A lot probably. Register today to ensure you get to choose discussions first.
Fredrik is leading the Group Sourcing function at Ramirent with responsibility for processes, strategies, organization and governance covering all direct and indirect spend. He has the overall responsibility for all direct and indirect external spend in ten countries (~400 MEUR in annual spend).

About Ramirent
From the website;
Ramirent is a leading equipment rental group combining the best equipment, services and know-how into rental solutions that simplify customer's business. Ramirent serves a broad range of customer sectors including construction, industry, services, the public sector and households. Ramirent has operations in the Nordic countries and in Central and Eastern Europe. In 2016, Ramirent Group sales totaled EUR 665 million. The Group has 2,686 employees in 290 customer centers in 10 countries. Ramirent is listed on the NASDAQ Helsinki (RMR1V).
About Sourcing Outlook
Sourcing Outlook is the response to the increased amount of revenue invested externally in most companies. As usual you cannot expect easy answers but we can promise you state of the art experience exchange. Take a look at the recently finished Source 2 Pay Summit to get an idea of how EBG "do summits" >>S2P Post Summit Report
Are any of the below questions relevant to you?
How are sourcing structures and processes developing?
How do you best align with business needs and strategy objectives?
In what ways can you ensure sourcing strategy outcome?
How do you mitigate risk and increase supply chain transparency?
What will future sourcing competences look like?
How are you managing and delivering control and value over different spend categories?
EBG hope to see you!