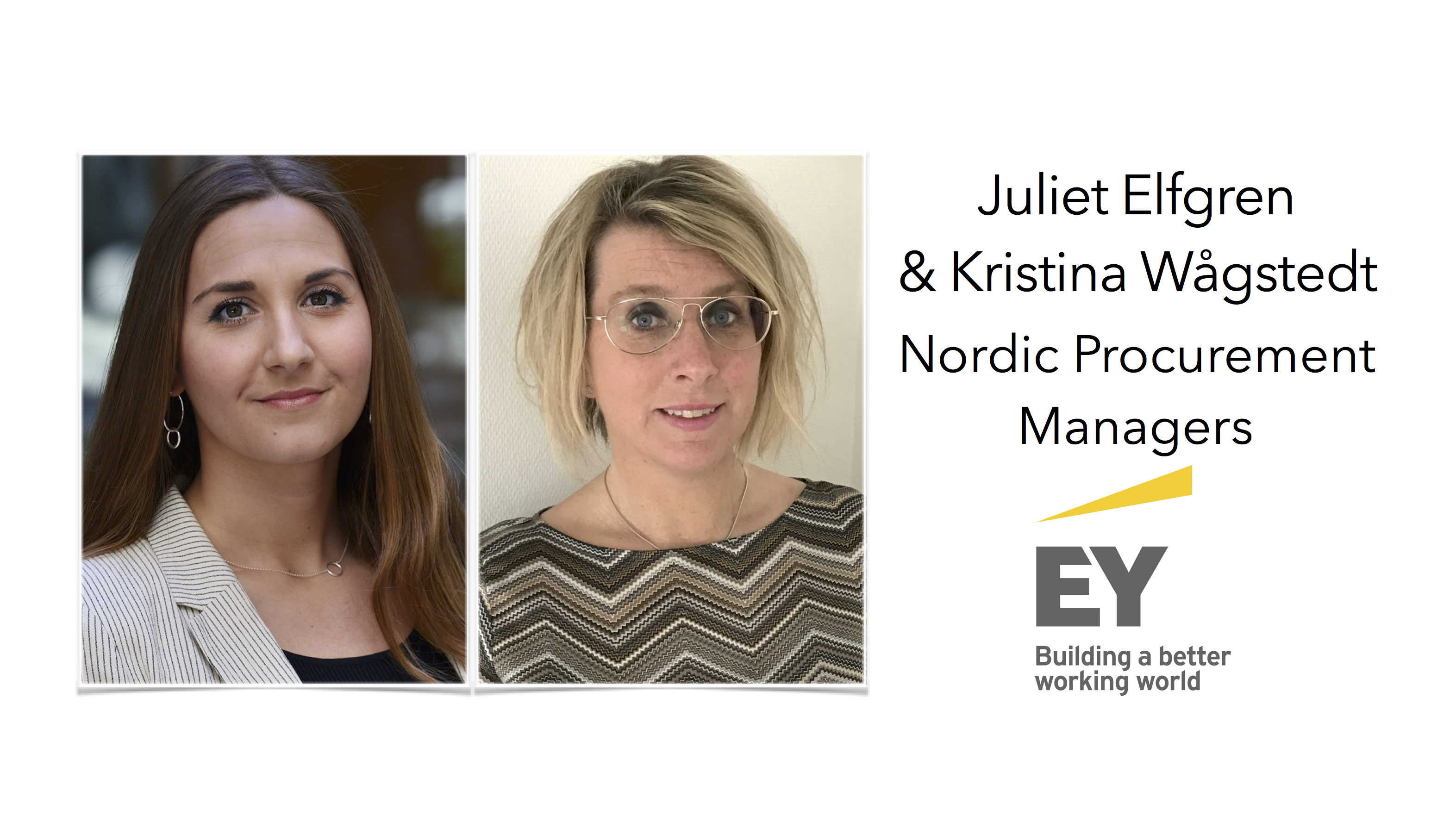 A warm welcome to Juliet Elfgren and Kristina Wågstedt, Nordic Procurement Managers at EY joining Sourcing Outlook as Theme Discussion moderators.
EY are most known for their services within four service lines – Assurance, Tax, Advisory and Transaction Advisory Services. But did you know they have 231 000 employees globally? Imagine the total spend and the type send. And with a vision to "build a better working world" – how does that influence procurement structures, strategies and processes? Since 2013 Ernst & Young is EY and Sweden, Denmark, Norway, Finland and Iceland have a Nordic region set up.
Juliet and Kristina invite you to learn from EY internal best practice know how and discuss experiences in the peer group joining the session. They will focus on how procurement can ad value as a strategic business partner in the budget process. A very valid topic! Join us and find out more.
About EY
(From company global website and local website)
Number of people globally: 231,000 (as of 30 June 2016). Number of employees in the Nordics 6 600.
Global revenues: US$29.6 billion (Financial Year '16, ending 30 June 2016).
Geographic Areas: Americas; Europe, Middle East, India and Africa; Far East; Japan; Oceania.
Offices: 700+ in more than 150 countries.
Service lines: Assurance, Advisory, Tax, Transaction Advisory Services.
Founded: 1989 through the merger of Ernst & Whinney and Arthur Young & Co. Oldest component from 1849.
About Sourcing Outlook
Sourcing Outlook is the response to the increased amount of revenue invested externally in most companies. As usual you cannot expect easy answers but we can promise you state of the art experience exchange. Take a look at the recently finished Source 2 Pay Summit to get an idea of how EBG "do summits" >>S2P Post Summit Report
Are any of the below questions relevant to you?
How are sourcing structures and processes developing?
How do you best align with business needs and strategy objectives?
In what ways can you ensure sourcing strategy outcome?
How do you mitigate risk and increase supply chain transparency?
What will future sourcing competences look like?
How are you managing and delivering control and value over different spend categories?
EBG hope to see you!