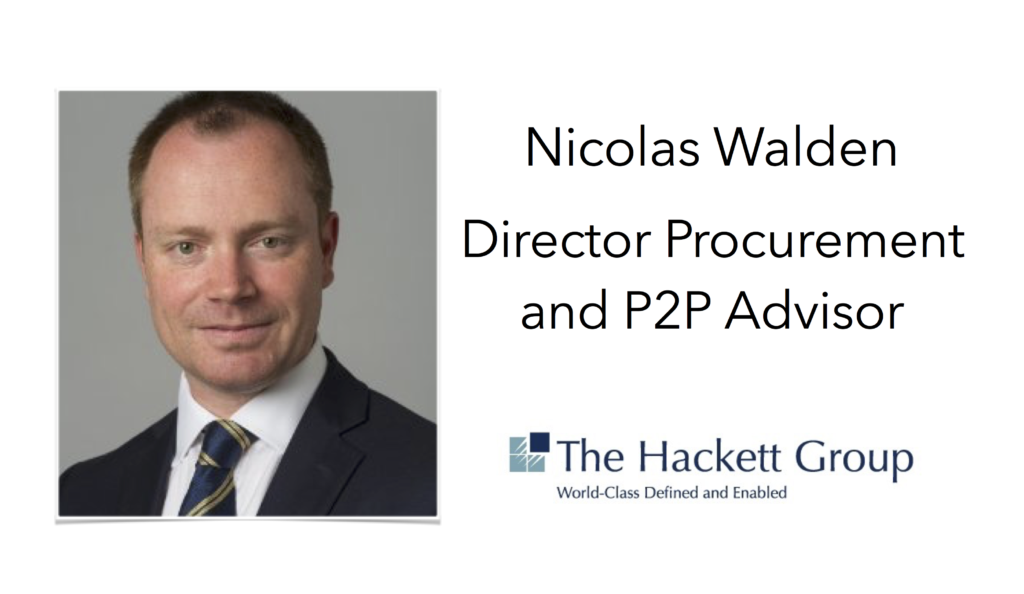 Understanding how to improve come from personal and peer experiences but also from understanding how others choose to set up strategies and walk the walk. The Hackett Group have deep knowledge both from the research side as well as from consulting with and helping develop businesses into what they call "world class".
EBG | Network are happy to welcome Nicolas Walden, Director Procurement and P2P Advisor, The Hackett Group to Sourcing Outlook 2017. Nicolas will share his and their know how during a Key Note and invite you to share yours in a group setting – make sure you don't miss out!
About Nicolas
An extract from his LinkedIn profile highlight the width and depth of his know how.
Working with senior procurement and Purchase to Pay executives of the world's leading companies to provide World-class performance insight, metrics, research, and networking.
Contact Nicolas to learn more about the practices, behaviors and case studies adopted by top performers:
Category management and strategic sourcing
Supplier relationship management
Developing Procurement's brand as a trusted advisor to the business
Procurement & P2P operating models
Advanced supply risk, sustainability and data analytics
Using purchase to pay to manage external (goods & services) spend
About The Hackett Group
From the company website

The Hackett Group (NASDAQ: HCKT) is an intellectual property-based strategic consultancy and leading enterprise benchmarking and best practices implementation firm to global companies, offering digital transformation and enterprise application approaches including robotic process automation and cloud computing. Services include business transformation, enterprise performance management, working capital management and global business services. The Hackett Group also provides dedicated expertise in business strategy, operations, finance, human capital management, strategic sourcing, procurement and information technology, including its award-winning Oracle EPM and SAP practices.
The Hackett Group has completed more than 13,000 benchmarking studies with major corporations and government agencies, including 93% of the Dow Jones Industrials, 87% of the Fortune 100, 87% of the DAX 30 and 58% of the FTSE 100. These studies drive its Best Practice Intelligence Center™ which includes the firm's benchmarking metrics, best practices repository and best practice configuration guides and process flows, which enable The Hackett Group's clients and partners to achieve world-class performance.
Founded in 1991, The Hackett Group was acquired by Answerthink, Inc. in 1997. Answerthink was renamed The Hackett Group, Inc. in 2008. The Hackett Group has global offices in the United States, Europe and Asia/Pacific and is publicly traded on the NASDAQ as HCKT.
About Sourcing Outlook
Imagine you could get practical advise and compare notes on how to go from being reactive to proactive, from little or reactive analysis to real time data analysis, from tactical to strategic, from lower skills to higher skill sets, from total cost of ownership to total value creation, from silo KPIs to cross functional co-operation, from supplier demands to supplier collaboration, from doers and an overhead cost to business advisors and business enablers.
EBG will  gather peers and expert and enable in-depth experience exchange on October 19th 2017 in Stockholm.
We hope to see you!