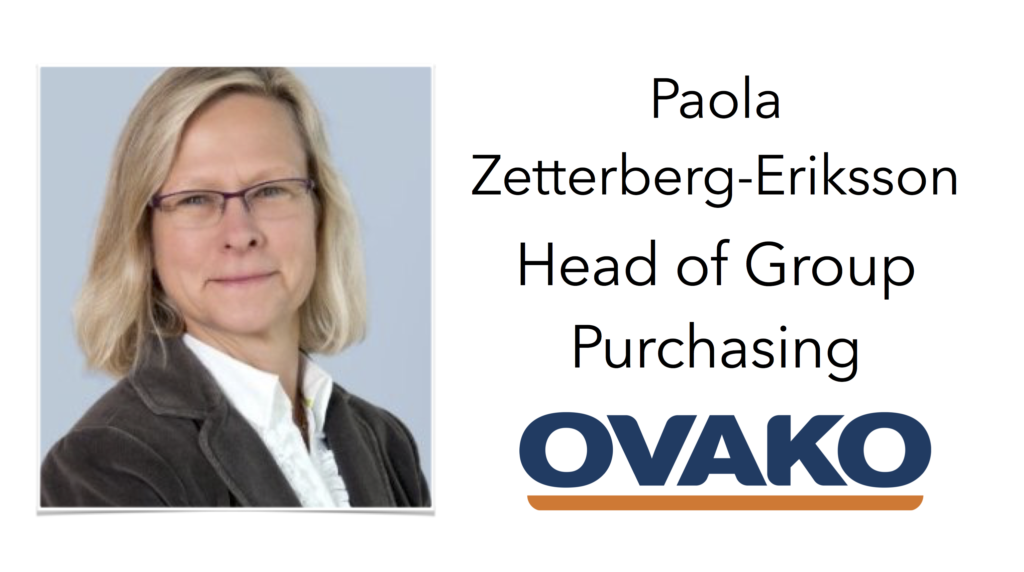 Imagine you could sit down with peers and experts and go beyond what is common knowledge and dig deeper into what is really bugging you. Those sourcing and procurement strategies that need to be fulfilled, those results that are so hard to visualize, that change management that you don't have time for, those systems that to few use as intended and so on. And that is just here and know – what about the future – looking ahead – what should you keep your eyes on, is what you choose to do aligned with what will be expected from you tomorrow?
EBG | Network are happy to welcome Paola Zetterberg-Eriksson, Head of Group Purchasing at Ovako Group to Sourcing Outlook October 19th 2017 in Stockholm. Paola invites you to sit down with her and your peers to discuss challenges and possibilities within category management strategies, operations and governance.
Register now to ensure your seat at the table.
About Ovako Group
Ovako is a leading European producer of engineering steel for customers in the bearing, transport and manufacturing industries.
Ovako's customers are found mainly in the European engineering industry and its subcontractors. Customers are generally leading premium manufacturers in their segments that place intense demands on the properties of the steel.
Production comprises primarily bar, tube, ring and pre-components in low-alloy steels that are often used for demanding applications such as in bearings, powertrains, hydraulic cylinders and rock drills.
Ovako has nine production sites and is represented in more than 30 countries. It has sales offices in Europe, North America and Asia.
Sales in 2016 amounted to EUR 781 million and the company had 2,800 employees.
About Sourcing Outlook 2017
Sourcing Outlook is the response to the increased amount of revenue invested externally in most companies. As usual you cannot expect easy answers but we can promise you state of the art experience exchange. Take a look at the recently finished Source 2 Pay Summit to get an idea of how EBG "do summits" >>S2P Post Summit Report
Is increasing top line growth and decreasing bottom line costs relevant to your organization? Does your organization invest more and more of your revenue externally? Is your growth and cost structure depending on lots and lots of people behaving in a certain way?
If yes EBG hope to see you in October!