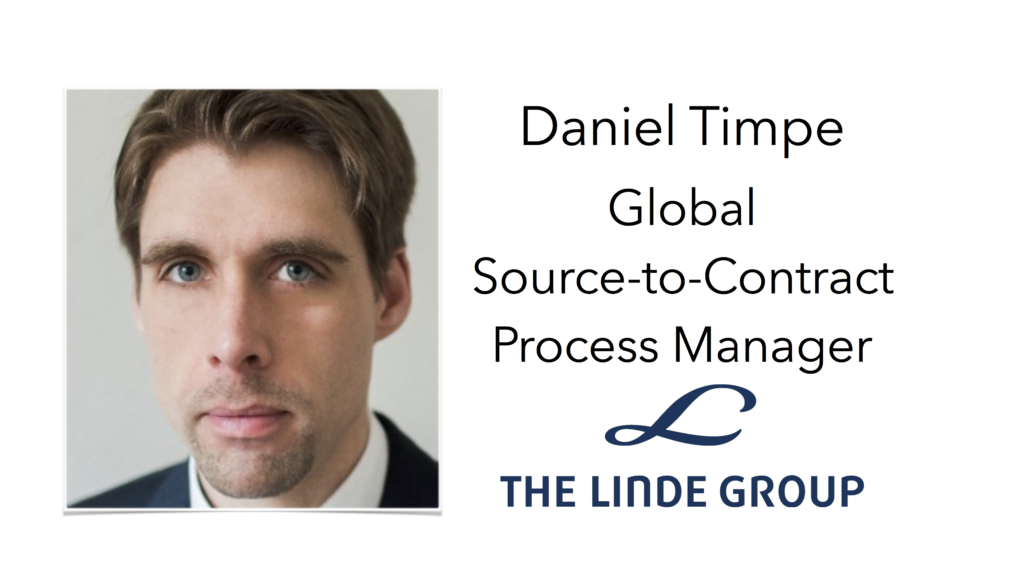 And a warm welcome to Daniel Timpe, Global Source-to-Contract Process Manager – Group Procurement at The Linde Group joining Sourcing Outlook 2017 in Stockholm October 19th.
Daniel invites you to join his Focused Theme Discussion targeting operations and how to make strategies come alive. Get inspired from stage and have concrete discussions making sure you bring back real value to your organization.
Daniel will initiate the discussion session with his experiences and thoughts and help facilitate groups of people sharing to-the-point actions to bring back to the office.
Register today to ensure you get to choose the topics and sessions You want to join!
About The Linde Group
The Linde Group is a world-leading gases and engineering company with around 65,500 employees in more than 100 countries worldwide.
It comprises 3 Divisions: Industrial Gases & Healthcare, Engineering and Gist. Linde's gases are being used in a variety of industries e.g. the energy sector, chemical manufacturing, environmental protection, food processing, steel production and the manufacturing of electronics devices.
The Healthcare business focuses on medical gases and related maintenance and advisory services for different areas in the field of healthcare.
The Engineering Division supports its customers with developing, planning and building turn key business solutions for industrial plants used in various industrial sectors such as petrochemicals and chemicals, refining, fertilizers and pharmaceuticals.
Optimizing & structuring any kind of supply chains is the business of the third division Gist.
About Sourcing Outlook
EBG | Network have hosted Source 2 Pay Summit for the past seven years, always focusing on that important end-to-end perspective in doing business. Doing business that today consist of an external investments that seem to be constantly increasing placing sourcing and procurement in the front line of business development.
Given the above facts EBG find it important to enable in-depth know-how exchange focusing on sourcing and procurement as strategy, operations and governance and thus EBG present Sourcing Outlook.
All of you have the need to develop strategies to both ensure cost reduction and value ad, to enable those strategies to come true and to ensure strategies are developed and seen through over time with a robust governance structure.
For reference you can take a look at the 2017 edition of the Source 2 Pay Summit Post Summit Report
EBG hope to see you in October!