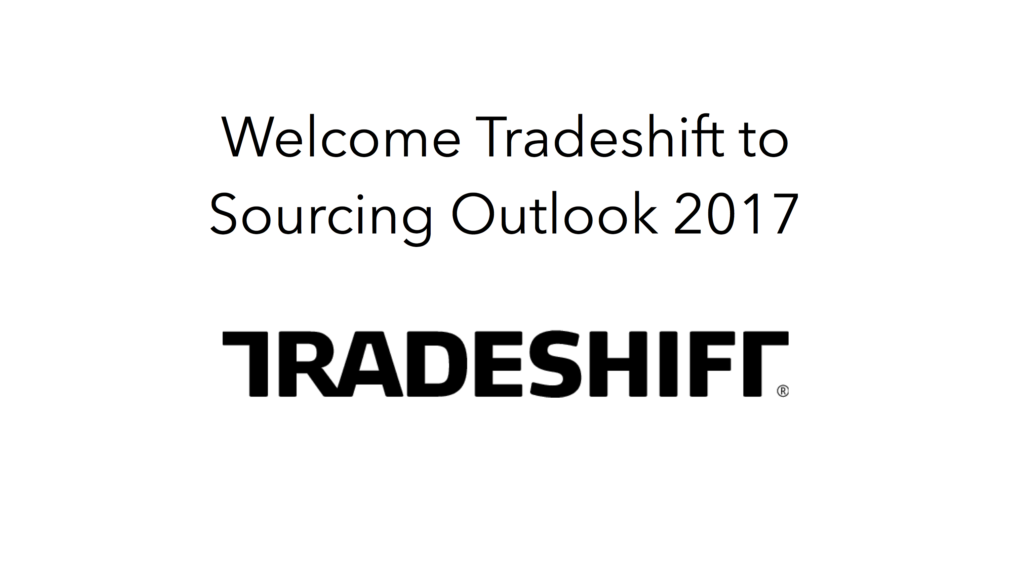 Who new it was possible to create a visionary company developing supply chain connectivity? The Tradeshift founders did and they have since pushed their ideas forcefully. EBG | Network are happy to welcome Tradeshift as sponsors of Sourcing Outlook 2017!
Taking place October 19th, Sourcing Outlook take an in-depth look at how sourcing and procurement strategies are developed, how operations are being seen through and how governance is managed over time. Tradeshift join the summit inviting You to discuss ways of connecting the dots across a diverse supply chain.
In March 2017 Tradeshift announced they aquire IBX Business Network which is now part of Tradeshift.
About Tradeshift
Founded in 2010, Tradeshift is the world's largest business commerce platform that connects buyers and sellers. Tradeshift connects over 1.5 million companies across 190 countries, processes over half a trillion USD in transaction value yearly, and has a marketplace containing 28 million SKUs. It offers solutions for procure to pay, supplier engagement and financial services, and enables companies and partners to build custom or commercial apps on its business commerce platform. Tradeshift is headquartered in San Francisco, with offices in Copenhagen, New York, London, Paris, Suzhou, Chongqing, Tokyo, Munich, Frankfurt, Sydney, Bucharest, Oslo, and Stockholm.
About the Tradeshift story
From the company website "In 2005, entrepreneurs Christian, Mikkel and Gert had a vision: to connect every business in the world. So when the Danish National IT & Telecom Agency asked them to create an e-invoice network, they saw an opportunity to create something bigger."
About Sourcing Outlook 2017
How much of your company revenue is invested externally?
Today, discussing a diverse supply chain is not nice to do, it is absolutely necessary and at Sourcing Outlook EBG bring you a smorgasbord (we are swedes) of have to know experiences and ways to make sure Your organization work with sourcing and procurement capabilities in best ways possible.