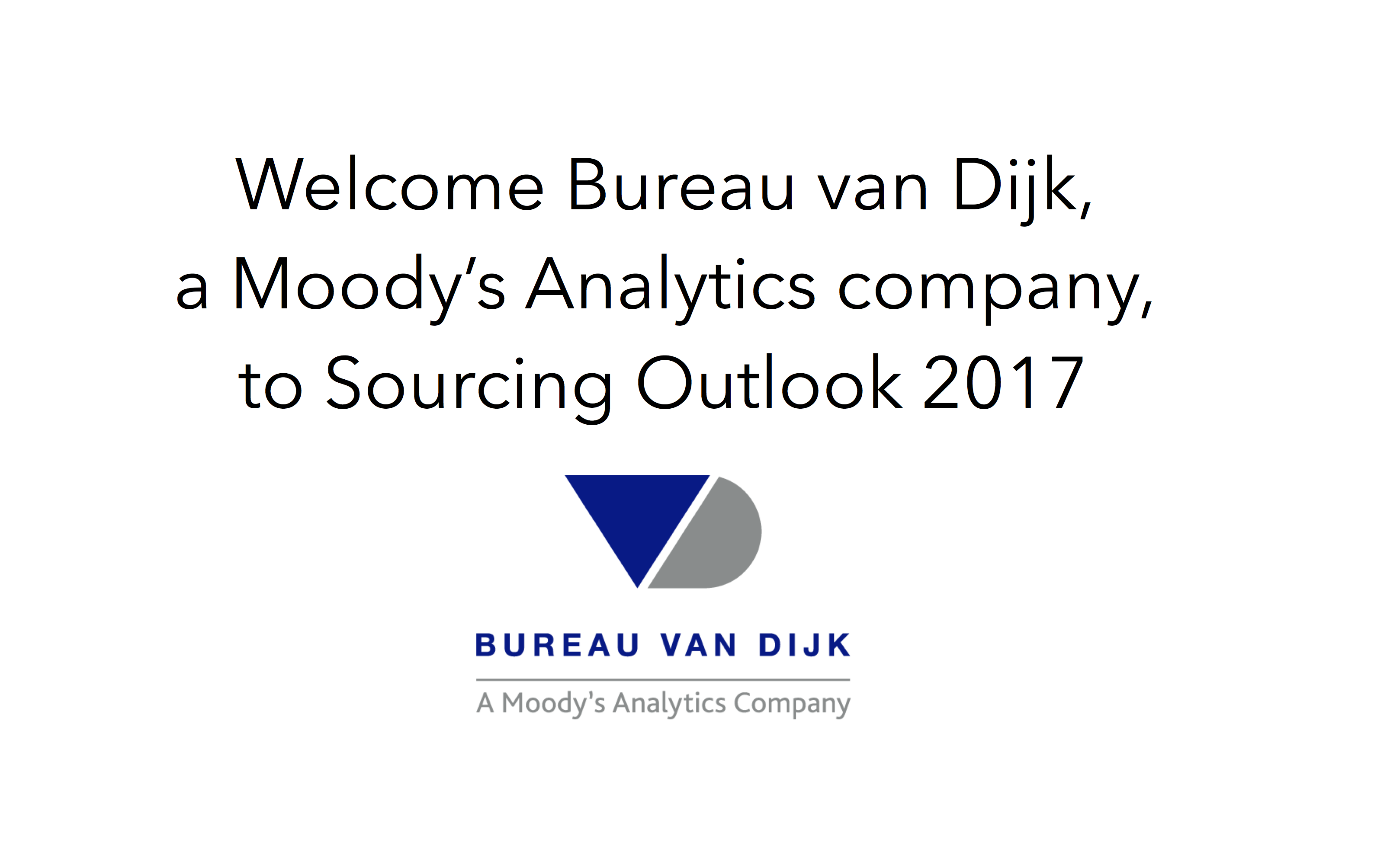 EBG | Network enjoy the privilege of highlighting the complexity in doing modern business. Sourcing and procurement strategies, operations and governance encompass up to (or more?) 70% of company revenue. Making sure risk is low, value high and costs are down are a vital part of all businesses today.
EBG are happy to welcome Bureau van Dijk, a Moody's Analytics company to Sourcing Outlook 2017! Knowing the different layers of your supply chain is a challenge. It seems in many cases that not even tier 1 supplier facts are fully transparent. The challenges are many. Different standards across legal entities, possibly unstructured processes depending on location, data is collected but not understood and much more.
About Bureau van Dijk, a Moody's Analytics Company
Bureau van Dijk, a Moody's Analytics company (below BVD) capture and treat private company information for better decision making and increased efficiency.
BVD offer the most powerful comparable data resource on private companies. With extensive information on companies' financials, risk scores, PEPs and Sanctions, and probability of default indicators, BVD solutions can help you manage your supplier risk, leverage your spending power and be certain of a lot more:
Validate your suppliers and business partners
Get the full picture using our extensive corporate ownership structures
Reduce financial risk with our standardized financial data and risk metrics
Procurement Catalyst is a risk assessment tool that enriches your supplier data with BVD market intelligence. Your data is blended with BVDs and clearly displayed for easy interpretation and a better view on your supplier portfolio. It can be completely aligned with your existing procurement processes. Make better-informed decisions with a higher level of certainty – and save a huge amount of time.
Please learn more via: www.bvdinfo.com/procurement
About Sourcing Outlook 2017
What can you learn from The Hackett Group, Telia Company, SKF Group, Neste, DeLaval, RSA Scandinavia, Vattenfall, EY and many more? A LOT – especially since EBG | Network summits rely on all attendees experiences and thus enable extensive experience exchange during the day.
Visit the conference website here.
EBG know your time is precious and therefor invite you for one full day of maximum value, October 19th (with voluntary dinner on October 18th).
Bring your team! Although cloning may seem reachable, attending more than one round table at the time is hard. EBG are therefor offering great team discounts:
Groups of 2 – 20% off main conference investment (6 950 sek)
Groups of 3 – 30% off main conference investment
Groups of 4 – 40% off main conference investment
Go >>register today – EBG look forward to seeing you.
Welcome!